Growing Pains Pinch Caesarstone Sdot-Yam Ltd's Earnings Results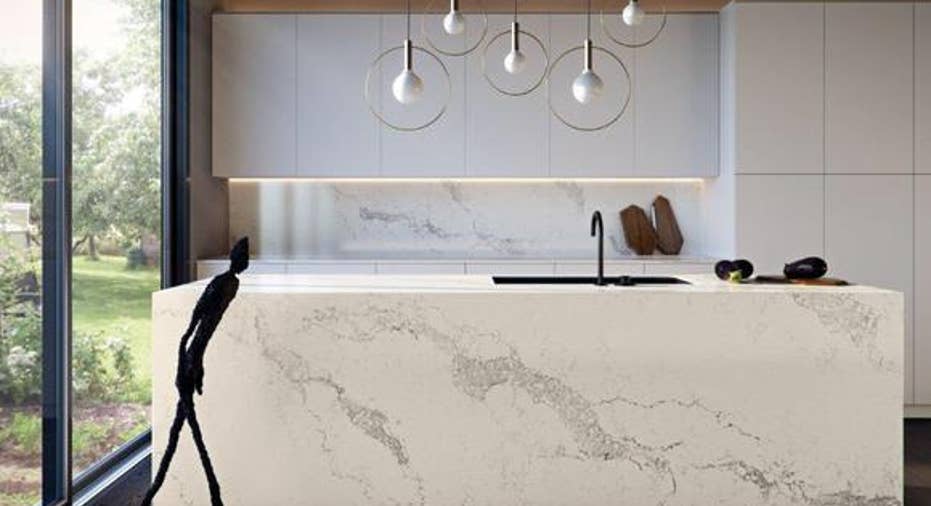 Quartz surface manufacturer Caesarstone posted first-quarter earnings results on Wednesday, May 4, that kept the company on pace to hit management's 2016 growth targets. However, the numbers showed a worrying slowdown in the key U.S. market even as profitability took a step backwards.
Here's a look at how the headline results stacked up against the prior-year period.
| | Q1 2016 Actuals | Q1 2015 Actuals | Growth (YOY) |
| --- | --- | --- | --- |
| Revenue | $117 million | $108 million | 8% |
| Net income | $12 million | $16 million | -25% |
| EPS | $0.33 | $0.46 | -28% |
Data source: Caesarstone's financial filings.
What happened this quarter?Overall sales growth was 8%, marking a drop from the 12% expansion pace it set for both Q4 and the full 2015 fiscal year. Spiking expenses led to a significant dip in profitability as operating margin fell to 12% of sales from 19% a year ago.
Other highlights of the fourth quarter include:
Growth in the U.S. market slowed to a tiny 3%, marking the fourth straight deceleration in that key geography. The segment had expanded by 14% in Q4, and by 22% and 19% in the prior two quarters, respectively.
Solid sales gains in Canada (+41%) and Australia (+20%) picked up the slack from the weak U.S. market to keep overall global growth on pace.
Gross margin fell to 37% of sales from 42% as the company continued to struggle to get its new U.S.-based manufacturing plant operating at an efficient level.
Operating expenses rose as a percentage of sales due to share-based salary payments and legal feels.
As a result of the rising costs and slower growth, operating income slumped by 30% to $14 million. On an adjusted basis (i.e., stripping out the effects of share-based compensation and legal fees), profitability dropped to 20% of sales from 24% due to inefficiencies around Caesarstone's new manufacturing plant.
What management had to say"Our overall first quarter results were in line with our expectations," CEO Yosef Shiran said in a press release. Still, management wasn't satisfied with the revenue or profit performance out of the U.S. market, which it has identified as a critical growth avenue.
Image source: Caesarstone.
To that end, executives are "focusing on accelerating ourU.S.sales growth and improving efficiency of ourU.Smanufacturing operations," Shiran said. Meanwhile, the long-term outlook is unchanged. "We believe that our strong brand, backed with our new innovative products, position us to capture our global growth opportunity," he explained.
Looking forwardShiran and his team still expect to achieve sales of between $550 million and $565 million this year, representing roughly 12% growth over 2015's result. They also target adjusted profit of about $141 million, which would mark a 25% profit margin that's comparable to the prior year.
Yet this quarter's results show that Caesarstone will have to face two challenges to get to management's goals. First, it will need to return to healthier growth in the U.S. market, something closer to the 20% bounce it posted last year than the 3% uptick it saw to start off fiscal 2016. Executives are forecasting that the market will in fact pick up over the next few quarters.
Second, the company will need to get a handle on those spiking operating and manufacturing costs now that its new plant has been in service for a few quarters. In the meantime, strong growth from markets like Canada and Australia suggest Caesarstone still has a solid runway for global expansion ahead.
The article Growing Pains Pinch Caesarstone Sdot-Yam Ltd's Earnings Results originally appeared on Fool.com.
Demitrios Kalogeropoulos has no position in any stocks mentioned. The Motley Fool recommends Caesarstone. Try any of our Foolish newsletter services free for 30 days. We Fools may not all hold the same opinions, but we all believe that considering a diverse range of insights makes us better investors. The Motley Fool has a disclosure policy.
Copyright 1995 - 2016 The Motley Fool, LLC. All rights reserved. The Motley Fool has a disclosure policy.