Greenbrier Keeps Chugging but Sees Tough Times Down the Track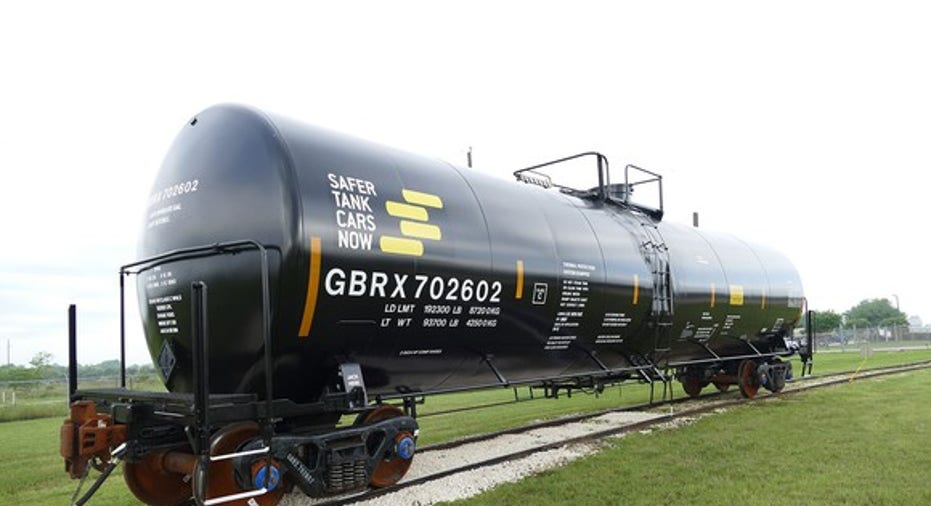 Image source: Greenbrier.
Railcar manufacturer Greenbrier relies on the health of the railroad industry for its own financial performance. The company benefited from the boom in rail transportation in the five years after the 2008 recession, but over the past couple of years, a cyclical downturn has send its stock plunging. Coming into Wednesday's fiscal third-quarter financial report, Greenbrier investors had already braced for a big drop in revenue and earnings, so the company's actual results didn't come as a surprise and actually were better than many had expected. Still, Greenbrier gave future guidance for the rest of the fiscal year that was disappointing for some shareholders.
Let's take a closer look at the latest from Greenbrier and what it means for its future.
Greenbrier holds up during a tough market environment
Greenbrier's fiscal third-quarter results showed continuing deterioration in its business, but the declines weren't as severe as most had predicted. Revenue of $612.9 million was down 14% from year-ago figures, but it wasn't quite as bad as the 16% plunge shareholders were looking to see from Greenbrier. Similarly, net income fell by more than a sixth to $35.4 million, but the $1.12 per share in earnings that the company produced was $0.03 per share better than the consensus forecast among investors.
Taking a closer look at Greenbrier's report, the same segment trends we saw last quarter continued over the most recent period. Sales in the manufacturing segment, which is Greenbrier's largest, fell by 23% year over year, accelerating in its decline. Wheels and parts revenue saw similar declines of nearly a fifth from year-ago levels. Only a tripling of revenue from leasing and services managed to offset the top-line downtrend.
Over the past three months, Greenbrier has managed to make progress in slowing the drop in some of its key operational figures, although others remain a challenge. Railcar deliveries fell again to 4,300, but the drop was only 200 railcars, compared to a much larger decline of more than a third during the fiscal second quarter. However, the reduction in backlog accelerated, falling by 2,900 units to 31,200 with an estimated value of $3.6 billion. Orders also fell significantly compared to the previous quarter, with just 1,700 new railcars ordered representing a fall of more than 40%.
Greenbrier CEO William Furman once again highlighted the positives in the report. "We posted strong operational and financial results in the quarter," Furman said, "particularly in light of growing industry headwinds." The CEO also noted that North American railroad markets are getting used to lower shipping volumes and higher velocity, rededicating itself to serving its core business customers.
What's ahead for Greenbrier?
At the same time, Greenbrier sees opportunities internationally, where railcar demand is stronger. In particular, Furman pointed out an order from last October to produce 1,200 tank cars for the Saudi Railway Company, and a newly extended partnership in Brazil will also give Greenbrier exposure to overseas markets.
Investors nevertheless have to be somewhat disappointed by the refinements Greenbrier made to its full-year guidance. The railcar maker said it now expects full-year deliveries of between 20,000 and 21,000, which represents the lower half of its previous range. Revenue projections for about $2.8 billion take away the hoped-for outperformance of that figure in previous guidance, and earnings of $5.70 to $5.90 per share reduced the top end of Greenbrier's prior guidance by $0.20 per share.
Somewhat gloomy guidance didn't stop Greenbrier from giving shareholders a reward. The company declared a 5% increase to its dividend and will pay out $0.21 per share beginning with its August payment. That brings Greenbrier's dividend yield nearly to 3%, which is attractive especially in conjunction with its low earnings multiple.
Greenbrier shareholders seemed to take the news in stride, sending the stock up as much as 2% in pre-market trading following the announcement. If international markets provide a growth avenue for the railcar manufacturer, then Greenbrier could finally start to see its share price recover more sharply from its slump over the past couple of years.
The article Greenbrier Keeps Chugging but Sees Tough Times Down the Track originally appeared on Fool.com.
Dan Caplinger has no position in any stocks mentioned. The Motley Fool recommends The Greenbrier Companies. Try any of our Foolish newsletter services free for 30 days. We Fools may not all hold the same opinions, but we all believe that considering a diverse range of insights makes us better investors. The Motley Fool has a disclosure policy.
Copyright 1995 - 2016 The Motley Fool, LLC. All rights reserved. The Motley Fool has a disclosure policy.