Greenbrier Companies Inc. Stock Fell 16% in November: Is the Railcar Maker Off The Tracks?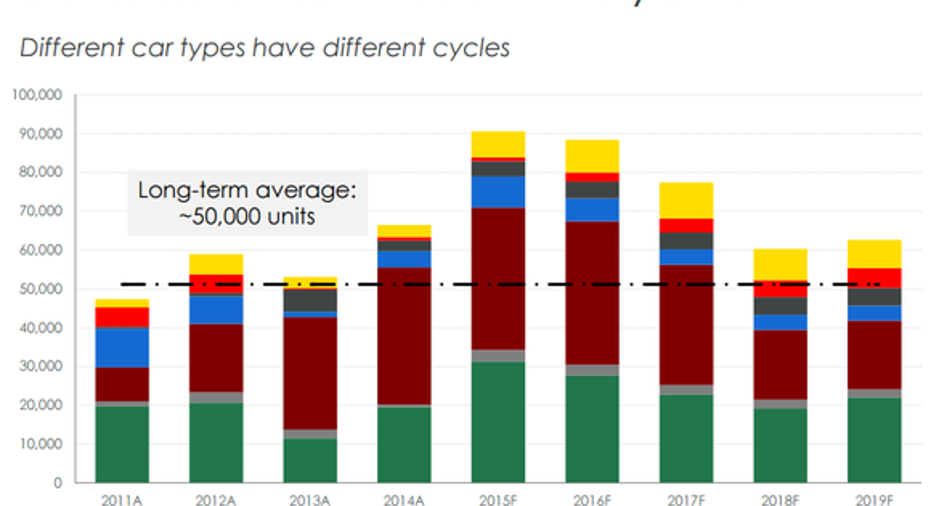 What:Shares of railcar manufacturer and servicerGreenbrier Companies Inc. lost 16% of their value in November, and the sell-off has continued into December. As of this writing (Dec. 7), it's only gotten worse:
So what:It's looking a lot like "guilt by association" at play here. After all, Greenbrier Companies reported third-quarter earnings in late October and announced that revenue was up 24% and net income surged 41%.That followed second-quarter results with sales up 20% and earnings up 27%.
So what gives? The company generates a lot of business from energy-related shipments, with the CEO noting on the recent earnings call that about 20% of its current backlog is oil tankers and frac-sand cars. There's a lot of fear that the oil-price funk will go on for an extended period, and that could lead to weakened demand for energy-related orders.
Add it all up, and there are real fears that Greenbrier's current growth surge will end sooner rather than later.
Now what:There's no denying that Greenbrier operates in a cyclical industry, and that demand will ebb and flow over time, based on demand, industrial shifts, and the long-lived nature of the products it makes and sells.
Here's a look at the company's forecast for units over the next several years:
Yes, even Greenbrier's own projections are for unit sales to peak this year and to decline over the next three years. But that's a far cry from saying this is a bad company. With a price-to-earnings ratio now barely above 5, now may be an excellent time to buy shares of this beaten-down industrial stalwart, even if sales do indeed begin declining in 2016.
After all, per-share profits are key, and the company has levers it can pull to reduce costs as demand declines. Meanwhile, the company's leasing and aftermarket sales and service businesses make up about one-third of sales today, and those businesses aren't cyclical in the same manner that demand for new railcars is.
But the overall cyclical nature of the majority of its business keeps Greenbrier from being a "set it and forget it" investment. It's a good idea to stay abreast of the company's business results, as well as understanding where the demand cycle is and what Greenbrier's management is doing to position the company for that reality.
Right now, things are shifting closer to a decline in demand, but Greenbrier's beaten-down nature makes its stock look pretty attractive as a value investment. The dividend, currently yielding about 2% at recent prices, is just icing on the cake.
The article Greenbrier Companies Inc. Stock Fell 16% in November: Is the Railcar Maker Off The Tracks? originally appeared on Fool.com.
Jason Hall has no position in any stocks mentioned. The Motley Fool recommends The Greenbrier Companies. Try any of our Foolish newsletter services free for 30 days. We Fools may not all hold the same opinions, but we all believe that considering a diverse range of insights makes us better investors. The Motley Fool has a disclosure policy.
Copyright 1995 - 2015 The Motley Fool, LLC. All rights reserved. The Motley Fool has a disclosure policy.