Greek Drama Stirs Volatility on Wall Street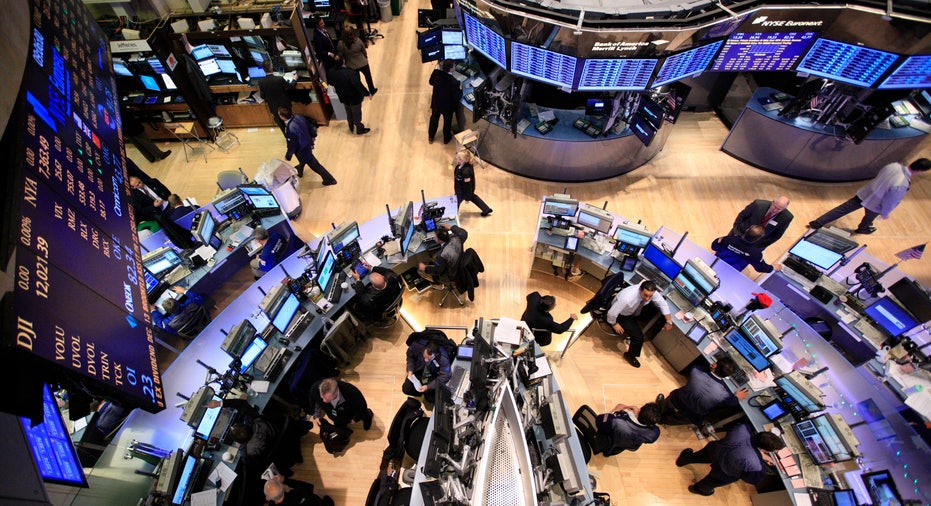 FOX Business: The Power to Prosper
Renewed concerns that political uncertainty in Greece could undermine efforts to hold the eurozone together sent stocks gyrating violently on Tuesday. Despite the turbulence, the Dow managed to rebound markedly from a nearly 200-point loss.
Today's Markets
The Dow Jones Industrial Average fell 76.4 points, or 0.59%, to 12932, the S&P 500 slid 5.9 points, or 0.43%, to 1364 and the Nasdaq Composite dipped 11.5 points, or 0.39%, to 2946.
The blue chips are now on a five-day losing streak, having shed 347 points, or 2.6%, in so many days. The broader S&P 500, meanwhile, has been down four of the last five trading days, and is sitting at its lowest level since April 10.
The consumer discretionary sector took a big hit on the day following a weak earnings report from Fossil (NYSE:FOSL), which tumbled some 38%. The financial, energy and basic materials sectors were among the other laggards. The utility and health-care sectors, on the contrary, ended in the green.
U.S. oil futures were under pressure for the fifth session in a row, having shed $9.15, or 8.6%, over the period. On the day, crude was lower by 93 cents, or 0.95%, to $97.01 a barrel. It was the lowest settlement value since early February. Wholesale New York harbor gasoline rose 0.68% to $2.99 a gallon.
In metals, gold tumbled $34.60, or 2.1%, to $1,605 a troy ounce -- the lowest level since January.
Volatility jumped 10% in mid-day trading, but ended the day higher by less than 2%, as tracked by the CBOE's VIX. The yield on the 10-year U.S. Treasury slumped 0.042-percentage point to 1.837% as traders shifted into the safe-haven asset.
Greek Worries Flare Up
Elections over the weekend in Greece saw the two mainstream political parties there failing to hold a combined majority in parliament. The PASOK and New Democracy parties had been critical players in drafting agreements with eurozone leadership on implementing deficit-cutting measures in exchange for bailout funds needed to avoid a default.
Reeling from the painful economic consequences of the austerity measures, votes were distributed between PASOK, New Democracy and several other parties, all of which are trying to push for their own policies. All of the groups now have to work together in forming a coalition government, which would require an agreement from no less than three parties, according to The Wall Street Journal.
A situation where no government is formed may prompt fresh elections, while one that backtracks on austerity agreements may put the country's crucially needed bailout at stake. In either case, analysts say the chance of a Greek exit from the eurozone currency bloc can't be ruled out.
"Greece is a big concern," said David Jones, chief market strategist at London-based IG Index, adding that such a situation would "definitely inject a lot of volatility into the market." Still, Jones cautioned that it may be awhile until the picture there becomes clearer and that many market participants are still in a "wait and see mode."
Eurozone blue chips sold off by 2.1%. The euro fell 0.28% to $1.3015.
On the corporate front, McDonald's (NYSE:MCD) said its global same-store sales climbed 3.3% in April, a slimmer gain than the 4.29% analysts expected, according to Dow Jones Newswires.
Foreign Markets
European blue chips fell 2.1%. the English FTSE 100 slipped 1.8% to 5555 and the German DAX dipped 1.9% to 6445.
In Asia, the Japanese Nikkei 225 rose 0.69% to 9182 and the Chinese Hang Seng slumped 0.25% to 20485.