Greece-Inspired Rally Fades; Apple Hits $500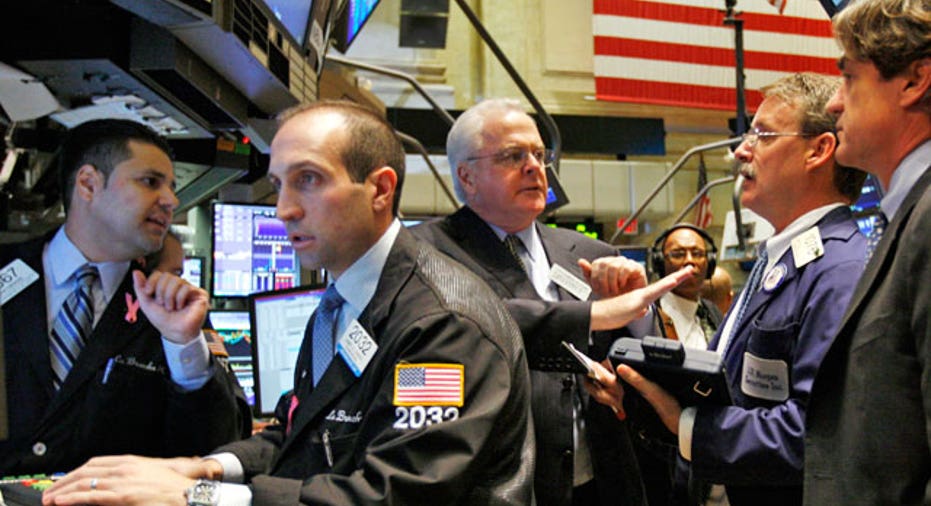 FOX Business: The Power to Prosper
U.S. markets remained in positive territory Monday morning as Apple hit another record high, but a solid rally on the Dow lost some momentum despite Greece approving a pivotal package of austerity measures aimed at preventing a bankruptcy.
Today's Markets
As of 10:55 a.m. ET, the Dow Jones Industrial Average jumped 35.61 points, or 0.28%, to 12836.84, the Standard & Poor's 500 climbed 5.34 points, or 0.40%, to 1347.99 and the Nasdaq Composite advanced 14.11 points, or 0.49%, to 2918.06.
The early actions puts Wall Street on track to bounce back from its worst day of the year as the blue chips retreated almost 100 points on Friday.
Without any major economic or earnings reports on the agenda, traders largely focused on Greece, which signed off on new austerity measures over the weekend that had been contingent on receiving a $172 billion bailout from the European Union and International Monetary Fund.
Passage of the measures, which include deep spending cuts and a reduction of the minimum wage, triggered protests and then fiery confrontations with rioters overnight.
While the key vote was a necessary step to prevent a default and potentially calamitous bankruptcy, it doesn't appear to be the final chapter for Athens. Greece still faces a number of hurdles, including a meeting on Wednesday between eurozone finance ministers to vote on approving the bailout.
Still, the markets mostly cheered the developments, bidding the euro solidly higher, although it was recently up just 0.11% higher against the dollar to $1.321. European markets also mostly climbed higher and funding costs in Italy retreated after a bond auction. Shares of European banks with exposure to Greece like UBS (NYSE:UBS) advanced.
Tech stocks helped lead the charge higher, continuing their very strong start to 2012. Shares of Apple (NASDAQ:AAPL), still on fire after a blockbuster earnings report last month, soared another 1.5% and hit a fresh all-time high above $500.
The upbeat start on Wall Street comes after the Dow dropped 89 points on Friday in a rare selloff that was triggered by fears about Greece. The retreat knocked the S&P 500 0.17% lower on the week, snapping a five-week win streak.
In the commodities complex, crude oil rose $1.64 a barrel, or 1.65%, to $100.31. Gold slipped $1.60 a troy ounce, or 0.09%, to $1,723.70.
Corporate Movers
Avon Products (NYSE:AVP) declined to comment on a report in The Wall Street Journal indicating a foreign-bribery case against the beauty company intensified as prosecutors presented evidence to a grand jury. The U.S. is focusing on a 2005 internal audit that concluded Avon workers in China bribed officials, the paper said.
Global Markets
The British FTSE 100 jumped 0.98% to 5909.91, Germany's DAX advanced 0.80% to 6746.27 and the French CAC 40 gained 0.55% to 3391.67.
In Asia, Japan's Nikkei 225 rose 0.58% to 8999.18 and Hong Kong's Hang Seng closed up 0.50% to 20887.40.