Governor declares state of emergency for NYC transit system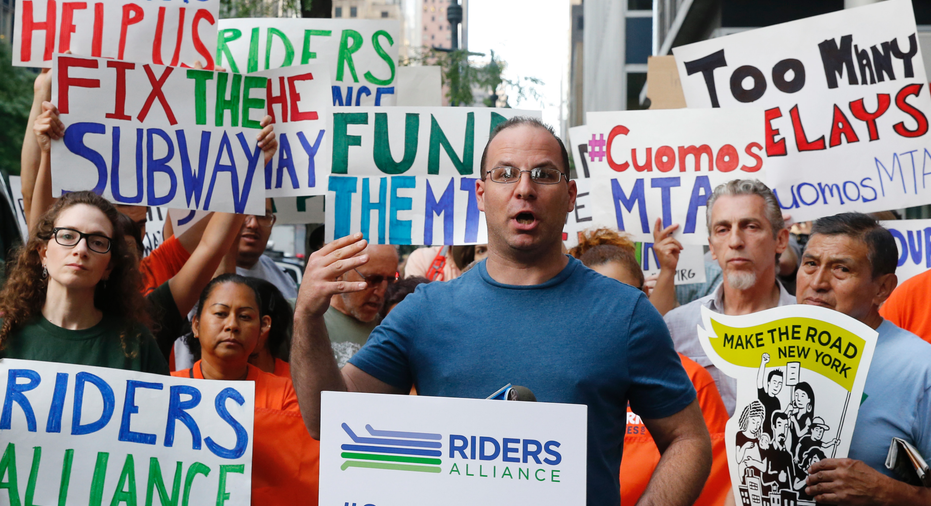 Gov. Andrew Cuomo said Thursday that he has declared a state of emergency over New York City's troubled public transit system and has asked its new leader to complete a series of urgent reviews of the agency's management and aging infrastructure.
The Democratic governor said the state of emergency declaration will help cut red tape and speed up improvements.
The city's subways and commuter trains have been plagued by rising delays and unreliable service. Dozens of people were injured when a subway derailed Tuesday.
Cuomo, speaking at a conference for the MTA Genius Transit Challenge, which is seeking innovative solutions for the city's transit woes, said he's asked Metropolitan Transportation Authority Chairman Joe Lhota to come up with a reorganization plan in 30 days and an equipment review in 60 days. He also wants a 90-day review of transit power failures.
The state of the subway system "is wholly unacceptable," said Cuomo, citing decades of underinvestment, deferred maintenance and surging ridership.
"I think of it as a heart attack — it happens all of a sudden and the temptation is to say, 'Well, something must have just caused it,'" Cuomo said. "No, a lifetime caused it. Bad habits caused it."
The problems abound: In a fleet of 6,400 subway cars, more than 700 have passed their 40-year expiration date. The oldest are 52: "They literally should be in a museum," Cuomo said.
It takes the MTA five years to get a new car.
"That is just ridiculous. I could build a car in five years," Cuomo said. "If the MTA's current vendors can't provide them in the timeframe we need, then the MTA should find new vendors. It's that simple."
Much of the signal system was installed before 1937. The MTA's current replacement timetable is seven to 10 years per line — 40 to 50 years systemwide.
"You have countries that are building entire subway systems in a matter of years," Cuomo said.
The ongoing subway problems are coupled with two months of Amtrak repair work that will cause widespread delays at Penn Station, where the subways converge with New York and New Jersey commuter lines and Amtrak trains.
Cuomo repeated his warning that rail riders could face "a summer of hell" but said alternatives like ferries, express buses and creative train scheduling should provide some relief.
Conference participants included representatives of transit systems in Paris, London, Istanbul, Tokyo, Hong Kong, Beijing, Singapore, Toronto, Zurich and Copenhagen.