GoPro's Turnaround Is Gaining Steam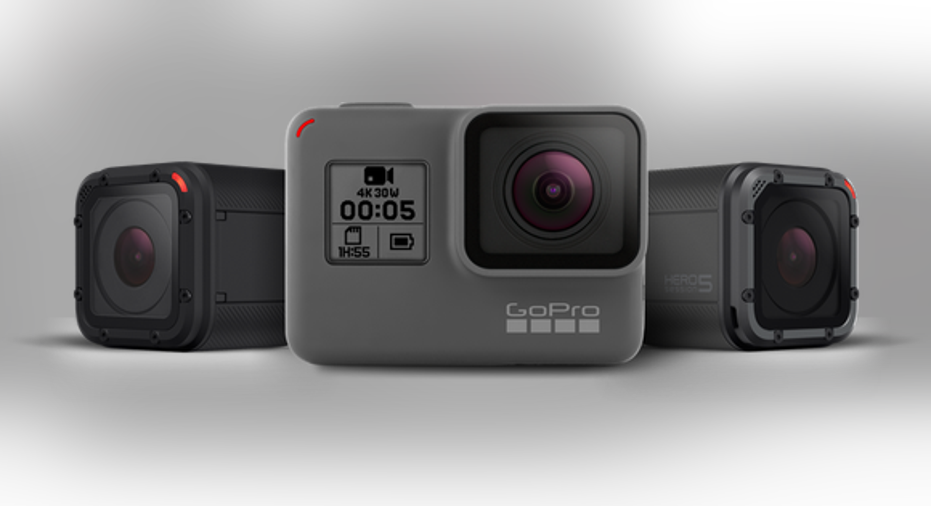 GoPro(NASDAQ: GPRO)announced first-quarter 2017 results Thursday after the market closed. And though shares fell around 7.7% in Friday's trading, GoPro stock is still up roughly 16% since the action-camera specialist revealed last month that revenue would arrive at the high end of its previous guidance range.
Now that GoPro has formally confirmed as much, let's take a closer look at how it started the year, as well as what investors can expect going forward.
IMAGE SOURCE: GOPRO, INC.
GoPro's results: The raw numbers
| Metric | Q1 2017 | Q1 2016 | Year-Over-Year Growth |
| --- | --- | --- | --- |
| Revenue | $218.6 million | $183.5 million | 19.1% |
| GAAP net income (loss) | ($111.2 million) | ($107.5 million) | N/A |
| GAAP earnings (loss) per share | ($0.78) | ($0.78) | N/A |
DATA SOURCE: GOPRO INC.
What happened with GoPro this quarter?
For perspective -- and though we already knew this would be the case based on GoPro's announcement last month -- revenue was above the high end of previous guidance for a range of $190 million to $210 million.
On an adjusted (non-GAAP) basis, which excludes items like stock-based compensation, acquisition expenses, and restructuring costs, GoPro's quarterly net loss was $62.8 million, or $0.44 per diluted share, narrowed from an adjusted net loss of $86.7 million, or $0.63 per share in the same year-ago period.
Adjusted gross margin was 32.3%, in line with guidance.
Adjusted earnings before interest, taxes, depreciation and amortization (EBITDA) came in at a loss of $45.7 million.
International markets represented 60% of first-quarter revenue.
Shipped 738,000 camera units during the quarter, up from 701,000 units in the same year-ago period.
Unit sell-through was down on a year-over-year basis, but average selling prices (ASPs) climbed 35% sequentially and 13% year over year, thanks to the elimination of lower-priced SKUs and GoPro's introduction of newer premium products, including the Karma drone, Karma Grip, and the HERO5 Black.
According to NPD Group's Retail Tracking Service, GoPro commanded the top three spots on a unit basis in the digital image category. HERO5 Black led the way on both a unit and dollar basis.
NPD also revealed Karma was the No. 2 best-selling drone priced over $1,000 in the U.S. on a unit basis.
Launched GoPro's first-ever trade-up program, allowing users to trade in any previous-generation GoPro camera (in any condition) for a discount on either a new HERO5 Black or HERO5 Session camera.
What management had to say
GoPro founder and CEO Nick Woodman stated:
Looking forward
For the second quarter of 2017, GoPro expects revenue in the range of $260 million to $280 million -- up from $220.8 million in last year's Q2 and well above the $240.4 million investors were anticipating -- with gross margin in the range of 32.5% to 34.5%. Adjusted EBITDA in the second quarter should be around a loss of $15 million, plus or minus $5 million.
Finally, for the full year, GoPro now expects GAAP operating expenses to fall below $580 million compared to $585 million previously, and reiterated its target for non-GAAP operating expenses of below $495 million.
In the end, this was as strong a quarter as any investor could have hoped for, though the market's seemingly negative response may not indicate as much given GoPro's rise over the past month or so. As GoPro continues to implement its plans to return to sustained, profitable growth, I think patient, long-term shareholders should be pleased with where it stands today.
10 stocks we like better than GoProWhen investing geniuses David and Tom Gardner have a stock tip, it can pay to listen. After all, the newsletter they have run for over a decade, Motley Fool Stock Advisor, has tripled the market.*
David and Tom just revealed what they believe are the 10 best stocks for investors to buy right now... and GoPro wasn't one of them! That's right -- they think these 10 stocks are even better buys.
Click here to learn about these picks!
*Stock Advisor returns as of April 3, 2017
Steve Symington has no position in any stocks mentioned. The Motley Fool owns shares of and recommends GoPro. The Motley Fool has the following options: short January 2019 $12 calls on GoPro and long January 2019 $12 puts on GoPro. The Motley Fool has a disclosure policy.