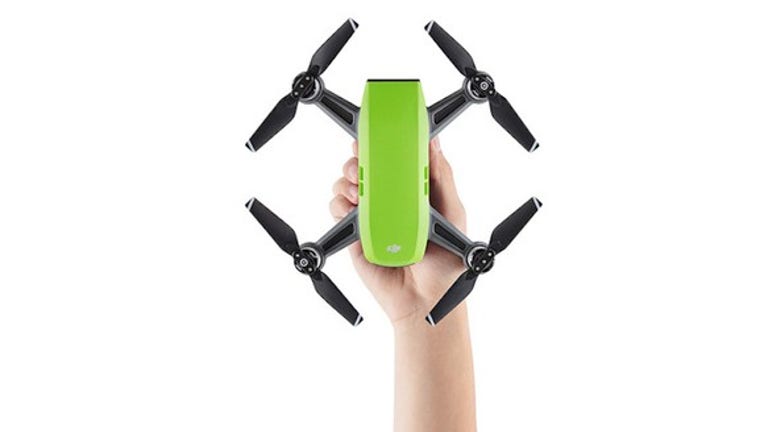 GoPro Inc.'s (NASDAQ: GPRO) Karma drone was supposed to be a big step into a new market for the action-camera company. When it launched, its price point of $800 (without a camera) was attractive enough to draw consumers; with the added value from a stabilizer included with the drone, it was good enough to succeed, even if it wasn't the best drone on the market.
But Chinese drone maker DJI stepped up its game shortly after Karma was introduced by launching the Mavic, which was more costly but clearly a better drone than the Karma. And on Tuesday DJI took the battle to another level, introducing Spark, a tiny drone that does almost everything Karma can do and more.
DJI's Spark drone is already better than GoPro's Karma and it isn't even available yet. Image source: DJI.
Karma's competition is just too good
Spark is a mini-drone you can launch from the palm of your hand, control with hand gestures, and fly at 50 kilometers per hour with a 2-kilometer range for 16 minutes. It has obstacle avoidance, a return-home feature, and preprogrammed flight patterns that can follow a person at their center point.
The tiny drone nearly meets Karma's 20-minute flight time, 3 km range, and 56 kph top speed, but it's easier to use and includes a camera and gimbal, which are extra for GoPro.
DJI also introduced software that makes editing and sharing content from the Spark easier. Right now it looks as easy as, if not easier than, using GoPro's Capture and Quik apps.
The killer feature DJI introduced
You could argue around the edges where Karma may have some small advantages over Spark. But when DJI announced a $499 price point, which includes the camera, the product almost instantly made Karma look like an antique.
DJI has a long history of making great drones and a handheld product for under $500 is a huge win for the company, even if flight time is short at 16 minutes.
GoPro needs to step up its game
I mentioned earlier this week that GoPro needs to look beyond Hero cameras to remain relevant in the future. And if it wants the Karma line of drones to be any part of that future, it needs to take a big step forward -- and soon. Waiting until 2018 to introduce an update to Karma will be too late, and DJI probably has new products it will introduce by then.
10 stocks we like better than GoProWhen investing geniuses David and Tom Gardner have a stock tip, it can pay to listen. After all, the newsletter they have run for over a decade, Motley Fool Stock Advisor, has tripled the market.*
David and Tom just revealed what they believe are the 10 best stocks for investors to buy right now... and GoPro wasn't one of them! That's right -- they think these 10 stocks are even better buys.
Click here to learn about these picks!
*Stock Advisor returns as of May 1, 2017
Travis Hoium owns shares of GoPro. The Motley Fool owns shares of and recommends GoPro. The Motley Fool has the following options: short January 2019 $12 calls on GoPro and long January 2019 $12 puts on GoPro. The Motley Fool has a disclosure policy.