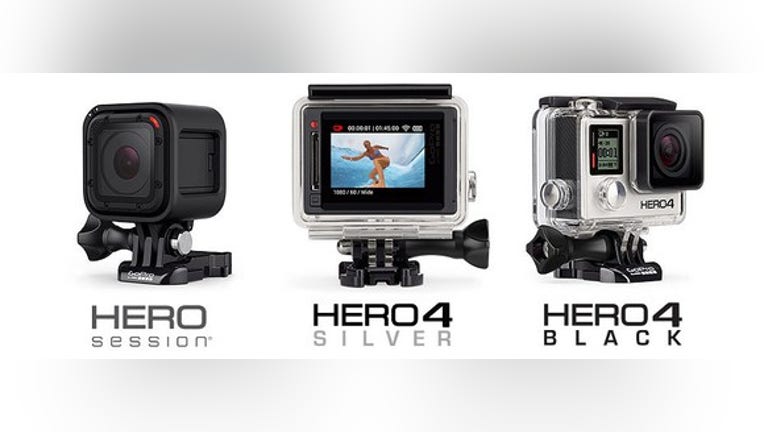 Wearable camera maker iONWorldwide was once GoPro's largest rival. iON controlled 12% of the global action camera market in2014, according to IDC, compared to GoPro's 48% share and Sony's approximate 8% share. However, iON recently filedfor bankruptcy, stating that its revenue declined from $25 million to $12.4 million between 2014 and 2015, and that it was $15 million in debt.
iON's SnapCam. Image source: iON Worldwide.
Amid plunging sales, iON engaged in costly legal disputes against GoPro. Rival action camera maker Contour sued GoPro for patent infringement lastJanuary, and iON inherited that battle when it merged withContour four months later. In court papers, iON discloses that the lawsuit is "likely years from producing any result" and would result in higher legal expenses. Despite all those challenges, iON plansto launch a new 4K camera this summer to compete with GoPro.
Why iON's bankruptcy might help GoPro
If iON has less cash to invest in new cameras and markets, GoProcould more easily gain market share when it launches the Hero 5 later this year. That would help GoPro's quarterly revenue growth recoverin the fourth quarter after a year of projected annual declines.
iON's retreat could also open up new markets for GoPro. iON sells a wide range of clip-on, home security, and dashboard cameras. GoPro doesn't have a presence in any of these markets. GoPro could launch new devices in these categories -- or even try to buy iON-- to diversify its product line away from standard-action cameras.
Investors shouldn't automatically consider iON's bankruptcy a red flag for GoPro's business. I believe that iON's core weakness is that it lacks GoPro's brand strength. iON's YouTube channel has fewer than 3,000 subscribers, while GoPro reaches over 4 million. iON also didn't aggressively challengeTaser'sAxon body cams for law enforcement, despite the companies clip-on cameras appearing like a perfect fit for thegrowing market.
Why iON's bankruptcy might hurt GoPro
However, iON's bankruptcy suggests that demand for action cameras is waning and the market is overly saturated. Consumers wanting to buy action cameras likely already bought them, and those with cameras won't upgrade their "good enough" devices until they stop working. Meanwhile, many mainstream consumers still don't see the point of buying action cameras when smartphones suffices for most situations.
That's why GoPro's sales are expected to fall 17% this year, after rising 41% in 2014 and 16% in 2015. Sony expects revenue fromits Imaging Products and Solutions business (which includes traditional cameras and action cameras) to fall 22.5% this year, due to "significant decreases in sales of digital cameras" and other broadcast devices. Those figures suggest that GoPro's sales won't magically rebound with the arrival of the Hero 5.
Image source: GoPro.
To make matters worse, price expectations are also falling very quickly. Yi Technology's new 4K Action Camera 2 offers the exact same Ambarella SoC found in GoPro's top-tier Hero 4 Black at half the price. To add insult to injury, Yi added a touch LCD screen and a bigger battery. Meanwhile, the lower-end market is flooded with cheap "GoPro knockoffs" which are fully compatible with GoPro's cases and mounts.
Is the glass half full or half empty?
GoPro bulls will probably see iON's bankruptcy as the elimination of another rival, while GoPro bears will consider it a bleak warning for the action camera market. The numbers support the latter, since GoPro's sales growth slowed considerably in 2015 and iON's revenue was cut in half. This suggests that the action camera market simply wasn't as promising as some companies believed.
However, GoPro's weakness last year can also be attributed to its lack of a new flagship device and poor Hero 4 Sessionsales. If the Hero 5 brings loyal fans back, it could help GoPro marginalize smaller rivals and reassert its position as the market leader in action cameras. Ambarella's recent forecast for a "recovery" of the wearable cameras market during the second half of the year also suggests that could happen. Therefore, investors should carefully weigh both sides of the argument before deciding what iON's bankruptcy actually means for GoPro.
The article GoPro's Biggest Rival Just Went Bankrupt originally appeared on Fool.com.
Leo Sun has no position in any stocks mentioned. The Motley Fool owns shares of and recommends Ambarella and GoPro. The Motley Fool recommends Taser International. Try any of our Foolish newsletter services free for 30 days. We Fools may not all hold the same opinions, but we all believe that considering a diverse range of insights makes us better investors. The Motley Fool has a disclosure policy.
Copyright 1995 - 2016 The Motley Fool, LLC. All rights reserved. The Motley Fool has a disclosure policy.