GoPro Will Bring a New VR Camera to Market in 2017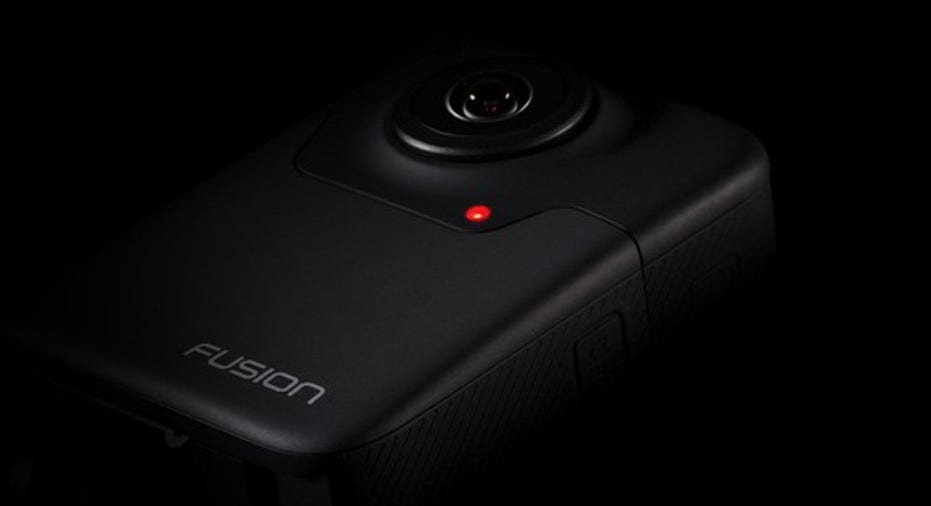 GoPro Inc. (NASDAQ: GPRO) has been dabbling in the virtual reality market since it bought Kolor in 2015, a company that made software that stitched together images and video to create VR content. But since then, GoPro hasn't done much outside of introducing the bulky Omni rig, which orients six Hero4 Black cameras into a cube to capture content. But at $4,999.99, the product isn't exactly within reach for the masses.
Last Thursday, the company introduced a pilot program for a 5.2K spherical camera that may bridge the gap between non-VR and VR content worlds. And if it's priced right, this could be GoPro's biggest new product in years.
A cryptic image of GoPro's new product Fusion. Image source: GoPro.
What is Fusion?
The pilot program is called Fusion. We don't know a lot of details, except that it's intended to capture a wide variety of content from 2D images to VR video and will work with a range of GoPro's existing mounts. A press release calls it the "ultimate capture device for both fully immersive virtual reality content as well as conventional non-VR video and photo formats."
The image shown above makes it appear that Fusion's form factor will be similar to a Hero line camera, likely with multiple lenses. But until we know more, it's tough to tell what the camera looks like or how it will function.
We did learn that it's intended to be a "capture now, edit later" device. A post by Jess Foley, GoPro's senior product manager of spherical solution,put it like this:
You can see some of the footage that's possible in the video below. Even on a non-VR screen, this is compelling content.
A bridge between non-VR and VR
If GoPro can create a product that's easy to use, is cost-efficient for consumers, and makes a multitude of images possible, it would be a huge win. Consumers won't want to buy one GoPro for traditional images and video and another for VR content. It appears that this product will address that challenge. The ability to orient the view after the fact will make it easier to capture great content as well.
It's also important that Fusion is compatible with "a broad range of GoPro's mounts and handheld accessories." That means it will fit in the existing GoPro ecosystem and be an easy addition for existing customers.
What we don't know is how Fusion and its software will work with emerging VR platforms from Google, Facebook, Samsung, and Microsoft. If it integrates seamlessly and can be a preferred capture device, this could be a big win for GoPro.
We also don't know anything about cost. The six camera Omni mount was way out of the price range of consumers, so this would need to be in the $400 to $800 range to be successful, depending on features and software included. The devil is in the details of pricing and features for Fusion.
Competition is also starting to heat up. Kodak has a two-camera spherical system already and Facebook just introduced an open-source camera design with six and 24 lenses (which may have led to today's rushed release). These will be direct competitors to Fusion when launched.
Making a VR camera is certainly the right move for GoPro, and if it can get to market by the end of 2017, as it plans to, the product could be a big hit. Keep an eye on more news about Fusion to see if this can be the kind of revolutionary product that will enable GoPro to boost its stock price and get back in the market's favor.
10 stocks we like better than GoProWhen investing geniuses David and Tom Gardner have a stock tip, it can pay to listen. After all, the newsletter they have run for over a decade, Motley Fool Stock Advisor, has tripled the market.*
David and Tom just revealed what they believe are the 10 best stocks for investors to buy right now... and GoPro wasn't one of them! That's right -- they think these 10 stocks are even better buys.
Click here to learn about these picks!
*Stock Advisor returns as of April 3, 2017
Suzanne Frey, an executive at Alphabet, is a member of The Motley Fool's board of directors. Teresa Kersten is an employee of LinkedIn and is a member of The Motley Fool's board of directors. LinkedIn is owned by Microsoft. Travis Hoium owns shares of GoPro. The Motley Fool owns shares of and recommends Alphabet (A shares), Facebook, and GoPro. The Motley Fool has the following options: short January 2019 $12 calls on GoPro and long January 2019 $12 puts on GoPro. The Motley Fool has a disclosure policy.