GoPro, Inc.: The Bear Case From a Bull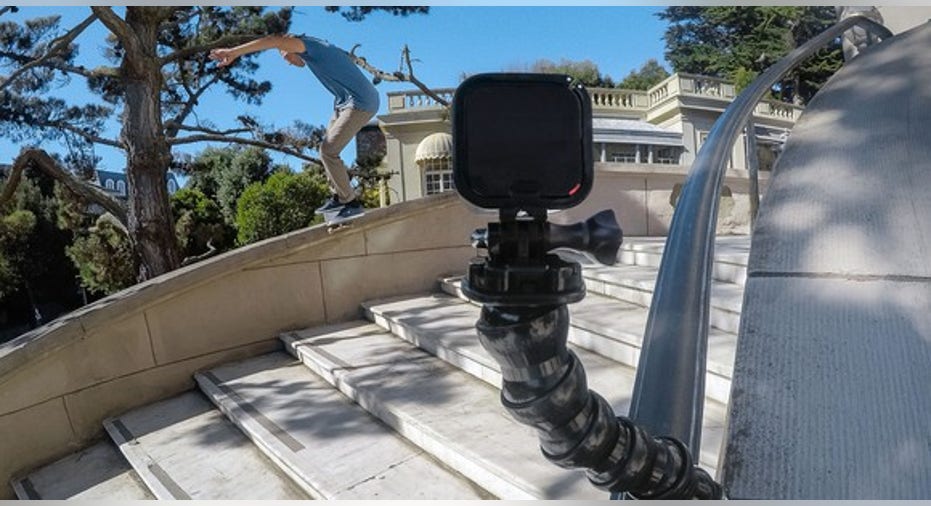 GoPro (NASDAQ: GPRO)shareholders have a lot riding on the action camera maker's upcoming quarterly results. GoPro announces its first-quarter report after Thursday's market close, and analysts are holding out for double-digit revenue growth and a smaller deficit than it posted a year earlier.
I am a bull on GoPro. I am the lead analyst for one of The Motley Fool's real-money newsletter services that owns a piece of GoPro. I'm also willing to put my money where my mouth is: I bought a Hero5 earlier this month.
I'm also a realist. GoPro stock is trading 91% below its all-time high set a few months after going public in 2014. It has real challenges as it tries to bounce back from a sluggish year of sales and last year's botched entry into the drone market. I believe in GoPro's long-term potential as an investment, but let's get into what the bears are seeing here.
Image source: GoPro.
Snuffing out the quiet rally
As bad as things have gone for GoPro, the stock is actually trading slightly higher in 2017. The shares have soared 26% since bottoming out last month. You have to go back nearly three months to find the last time that the stock was trading in the double digits, but at least momentum appears to be turning -- something that may be encouraging for longs but can be disastrous if Thursday's report falls short.
GoPro is expected to post improving results when pitted against last year's first quarter, but it's a different story when stacking up the former market darling against where it was the year before that. Wall Street analysts see quarterly revenue rising 13% to $207.9 million, but it's actually a 43% plunge from the $363.1 million it rang up during 2015's first quarter. GoPro will even fall shy of the revenue it generated in the first quarter of 2014. When it comes to the bottom line, the $0.44-a-share deficit that currently stands as the average among Wall Street pros is less red ink than the $0.63-a-share hole it got itself into a year earlier. As you can probably imagine, GoPro was profitable during the first quarter of 2015.
In short, GoPro is taking baby steps back. The road will be long, and with GoPro's sales a fraction of what they were two years ago naysayers are wondering if it's the company or the niche that's broken. It's probably a little bit of both.
Smartphone cameras have gotten better and are more durable. Why pack a GoPro when you can mount a new waterproof iPhone with a great camera and decent image stabilization? GoPro's success has also attracted plenty of knockoffs that offer many of the same features for a lot less.
Drone alone
At the time of its IPO, GoPro was positioning itself as a content company. It would be a clearinghouse for action footage, turning the commoditized camera market into an ecosystem. GoPro has retreated from that stance, recently announcing layoffs in that area.
GoPro was also promising a big push into the drone market, and after a few false starts, it launched a $799 flying machine late last year that it had to recall when some failed mid-flight. GoPro's Karma drone finally was released during the first quarter, but it's going to take some time to win over consumer confidence after its initial hiccups.
The next big new product category will be virtual reality. It recently announced that it will start a pilot program for GoPro Fusion -- a 5.2K spherical camera to capture VR content -- this summer. However, it may be serving a limited audience there, and after its rough entry into the drone space, it's OK to be skeptical about its ability to get this market right the first time.
I'm bullish and part of an analyst team that's long the stock. However, the stock's recent rally and its spotty track record when it comes to execution make it easy to see things through the lens of the shorts and worrywarts. There's a lot riding on Thursday afternoon's performance.
10 stocks we like better than GoProWhen investing geniuses David and Tom Gardner have a stock tip, it can pay to listen. After all, the newsletter they have run for over a decade, Motley Fool Stock Advisor, has tripled the market.*
David and Tom just revealed what they believe are the 10 best stocks for investors to buy right now... and GoPro wasn't one of them! That's right -- they think these 10 stocks are even better buys.
Click here to learn about these picks!
*Stock Advisor returns as of April 3, 2017
Rick Munarriz has no position in any stocks mentioned. The Motley Fool owns shares of and recommends GoPro. The Motley Fool has the following options: short January 2019 $12 calls on GoPro and long January 2019 $12 puts on GoPro. The Motley Fool has a disclosure policy.