GoPro Inc. Gets Schooled by TomTom's Bandit: Now What?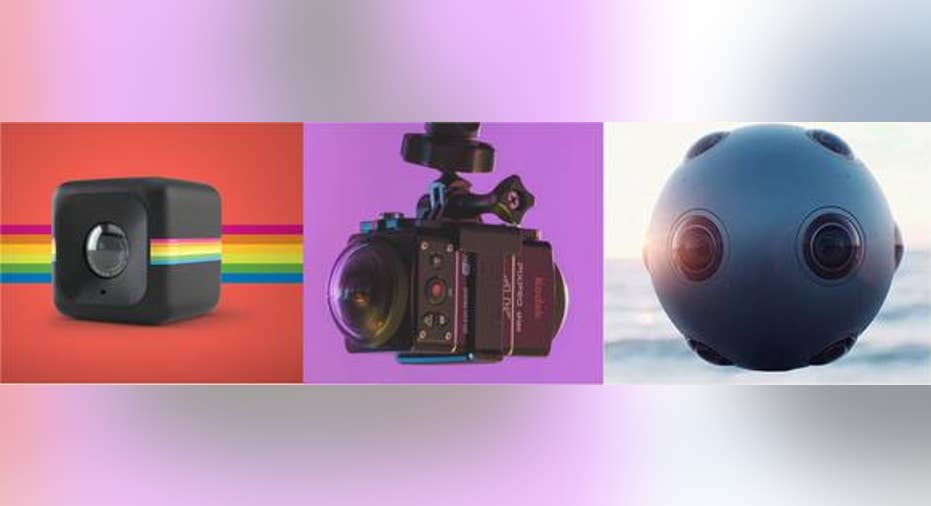 GoPro stock has plummeted 70% during the past 12 months due to concerns about its slowing sales growth, lack of a moat against cheaper competitors, and sluggish progress in creating efficient backup and editing solutions. Over the past year, GoPro's rivals have released products that seemingly leapfrog the action-camera maker in both function and design.
L to R: Cube, PixPro SP360, and Ozo.
C&A Marketing launched the Polaroid Cube, a tiny camera smaller than any of GoPro's devices. KodakandNikon launched single cameras for filming spherical 4K content for VR devices -- a task which requires GoPro users to buy multiple cameras and a companion rig. Nokia launched Ozo, a high-end spherical camera for professional VR filmmaking. Several companies even introduced 4G-connected cameras that don't require Wi-Fi or pairing with a smartphone.
Enter TomTom's BanditNavigation device maker TomTom also joined that list last year with its first action camera, the Bandit. At $399, the device is the same price as GoPro's popular Hero 4 Silver, but unlike the Silver, the Bandit is equipped with a GPS and built-in sensors that can detect "moments" of high acceleration, deceleration, rotation, vertical speed, G-force, and even heart rate data from an optional chest strap.
Each "moment" is bookmarked with colorful icons on the video timeline so users can quickly find, trim, and compile their more exciting segments into a single video. GoPro users, by comparison, must manually scan through a video to find, trim, and edit together the more interesting parts. On the Bandit's website, TomTom takes a thinly veiled shot at GoPro, claiming that with its device, you scan "edit and share your action in minutes (not hours)." TomTom's Bandit also has an integrated USB connector, which eliminates the need for cables. As for video quality, the Bandit can film 4K video at 15fps, just like the Hero 4 Silver.
TomTom's Bandit action cam. Source: TomTom.
The Verge's Thomas Ricker recently reviewed the Bandit and compared it to the Hero 4 Silver. His key conclusions: The Bandit is "a fantastic camera, brimming with thoughtful hardware design choices," and "GoPro's popularity doesn't necessarily make it the best choice" -- especially for users who "value the ability to quickly edit and share videos."
Why isn't GoPro paying attention?GoPro's responses to its newest challengers haven't inspired much confidence. At CES in January, CEO Nick Woodman stated that GoPro would launch a "more casual" stand-alone spherical action camera for mainstream consumers. That device would complement its "Jump" partnership with Alphabet , which enables users to capture 360-degree video for YouTube's 360 channel. However, there's nothing stopping YouTube from offering similar partnerships to Kodak, Nikon, or Nokia.
During last quarter's conference call (as transcribed by Thomson Reuters), Woodman declared that the Hero 5 will be its "most connected and convenient GoPro" ever, indicating thatit could have 4G connectivity and be tethered to more efficient editing software. He also stated that GoPro was "ensuring that any new and existing hardware products do a better job of connecting to smartphones and the cloud."
To do so, GoPro recently signed a partnership with Microsoft for"certain file storage and other system technologies" and acquired two mobile video editing apps. Unfortunately, new action camera software platforms like TomTom's indicate that GoPro could already be behind the curve in backup and editing solutions.
Will the "GoPro knockoffs" knock off GoPro?The arrival of devices like Polaroid's Cube, Kodak's PixPro SP360, and TomTom's Bandit indicates that the so-called "GoPro knockoff" makers are now leading in terms of hardware and software innovation.
GoPro's sluggish response to these threats indicates that the company could lose its ability to sell premium action cameras for $400 to $500. If that happens, its sales could fall even more sharply than the 15% decline analysts predict for this year. To avoid that fate, GoPro needs to introduce truly innovative features with the Hero 5, Karma drone, and software upgrades later this year.
The article GoPro Inc. Gets Schooled by TomTom's Bandit: Now What? originally appeared on Fool.com.
Suzanne Frey, an executive at Alphabet, is a member of The Motley Fool's board of directors. Leo Sun has no position in any stocks mentioned. The Motley Fool owns shares of and recommends Alphabet (A shares), Alphabet (C shares), and GoPro. Try any of our Foolish newsletter services free for 30 days. We Fools may not all hold the same opinions, but we all believe that considering a diverse range of insights makes us better investors. The Motley Fool has a disclosure policy.
Copyright 1995 - 2016 The Motley Fool, LLC. All rights reserved. The Motley Fool has a disclosure policy.