GOP budget that's key to taxes moving ahead in Senate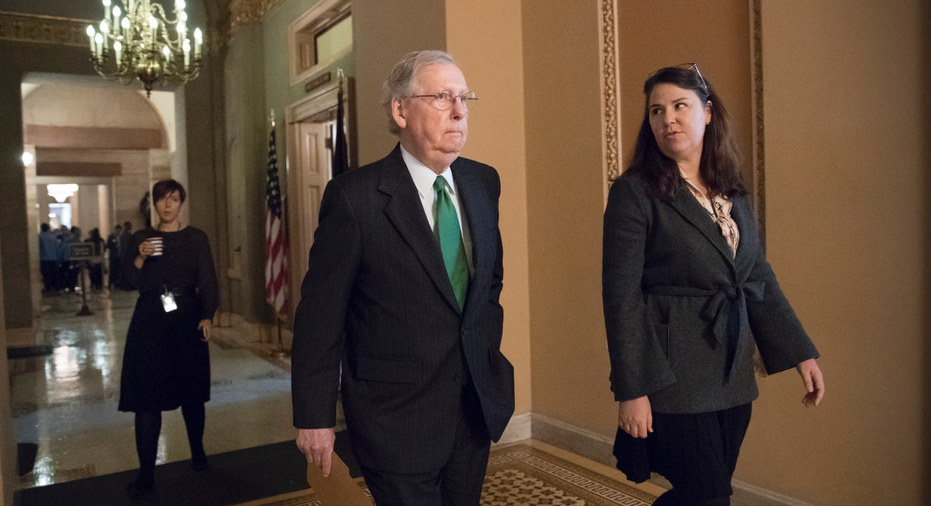 The Senate is moving ahead on a Republican budget plan, a critical step in President Donald Trump and the party's politically imperative drive to cut taxes and simplify the IRS code.
The nonbinding budget plan would permit Republicans to pass follow-up tax cuts later this year that would cost up to $1.5 trillion over the coming decade. The plan cleared a procedural hurdle in the Senate on a party-line vote of 50-47.
The plan breaks with longstanding promises by top Republicans like Senate Majority Leader Mitch McConnell and House Speaker Paul Ryan that the upcoming tax drive won't add to the nation's $20 trillion debt. Once the budget plan passes through the GOP-controlled Congress, the House and Senate can then advance a follow-up tax overhaul measure without fear of a filibuster by Senate Democrats.
"It is crucial that Congress approve this fiscal framework in order to eliminate the dated and stifling tax policies that are holding back our nation," said Budget Committee Chairman Mike Enzi, R-Wyo.
The budget plan calls for $5 trillion in spending cuts over the decade, including cuts to Medicare, Medicaid and the Obama-era health care law, though Republicans have no plans to actually impose those cuts with follow-up legislation.
Tuesday's vote sets up a vote later this week to pass the budget. That vote is likely to be close, but key GOP moderates such as Susan Collins of Maine and Lisa Murkowski of Alaska have signaled support. And John McCain, R-Ariz., who bucked the party on health care, said Tuesday that he supports the budget as a path to accomplishing tax reform
Rand Paul, R-Ky., is opposed, but so far he is the only Republican to come out against the measure, and GOP leaders are confident the budget will pass by Friday.
Paul told reporters he wants to strip $43 billion in war funding from the measure, claiming the money busts budget limits set years ago. He lashed out at McCain and Sen. Lindsey Graham, R-S.C. — longstanding defense hawks defending the war funding — and questioned whether Republicans are serious about cutting automatic-pilot programs known as entitlement spending.
"You've got the McCain-Graham people clamoring for as much money as they can stuff in there and then we also have people saying, 'Oh yeah, we're going to do entitlement reform' but with no means, no mechanism, and no will shown that they actually are serious."
Graham shot back on Twitter that Paul was dishing out "bad info" and was threatening to "screw up #TaxReform."
Trump and his GOP allies plan to use the $1.5 trillion in tax cuts to sharply reduce corporate rates, cut taxes for most individuals, and slash taxes on business partnerships such as law firms, medical practices, and accounting firms. After failing to deliver on their promise to "repeal and replace" the health care law, Republicans fear that failure to deliver on taxes would be a political disaster.
The spending cuts in the measure include $473 billion from Medicare and more than $1 trillion from Medicaid. Although the budget plan is nonbinding, it puts Republicans and Democrats on record about its policies.
If the measure's politically difficult cuts were implemented, the budget deficit would drop to $424 billion after 10 years and average about $540 billion a year over the life of the plan, the Congressional Budget Office estimates.
Republicans use different math, relying on optimistic predictions of economic growth that average 2.6 percent a year, while ignoring growing, chronic deficits run by Social Security to claim that their budget could actually generate a surplus by 2026.
"The Budget Committee expects that enactment of pro-growth policies could generate sufficient economic growth to offset" the $1.5 trillion tax cut, according to the panel's budget report.
Even most economists sympathetic to arguments that tax cuts boost the economy don't claim they fully pay for themselves, however.
"A good estimate for real-world tax policy is somewhere around 25-30 cents on the dollar," said GOP economist Douglas Holtz-Eakin.
While Democrats remain united against the budget plan, the Trump administration is making overtures to Democratic senators from states Trump easily won last year. Democratic Sens. Heidi Heitkamp of North Dakota, Claire McCaskill of Missouri and Joe Manchin of West Virginia dined Monday night at the home of daughter Ivanka Trump and her husband, Jared Kushner, both top presidential advisers.
The bare-bones tax blueprint issued last month by Trump and Republican leaders lacks critical details, and two of the Democrats said it was premature to consider compromises.
There was "lots of talk" about the tax plan, Heitkamp said Tuesday, but "I still don't know what it is."
McCaskill said, "It's very difficult to discuss what, if anything, we could agree to if they don't have a plan."
__
Associated Press writer Marcy Gordon contributed to this report.