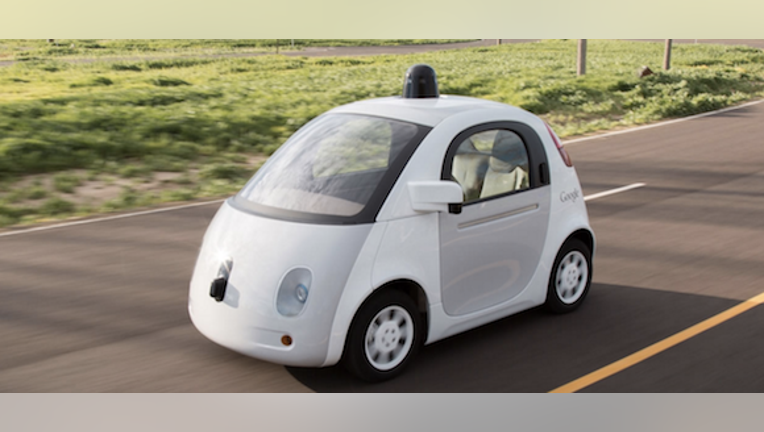 Image source: Google.
There are a lot perspectives swirling around about self-driving cars these days. Much of them revolve around the timing of when self-driving autos will become ubiquitous, and some deal with how the vehicles themselves will impact the automotive industry.
At the 2016 J.D. Power Automotive Forum this week, Alphabet's Google shed a little more light on the latter. John Krafcik, the CEO of Google's self-driving car project, said autonomous car owners will likely drive more than ever before, and that they'll need dealers even more than they do now.
Krafcik said, "Self driving cars are going to be more expensive physical assets, so we're going to find a way to use them more." He added that the cars will probably drive 100,000 to 150,000 miles each year (compared to the average 13,500 miles now) because people will use them for car sharing services.
And this, Krafcik thinks, will be a very good thing for car dealers. "I think there are going to be positive implications for a lot of dealers. And for the OEMs, thinking about that duty cycle is going to be very different," he said. Essentially, cars will need much more servicing because they'll be driven a lot more, and they'll be much more technologicallycomplicated than they are right now.
Of course, carmakers are pursuing their own self-driving autos, just like Google. General Motors, Volvo, Audi, Ford, and just about every other automaker are in in the process of building their own autonomous vehicles.
But as Krafcik noted, Google's self-driving cars could change the automakers' position in the industry, and how they make some of their money. He made a comparison to the airline industry and how it doesn't build its own planes, potentially hinting that car dealers may not make their own cars. "Airlines don't build airplanes. Airbus and Boeing do that. Who knows how this is going to work out in autos?"he said.
It's doubtful automakers would be pushed that far to the outside of the industry as to just be servicing vehicles -- at least not for a long time. Automakers still have more than a fighting chance to stay relevant in the self-driving space considering we're still decades away from autonomous car prevalence.
More from The Motley Fool
Foolish thoughtsGoogle is already a clear leader in the self-driving vehicle world, and it's easy to see how the company could truly disrupt the automotive industry. While carmakers are slowly evolving their current vehicles with increasing amounts of semi-autonomous technologies, Google is going for all-out changes (think removing steering wheels and pedals) and is even pushing the U.S. government to speed up autonomous car testing.
The industry estimates 12 million yearly autonomous cars sales by 2035 in the U.S., which means automakers and tech companies are working hard to ensure they don't fall behind the pack. However, the stakes are higher for carmakers. If tech companies fall behind, they'll just move onto the next big thing, but if automakers fail to adapt, they could be left simply servicing the vehicles they used to create.
The article Google to Drivers: Self-Driving Cars Won't Eliminate Dealers originally appeared on Fool.com.
Suzanne Frey, an executive at Alphabet, is a member of The Motley Fool's board of directors. Chris Neiger has no position in any stocks mentioned. The Motley Fool owns shares of and recommends Alphabet (A and C shares), and Ford. The Motley Fool recommends General Motors. Try any of our Foolish newsletter services free for 30 days. We Fools may not all hold the same opinions, but we all believe that considering a diverse range of insights makes us better investors. The Motley Fool has a disclosure policy.
Copyright 1995 - 2016 The Motley Fool, LLC. All rights reserved. The Motley Fool has a disclosure policy.