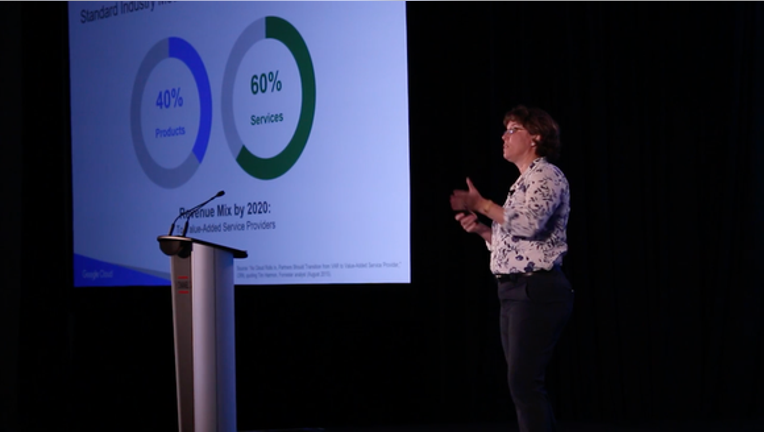 Image source: Getty Images.
The cloud infrastructure market is booming right now, largely led by Amazon.com's (NASDAQ: AMZN) AWS business. But Microsoft (NASDAQ: MSFT) Azure and Alphabet's (NASDAQ: GOOG) (NASDAQ: GOOGL) Google Cloud are still looking to capture some of the market for themselves, even if AWS remains the top dog by a large margin.
There are some important shifts taking place within the cloud infrastructure market, including how products and services are sold. At the recent NexGen Cloud Conference and Expo, Google's head of global technology partners Nan Boden described how the reseller channel is going to play an increasingly important role in the years ahead, according to CRN. (The Channel Company owns CRN and hosted the conference.)
A sea change is coming
If you were to look at reseller channels today, the revenue mix is split up as roughly 65% products and 35% services. Over the next three to four years, this composition is expected to flip on its head, with services driving 60% of sales and products generating the remaining 40%. That's a pretty massive change in a fairly short period of time, and Boden's point is that resellers are going to need to learn to adapt with the market's needs, even though it requires changing the types of skills that resellers focus on. "It's not really optional," she adds.
Image source: CRN.
Channel partners are absolutely critical for cloud infrastructure, and they earn their keep by helping to expand distribution and provide ongoing service and support. That frees the company actually offering the cloud computing -- Amazon, Microsoft, and Google in this case -- from having to invest as much in these functions in-house, particularly as supporting enterprise customers is often quite demanding.
The OpEx model rises
The longer-term trend is that enterprise customers continue to see increasing value in tapping public clouds for their IT infrastructure needs. It's just much more capital-efficient for them to purchase just the capacity and services that they need instead of building it all out on their own, especially for smaller companies.
Boden puts it into terms of operating expenditures (OpEx) versus capital expenditures (CapEx):
What the executive is referring to is the significant CapEx requirements associated with building in-house IT infrastructure, which requires quite a bit of budgeting and planning as well as ongoing maintenance. It's a balancing act for customers. If you invest too little, your business suffers. If you invest too much, you have excess capacity and probably absorbed some capital inefficiency. (A persistent myth about AWS is that it was born out of Amazon's own excess capacity, but it's false.) That's why paying for just what you need has been such a breakthrough for cloud infrastructure providers, because it provides flexibility to customers while getting all that capital spending off their balance sheets. Buying just what they need then becomes an operating expense.
Amazon continues to lead the cloud infrastructure market, and Microsoft is investing heavily in Azure as a natural complement to the software giant's many other enterprise cloud offerings. Google probably cares relatively less than Amazon and Microsoft, but it's still in the game.
10 stocks we like better than Amazon.com When investing geniuses David and Tom Gardner have a stock tip, it can pay to listen. After all, the newsletter they have run for over a decade, Motley Fool Stock Advisor, has tripled the market.*
David and Tom just revealed what they believe are the 10 best stocks for investors to buy right now... and Amazon.com wasn't one of them! That's right -- they think these 10 stocks are even better buys.
Click here to learn about these picks!
*Stock Advisor returns as of Nov. 7, 2016
Suzanne Frey, an executive at Alphabet, is a member of The Motley Fool's board of directors. Evan Niu, CFA has no position in any stocks mentioned. The Motley Fool owns shares of and recommends Alphabet (A and C shares) and Amazon.com. The Motley Fool owns shares of Microsoft. Try any of our Foolish newsletter services free for 30 days. We Fools may not all hold the same opinions, but we all believe that considering a diverse range of insights makes us better investors. The Motley Fool has a disclosure policy.