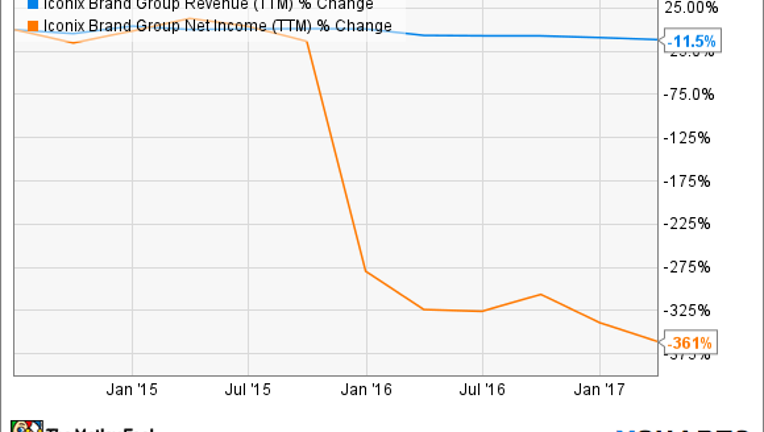 Iconix Brand Group (NASDAQ: ICON) announced it is selling off its stake in Charles Schultz's Peanuts cartoons. The beloved Charlie Brown and his fellow Peanuts characters are being used to help get the company back on firm financial footing.
Getting out of the entertainment biz
The company announced on the morning of May 10 that it was closing down its entertainment segment, which consists of the Peanuts and Strawberry Shortcake brands, which are being sold to Canada-based DHX Media, most famous for the Teletubbies. Cash proceeds to Iconix total $345 million.
Image source: Getty Images
Iconix acquired its 80% interest in the Peanuts back in 2010 and bought Strawberry Shortcake outright in 2015. Since then, The Peanuts Movie was a financial success (grossing $246 million worldwide with an estimated production budget of $99 million), and DHX partnered with Iconix to begin producing a new Strawberry Shortcake TV series. DHX will assume full ownership of both interests, with the Schultz family keeping its 20% stake in Peanuts. Iconix is making out OK on the deal, too, as the combined initial purchase of the two cartoons was $246 million.
The deal is expected to be done by the end of the second quarter. Iconix says that it will completely discontinue its entertainment segment so that it can focus on its core fashion, activewear, and home goods segments.
The Peanuts to the rescue
Iconix is in the midst of righting its business. Management underwent a shakeup last year, the company was buried in debt, and revenue have been falling as sales at end merchants have struggled.
Data by YCharts.
Top of mind for the new management team has been getting debt squared away. At the end of 2016, the Sharper Image brand was sold for $100 million. Proceeds plus additional cash were used to pay down $115 million in debt. This recent Peanuts and Strawberry Shortcake deal will be used to do the same thing. Iconix will be paying off $362 millionof debt this time, which includes the full payoff of $210 millionoutstanding on a term loan.
The Sharper Image deal was hardly a surprise. During its Investor Day last November, management organized all of its brands into three groups: drivers, maintain, and a third group labeled incubate that didn't fit the company's goals that would be considered for sale. Sharper Image was in that third group.
Peanuts and Strawberry Shortcake, though, were listed in the first two groups and were not specifically called out as being up for sales at the time. However, since taking the helm of the company last year, CEO John Haugh has said he would take a more active approach to buying and selling brands in the Iconix portfolio instead of the passive strategy used in the past.
Image source: Iconix.
With sizable chunks of debt coming due, the Peanuts fit the bill. While the sale will mean lost profits going forward, management says the savings on interest expense will make up for that.
What's next for Iconix
The Iconix recovery story has yet to happen, and so far 2017 is poised to be another year spent repairing the business. However, shoring up the books is a positive. Haugh called the debt "restrictive," and getting rid of it sets the company up for pursuing its stated goal of driving growth from its portfolio and making new acquisitions that mesh with the home and fashion segments.
In the meantime, don't be surprised if more names are put on the chopping block as a means to maneuver Iconix back into growth mode.
10 stocks we like better than Iconix Brand GroupWhen investing geniuses David and Tom Gardner have a stock tip, it can pay to listen. After all, the newsletter they have run for over a decade, Motley Fool Stock Advisor, has tripled the market.*
David and Tom just revealed what they believe are the 10 best stocks for investors to buy right now... and Iconix Brand Group wasn't one of them! That's right -- they think these 10 stocks are even better buys.
Click here to learn about these picks!
*Stock Advisor returns as of May 1, 2017
Nicholas Rossolillo owns shares of Iconix Brand Group. The Motley Fool has no position in any of the stocks mentioned. The Motley Fool has a disclosure policy.