Goldman Upgrades Corning: 3 Things You Need to Know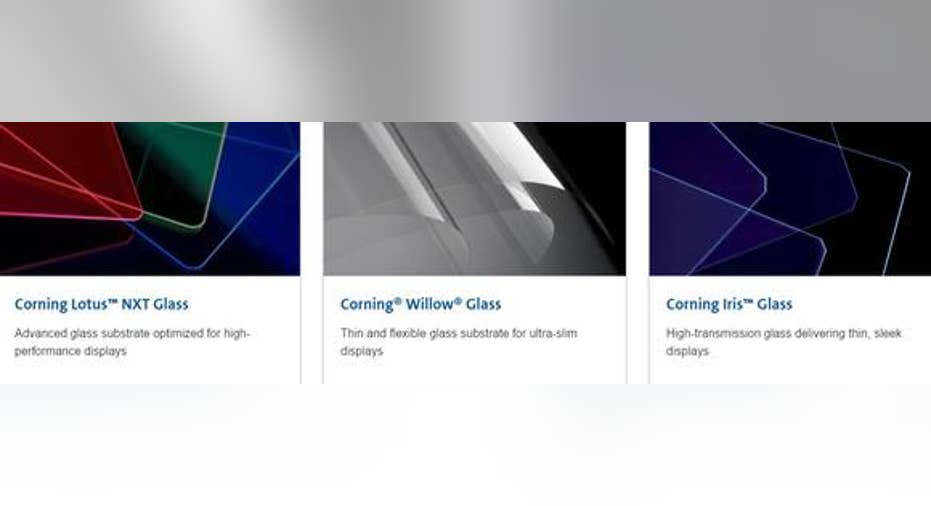 After a poor showing last week, this week is looking like a much happier time to own Corning stock.
The newsThree straight days of stock price gains were helped along Tuesday by a big vote of support from investment banker Goldman Sachs. According to the analyst, Corning -- shares of which have lagged the market over the past 52 weeks -- could soon rise as high as $26 a share in value. And given that these shares cost just $21 and change today, Goldman thinks that makes Corning stock a buy.
Why? Examining trends in the "TV supply chain," and among TV flat panel producers in particular, which Goldman says "is historically a leading indicator of stock performance," Goldman Sachs predicts that Corning shares could be just weeks away from touching a "cyclical bottom."
Everyone knows Corning Gorilla Glass. But Corning makes all sorts of other glasses for all sorts of needs. Image source: Corning.
To understand how Goldman comes to this conclusion, here are three things you need to know.
Thing No. 1: Clues from the supply chainQuoting from Goldman's report, StreetInsider.com notes that the analyst sees "panel maker operating margins as a good proxy for the LCD cycle. And according to Goldman, these margins "are expected to bottom in 1Q16," the earnings reports on which are being prepared as we speak.
Thing No. 2: You won't have to wait long for confirmationGiven this, it should only be a matterof weeks before Goldman Sachs' prediction of Corning's turnaround gets proven -- or disproved. According to the analyst, "our supply/demand glass model and analysis suggests that glass de-stocking should inflect in the coming quarters, driving a return to [year-over-year] revenue and EPS growth."
So as the earnings reports come out, you should be looking for indications in the reports of companies such as Samsung, LG, and AU Optronics -- all of which are listed as major Corning customers by the data crunchers at S&P Global Market Intelligence -- that show reductions in inventory. That will be the big clue that Corning's own shipments of glass for TV panels are about to pick up.
Any "stabilizing" in the prices of TV panels -- indicating tight supplies and inability to offer discounts -- would be a further indication that the "cyclical bottom" has been reached.
Thing No. 3: Corning for your car?All that being said, Goldman Sachs also reminds investors that Corning is more than just TV glass. The analyst also sees positive catalysts for Corning's share price in the prospect of "earnings diversification." Among other markets, Goldman is looking for news that Gorilla glass -- already a staple of mobile devices -- might become the standard for automotive glass as well.
Read that again: Goldman's not just talking about Gorilla glass on the inches-square dash display. ToutingGorilla's "more than thirty percent" weight advantage of Gorilla glass versus "conventional soda lime glass," Corning thinks Detroit and other automakers should be using Gorilla "in all openings of a vehicle including windshields, sidelites, sunroofs and backlites."
And one more thing...If Goldman Sachs is right about all the above, and right about its $26 target price, there's a chance for investors today to earn as much as a 24% profit on Corning stock as it fulfills Goldman's predictions. But here's the important thing: Goldman Sachs absolutely has to be right about the revival of growth at Corning for this stock to work out for investors.
Consider: With $1.56 billion in trailing free cash flow produced last year, Corning stock already produces 16% more cash profit from its business than shows up on the company's income statement (where 2015 net earnings were listed at just $1.34 billion). These are very good numbers indeed. And yet, with most analystson S&P Global still predicting that Corning will grow its profits at less than 5% annually over the next five years, even $1.56 billion in FCF may not be enough to justify Corning's current $23.2 billion market capitalization.
In fact, by my estimates, Corning probably needs to grow earnings at something like 3 times the rate analysts are projecting -- 15% or thereabouts -- for the stock to begin to look cheap.
Long story short: I like Corning as a company very much. But much as I'd like to see Goldman Sachs be right about Corning stock, it still looks too expensive to me. Absent growth rates far in excess of what most analysts believe possible, this stock is still no buy.
The article Goldman Upgrades Corning: 3 Things You Need to Know originally appeared on Fool.com.
Fool contributorRich Smithdoes not own shares of, nor is he short, any company named above. You can find him onMotley Fool CAPS, publicly pontificating under the handleTMFDitty, where he's currently ranked No. 283 out of more than 75,000 rated members.Rich's reservations notwithstanding, The Motley Fool still recommends Corning. Try any of our Foolish newsletter servicesfree for 30 days. We Fools may not all hold the same opinions, but we all believe thatconsidering a diverse range of insightsmakes us better investors. The Motley Fool has adisclosure policy.
Copyright 1995 - 2016 The Motley Fool, LLC. All rights reserved. The Motley Fool has a disclosure policy.