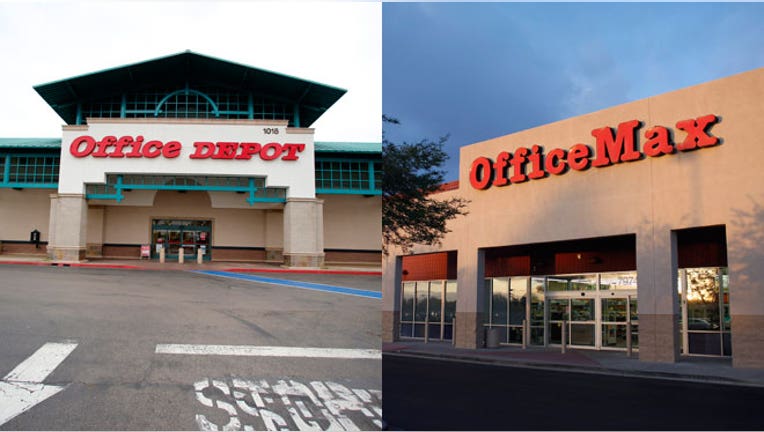 Office Depot (NYSE:ODP) rallied on Tuesday after analysts at Goldman Sachs said the company is more likely to surpass expectations than rival Staples (NASDAQ:SPLS).
Office-supplies retailers have faced stiff headwinds in recent years. Increased competition from Wal-Mart (NYSE:WMT) and Amazon.com (NASDAQ:AMZN) are pressuring sales and margins, while the decline in paper consumption is hampering demand for core supplies.
Following Office Depot's merger with OfficeMax, the sector is down to just two brick-and-mortar retailers.
Both Staples and Office Depot are working to cut costs and reduce their store counts. Earlier this month, Office Depot said it will close at least 400 U.S. stores. Staples expects to shutter 225 North American stores as part of a $500 million cost-cutting plan.
In a research note to clients, Goldman Sachs analysts boosted Office Depot to a "buy" rating with a $7 price target, up from $5.40. Office Depot has a significant opportunity to deliver earnings growth from the integration of its merger and a broader effort to slash costs, according to the investment bank.
Goldman pointed to Office Depot chief executive Roland Smith as another source of optimism. Smith has established early momentum and brings cost-cutting experience from his time at Wendy's (NASDAQ:WEN), the analysts explained.
Goldman downgraded Staples to "sell" and lowered its target by 50 cents to $11, saying the retailer's margins will face a difficult recovery after a tough 2014.
Shares of Office Depot climbed 3.6% to $5.22 in recent trading. Staples dropped 2.1% to $11.40.
"Both should benefit from restructuring activity, the closing of less profitable stores, and the associated sales recapture," the analysts wrote, referring to Office Depot and Staples. "That said, we believe that ODP, coming off a lower base and with more dramatic cost opportunity, is likely to deliver upside to current Street forecasts."
Goldman expects Staples to match, but not exceed, Wall Street estimates, as investments in the business limit the impact of cost reductions.
Analysts remain guarded on the addition of consumable merchandise to Staples' stores, "given more universal availability and the impact on the consumer's perception of the store's focus." They said similar efforts to diversify in-store offerings at other retailers, including Home Depot (NYSE:HD) and AutoZone (NYSE:AZO), proved to be difficult.