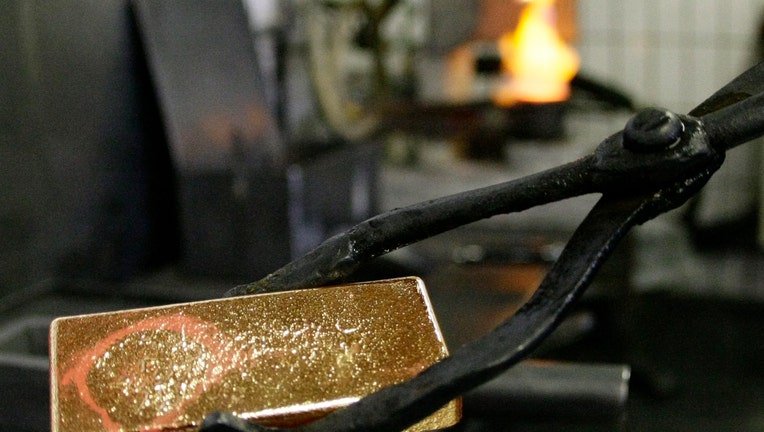 Gold fell to a four-week low on Thursday, on waning prospects of an imminent military strike against Syria and uncertainty over the time and pace at which the U.S. Federal Reserve will start to unwind monetary stimulus.
Diplomatic efforts to place Syria's chemical weapons under international control intensified, further denting gold's safe-haven appeal.
U.S. Secretary of State John Kerry and Russian Foreign Minister Sergei Lavrov are to meet later on Thursday in Geneva to talk about Syria's chemical weapons arsenal.
"The more likely diplomatic solution as opposed to a military strike against Syria is of course reducing the safe-haven appeal of gold and will continue to put pressure on prices in the short term," Quantitative Commodity Research owner Peter Fertig said.
Gold hit its weakest since Aug. 15 at $1,338.29 an ounce earlier and stood at $1,342.56 by 0958 GMT, down 1.8 percent. Prices were on track for their worst weekly loss since the end of June.
U.S. gold futures for December declined $21.40 an ounce to $1,342.40.
FED TAPERING
Investor attention is now likely to shift towards the Fed's policy meeting on Sept. 17-18. The central bank is expected to kick-start stimulus withdrawal as soon as this month, possibly triggering new selling pressure on gold.
"Although the Fed tapering has been priced in already by the gold market, that is not to say that you won't be getting a bit of a wobble as of when it is announced," said Rhona O'Connell, head of metals research and forecasting at Thomson Reuters GFMS.
Gold prices have fallen around 19 percent since the Federal Reserve signalled it would start reining in stimulus by the end of the year, as this would boost the dollar and reduce financial liquidity.
The market was now awaiting U.S. weekly jobless claims data at 1230 GMT.
"We expect U.S. economic data to come in stronger than expected and to seal the case for a reduction in monetary stimulus by the Fed in September," ABN Amro said in a note.
Metals consultancy Thomson Reuters GFMS said gold prices were likely to contract further in 2014 due to renewed confidence in a stabilising global economy.
The physical market in Singapore saw sales of gold scraps from Indonesia, whose rupiah currency has tumbled to its weakest since 2009, while demand from main consumer India was muted.
India has raised the import duty on gold to a record high of 10 percent to stem imports of the metal, which had helped to push the country's current account deficit to an all-time high.
Spot silver, which fell to a four-week low of $22.52 an ounce earlier, was trading down 2.2 percent at $23.63. It has lost around 5 percent so far this week.
Spot platinum was down 0.3 percent at $1,460.88 an ounce, while spot palladium gained 0.3 percent at $692.22 an ounce. (Additional reporting by Lewa Pardomuan in Singapore; Editing by Dale Hudson)