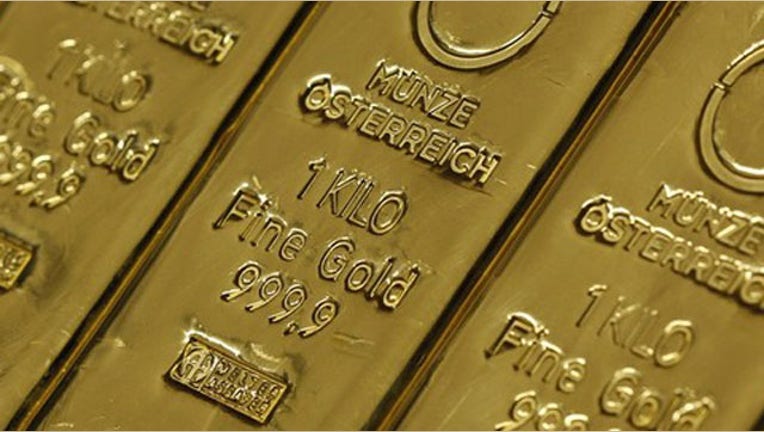 Gold snapped two days of losses on Monday as renewed weakness in European stocks boosted interest in the metal as an alternative asset, though a tentative recovery in risk appetite on other markets limited its gains.
The metal rebounded sharply after falling to its lowest in over a year earlier this month, as jitters over growth prompted stock markets to sell off aggressively.
A bounce in equities after upbeat housing and consumer sentiment data on Friday helped take the shine off that recovery, but gold's subsequent move lower proved temporary.
Spot gold was up 0.8 percent at $1,247.34 an ounce at 1222 GMT, while U.S. gold futures for April delivery were up $9.20 an ounce at $1,248.20.
"It's very much what's happening in the European equity markets, what's happening with the dollar, that's driving gold," Mitsubishi analyst Jonathan Butler said.
"Maybe there's a re-rating of risk appetite going on... the prospect of deflation in the euro zone, and also potentially in the United States, should support the long-term view on gold."
European stocks fell 1 percent on Monday, trimming lofty gains made in the previous session, with a profit warning from German business software maker SAP hitting shares in the tech sector. Stocks had risen overnight in Asia.
Sentiment in the broader financial markets showed some tentative signs of recovery, however.
Euro zone bond yields dipped as concerns about a slowdown in global growth eased. German 10-year Bund yields, which set the standard for euro zone borrowing costs, fell 1 basis point to 0.85 percent, while Spanish, Italian and most other yields were down 1-2 basis points on the day.
BULLISH BETS
Hedge funds and money managers increased their bullish futures and option bets in gold in the week up to Oct. 14 after eight consecutive weekly declines, the Commodity Futures Trading Commission said on Friday.
The world's largest bullion-backed exchange traded fund, SPDR Gold Trust, has also seen an uptick in investments. Its holdings rose 1.5 tonnes last week, its first weekly inflow since early September.
Demand from the leading centers of physical gold buying in Asia has been strong, but may be set to abate, MKS said in a note on Monday.
"Physical demand has been a primary driver of the $70 move off the $1,182 lows a few weeks back," it said. "However, now that we are closing in on Diwali this week, Indian physical demand should moderate."
"Chinese physical demand has been steady but tepid, with outright demand on the modest side at these higher levels though metal is still being snapped up for loans," it added. "Shanghai Gold Exchange premiums have backed off as a result, with the kilobar contract slipping into discount on occasion last week."
Spot platinum was up 1.4 percent at $1,271.30 an ounce, while spot palladium was up 1.3 percent at $759.72 an ounce.
Silver was up 1.4 percent at $17.44 an ounce. The gold/silver ratio, which measures the number of silver ounces needed to buy an ounce of gold, edged back from last week's five-year high on Monday as silver prices outperformed. (Additional reporting by A. Ananthalakshmi in Singapore; Editing by William Hardy and Susan Thomas)