Gold Slips as Markets Recover from Paris Attacks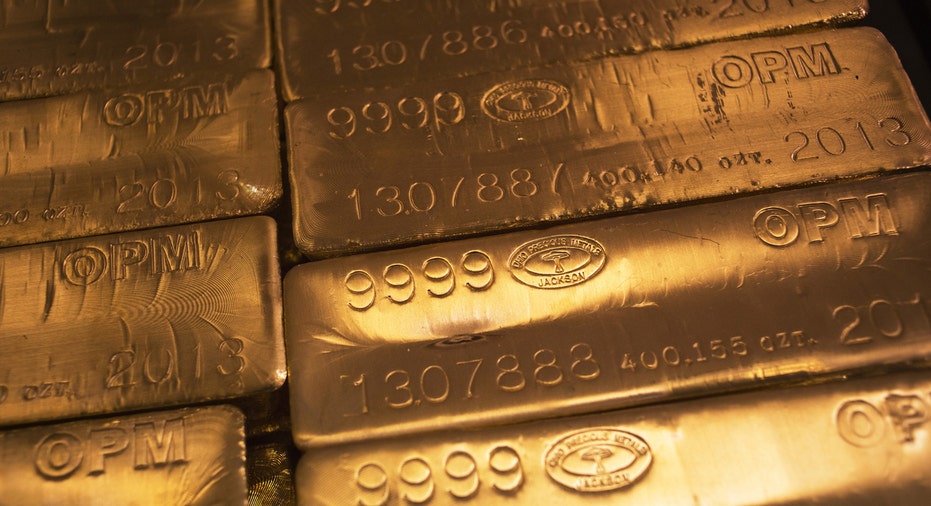 Gold prices slipped on Tuesday, heading towards near six-year lows as the dollar rose and stocks rebounded from losses associated with Friday's attacks in Paris.
Gold briefly rose on Monday to its highest in a week at $1,097.90 an ounce after the attacks prompted a flight to safety among investors, but it failed to maintain those gains.
The metal is now coming under pressure from expectations that the Federal Reserve is set to raise U.S. interest rates for the first time in nearly a decade, lifting the opportunity cost of holding non-yielding gold while boosting the dollar.
Spot gold was down 0.2 percent at $1,080.71 an ounce at 1032 GMT, while U.S. gold futures for December delivery were down $3.30 an ounce at $1,080.30.
It is slipping back towards last week's low of $1,074.26 an ounce, its weakest since February 2010.
"We think gold could go to $1,050 an ounce, if the Fed goes ahead with a rate hike in December," Capital Economics analyst Simona Gambarini said. "That's the main driver of the gold price, and the reason why we've retraced to these levels.
Global shares rose sharply on Tuesday, clawing back all the ground lost the previous day as investors bet that the attacks on Paris would have little lasting impact on the economy. European stocks rose more than 2 percent.
As the initial shock of the attacks abated, investors once again focused their attention on the prospect of diverging monetary policy, with the United States set to tighten and the euro zone expected to loosen policy.
That has led to gains in the dollar, which hit a seven- month high against the euro on Tuesday.
"We believe that gold will face further headwinds in the next few weeks as an extension of euro zone quantitative easing is announced in December, thus pushing up the dollar against the euro and other major currencies, and as the market fully prices in a mid-December Fed rate rise," Mitsubishi said in a note.
Among other precious metals, silver and platinum were both up 0.4 percent at $14.28 an ounce and $863.75 an ounce respectively. Palladium was down 0.7 percent at $544.10 an ounce.
Platinum was extending gains for a second day, after snapping 12 days of losses on Monday. The metal, however, remains near Monday's near seven-year low of $851 an ounce. (Additional reporting by Melanie Burton in Melbourne; Editing by Susan Fenton)