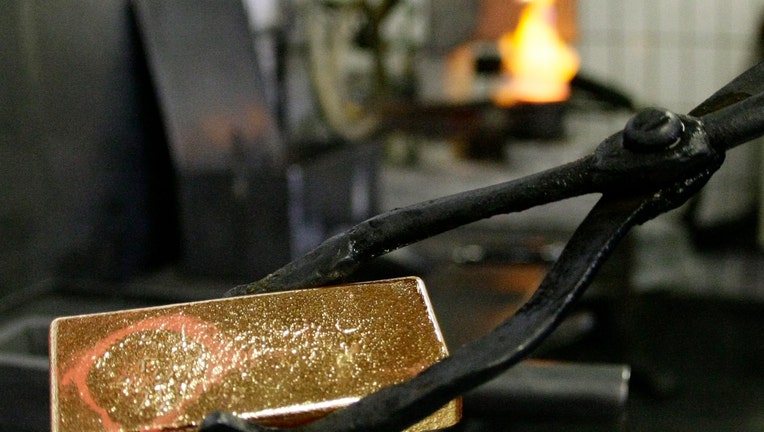 Gold fell on Tuesday after Russia offered to help put Syria's chemical weapons under international control, calming worries about a potential U.S.-led strike against the country, while uncertainty over U.S. monetary stimulus also weighed.
U.S. President Barack Obama did not completely take the plan to attack Syria off the table in response to proposals from Russia overnight but he said plans to make Syria hand over its chemical weapons could be a breakthrough.
Spot gold dropped as much as 1.1 percent to a session low of $1,371.19 an ounce. It was trading down 1 percent at $1,372.10 as of 0953 GMT. Gold was on track for its second consecutive day of losses and touched a two-week low of $1,362.55 on Friday.
U.S. gold futures for December delivery fell $14.40 to $1,371.90 an ounce.
"After the sell-off last week, it's a case of people not wanting to put substantial risk ahead of the Fed and it is probably going to remain like that until the central bank's meeting next week," Standard Bank analyst Walter de Wet said.
"Obviously the news on Syria has taken some of the edge off crude oil prices and gold is impacted," he added.
European shares rose and Brent crude futures fell to a one-week low below $113 a barrel after Russia's proposal to avert a possible U.S. strike against Syria.
The positive correlation between gold and oil has been restored in the past few sessions as gold is seen as a hedge against oil-led inflationary pressures.
Analysts expect gold to remain under pressure in coming sessions on increased uncertainty about the timing and pace of the U.S. Federal Reserve's plans to scale back its stimulus.
Bullion prices have lost nearly 18 percent since the U.S. Federal Reserve signalled it would start reining in its monetary stimulus programme by the end of the year.
The Fed's Open Market Committee (FOMC) is set for Sept. 17-18.
The Fed's stimulus, known as quantitative easing or QE, has been a key driver in gold's rally in recent years, as this has meant increased financial liquidity and record-low interest rates.
ETF HOLDINGS
As a gauge of investor interest, holdings in the SPDR Gold Trust, the world's largest gold-backed exchange-traded fund, fell 0.23 percent to 917.13 tonnes on Monday from 919.23 tonnes on Friday.
Reflecting a lack of activity in the physical market, premiums for gold bars were little changed from last week at $2 to $2.50 an ounce in Hong Kong to spot London prices.
Premiums in Singapore were also steady from last week at $1 to $1.50 an ounce. Gold premiums were on par to 25 cents below spot London prices in Tokyo, where a weaker yen and higher gold futures spurred selling in the local physical market.
"Physical demand has picked up but it's not great. Indonesian clients are still selling gold because of a weak rupiah," said a dealer in Singapore.
Spot silver tracked gold lower, falling 1.9 percent to $23.22 an ounce.
Spot platinum was down 0.4 percent to $1,475.24 an ounce, while spot palladium was up 0.4 percent at $685.47 an ounce. (Additional reporting by Lewa Pardomuan in Singapore; Editing by Jason Neely)