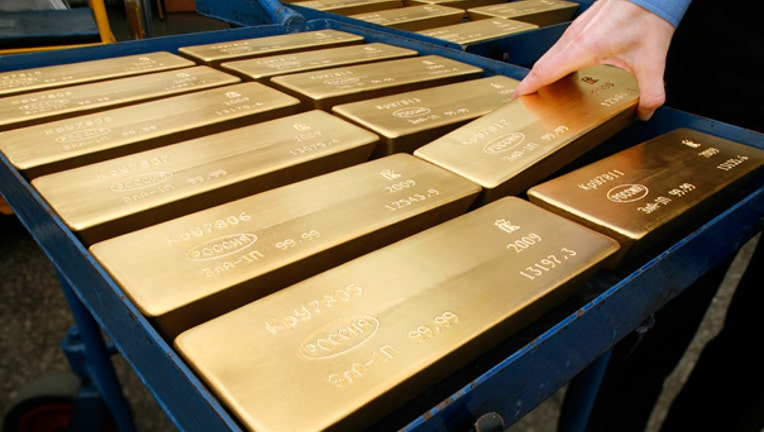 Gold held near $1,320 an ounce on Friday, heading for its biggest weekly gain in two months, on expectations that the partial U.S. government shutdown will lead the Federal Reserve to postpone tapering of its stimulus programme.
Congress's last-minute agreement to increase its borrowing capacity till early next year averted a historic debt default, but critics claimed it was only postponing the problem.
Dealers also speculated that the damage to the economy from the weeks-long shutdown could stop the Federal Reserve scaling back its stimulus programme until at least early next year.
Gold's 20 percent drop this year has largely been due to speculation that the Fed's $85 billion monthly bond-buying scheme - which had driven gold higher by keeping a lid on interest rates while stoking inflation fears - will soon be cut.
"Once the government re-opened and the agenda moved on from the debt crisis to next week's Federal Reserve meeting, that was a trigger for gold to see some upside," Mitsubishi analyst Jonathan Butler said.
"It's fairly apparent, given the uncertainty and the lack of data releases from the Fed over the last couple of weeks, that it's unlikely tapering will begin at the start of next month, so that is being priced in," he said. "But in the long run, the story hasn't really changed, in terms of seeing a sell-off as soon as tapering comes back on the agenda."
Spot gold was little changed at $1,318.10 an ounce at 1134 GMT, while U.S. gold futures for December delivery were down $5.00 an ounce at $1,318.00.
The metal leapt 3 percent on Thursday after the deal to re-open the government and a downgrade to the U.S. sovereign rating by a Chinese rating agency knocked the dollar, prompting a rush among over-extended shorts to cover.
ETF HOLDINGS DROP
Investment interest in gold remained lacklustre, with the world's largest gold-backed exchange-traded fund, New York's SPDR Gold Trust, reporting another 3.3-tonne drop in its holdings on Thursday.
The fund is on track for a seventh straight week of outflows. Its holdings have fallen more than 35 percent from their December 2012 peak, and are down nearly 24 tonnes this month.
Thursday's price jump to one-week highs also led to slower demand in major consumer China, traders said.
Silver was flat at $21.84 an ounce, while spot platinum was up 0.2 percent at $1,433.00 an ounce and spot palladium was down 0.4 percent at $735.2 an ounce.
Platinum's premium over gold has risen to its highest since mid-September, at nearly $115 an ounce.
A union spokesman said on Friday that a senior member of South Africa's National Union of Mineworkers (NUM) was shot dead overnight in the restive platinum belt town of Marikana.
Number one platinum miner Anglo American Platinum said on Friday it was sticking to its full-year production target of 2.3 million ounces despite a two-week strike over job cuts at its South African mines.