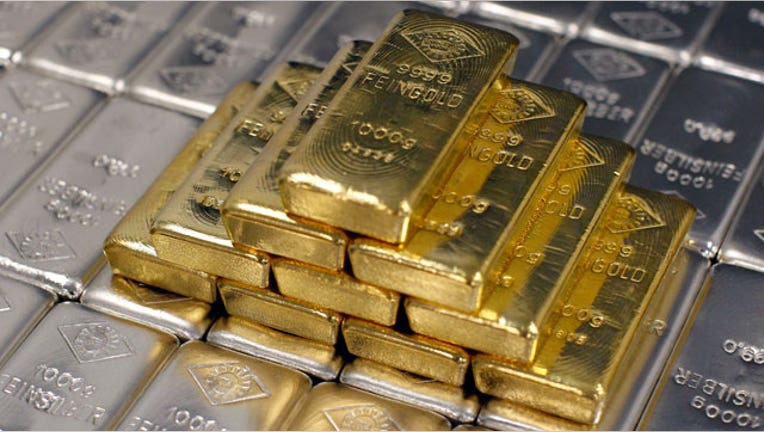 Gold fell one percent in thin holiday trade on Monday, heading for its biggest annual loss in more than three decades at nearly 30 percent, as rising appetite for risk and the prospect of a global recovery stole its shine.
European stocks hovered around five-year highs after two weeks of strong gains, following from a six-year peak in Japanese shares.
"Investors would need to see prices above $1,300/1,350 to get back in, until then they will keep their interest in equities," MKS SA head of trading Afshin Nabavi said.
"For the time being, price moves will be exaggerated by the lack of liquidity ... but in the absence of any fresh macro news I don't think we are going to break below $1,190 or above $1,225."
Spot gold fell to a session low of $1,200.79 an ounce in earlier trade and was down 0.8 percent to $1,202.54 by 1228 GMT, while U.S. gold futures for February delivery slipped $11.60 to $1,202.40 an ounce.
Gold's performance in 2013 has put an end to 12 straight years of growth, with prices hit by the U.S. central bank's decision to rein in its monetary stimulus, which will raise the opportunity cost of holding the non-yielding asset.
Expectations that the U.S. economy will improve and the rest of the world's growth will stabilise in 2014, have further undermined the case for holding bullion, as investors look to put their money in riskier assets like equities.
In wider markets, the dollar ticked 0.2 percent lower versus a basket of currencies, while the 10-year U.S. notes yield steadied below a two-year high above 3.0 percent.
FUND HOLDINGS FALL
Heavy outflows from gold-exchange traded funds also reflected investors' diminishing interest. Holdings on SPDR Gold Trust, the world's largest gold-backed exchange-traded fund, fell three tonnes on Friday to their lowest since Jan. 2009 at 801.2 tonnes.
The physical market saw a few deals among trading houses and jewellers, keeping premiums for gold bars steady at $2 an ounce to the spot London prices in Hong Kong, a centre for bullion trading in East Asia.
Premiums in Singapore were steady at $1.50 an ounce to the spot London prices, but there wasn't much activity.
China's net gold imports from Hong Kong fell 42 percent to 76.393 tonnes in November from 131.19 tonnes in October, reflecting a drop in demand after strong purchases in previous months.
Silver fell 2 percent to $19.63 an ounce. Silver is down 35 percent this year in its worst annual performance since at least 1982.
Spot platinum was down 0.8 percent at $1,360.99 an ounce, snapping four consecutive sessions of gains. Spot palladium was unchanged at $707.75 an ounce.