Gold Sells Off as Traders Bid Up Stocks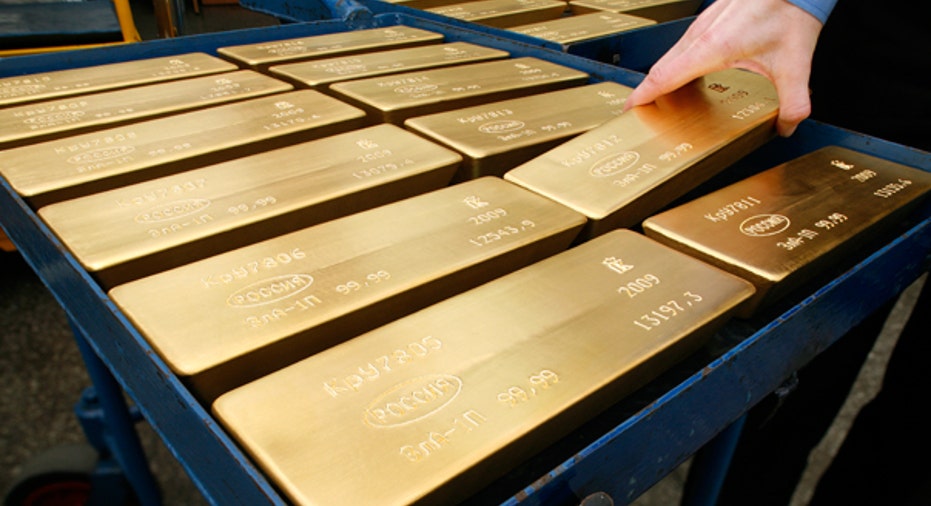 Gold fell to a 2-1/2 week trough on Tuesday, moving down with other precious metals due to a session high in the dollar index and better appetite for assets seen as higher risk, such as European stocks.
Silver also dipped to its lowest since mid-August at $27.53 an ounce, while platinum and palladium lost more than one percent.
Spot gold fell as low as $1,579.50 an ounce, its weakest since March 14, and was down 1.1 percent at $1,580.99 at 1431 GMT. The metal was on track for its biggest one-day loss since a 2.6 percent slide on February 20.
U.S. gold futures for June delivery were down $17.30 to $1,583.70 an ounce.
"You have a rally in equities and strength in the dollar and that seems to be the focus right now, which is putting gold in the back seat," HSBC analyst Howard Wen said.
"It has been the case since the start of the year where you mostly have risk-on sentiment, while concerns about Cyprus, which is positive for gold, seem to have eased."
European shares extended their gains as fears of a resurgence in the region's debt crisis emanating from Cyprus receded, while slightly better-than-feared euro zone manufacturing data, rising about one percent, also supported sentiment.
Markit's Eurozone Manufacturing Purchasing Managers' Index fell in March to 46.8 from 47.9 in February, slightly better than a preliminary estimate of 46.6, with the Cyprus bailout crisis yet to take a toll on the euro zone's factory activity.
The dollar index extended gains after data showing new orders for U.S. factory goods rose in February, though a gauge of planned business spending slipped, suggesting factory activity continued to expand at a modest pace.
Investors will now monitor policy meetings at the Bank of Japan and the European Central Bank on Thursday, while U.S. payroll numbers on Friday will be the next key data.
INVESTMENT LACKING MOMENTUM
Gold was still lacking investment momentum, with the world's largest gold-backed exchange-traded fund, New York's SPDR Gold shares, reporting an outflow of 4.212 tonnes on Monday. Its holdings are down 133.8 tonnes this year and have not posted a one-day net increase since March 19.
Physical demand was also lacklustre in Asia, with gold bars remaining on par with spot London prices in Tokyo. Premiums for gold bars were little changed in Singapore and Hong Kong at $1.20 to $1.50 an ounce to spot London prices.
Sibanye Gold said on Tuesday it had started talks that may lead to job cuts at its Beatrix West operation in South Africa after an underground fire hit output and revenue.
The company, a spin-off of South Africa's Gold Fields , said that the underground fire had cost it 61 kgs per month in lost production and that the damaged area would be inaccessible until at least mid-2014.
Those precious metals more widely used in industry came under pressure, also due to weak economic data in China overnight.
Spot silver fell 1.5 percent to $27.59 an ounce. The metal was at its cheapest compared with gold since mid-August, with an ounce of gold buying around 57 ounces of silver, against 55.3 ounces at the start of the year.
"Technically silver does not look healthy," Saxo Bank senior manager Ole Hansen said.
"Fundamentally it is suffering due to the overall weakness in industrial metals ...(There isn't) much support before $27.25 and it's dragging gold down with it."
Platinum fell 1.1 percent to $1,571, while palladium dropped 1.1 percent to $770.47. (Editing by Jan Harvey and Keiron Henderson)