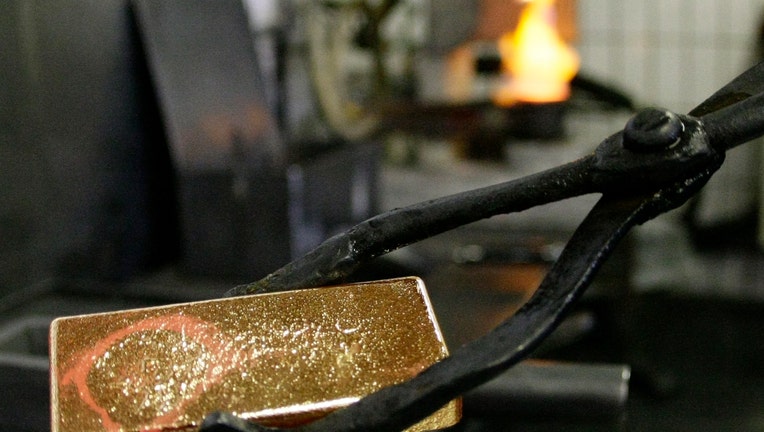 Gold rose for a second straight session on Monday as buying from top consumer China picked up ahead of the Lunar new Year and European shares fell, but the metal remained vulnerable to losses due to a strong dollar.
Demand from buyers in China was reflected in higher premiums to London gold prices. Prices on the Shanghai Gold Exchange were about $7 an ounce higher than the global benchmark. Premiums were about $4-$5 last week.
Spot gold was up 0.2 percent at $1,190.80 an ounce by 1051 GMT. It fell to a one-month low of $1,168.25 on Friday, before recovering on lower equities.
U.S. gold futures for delivery in February rose 0.4 percent to $1,190.50 an ounce.
"This is the time of the year when people start taking long-term strategic positions and I wouldn't be surprised to see a bit of price strength in the year ahead, less so in dollar terms, as I suspect we will see more dollar strength in the year ahead," Sharps Pixley CEO Ross Norman said.
"There is some buying in China, India and those countries where there are sharply weakening currencies."
Gold ended 2014 down 2 percent in dollar terms, but rose 12 percent in euros and 9 percent in Swiss francs.
Chinese buying has picked up in recent weeks ahead of the Lunar New Year holiday, when gold is bought for gifts. Demand is likely to stay strong until the holiday in February.
In wider markets, the dollar rose 0.6 percent against a basket of major currencies, hitting a nine-year high versus the euro, due to prospects of more monetary easing by the European Central Bank.
Conversely, the U.S. Federal Reserve minutes on Wednesday will be picked through for clues on the timing of interest rates hikes.
A stronger greenback makes dollar-denominated gold more expensive for holders of other currencies, while higher interest rates would encourage investors to put money into interest-bearing assets like stocks and bonds.
Gold prices were supported by lower European shares, as fears over Greece's future in the euro zone weighed on markets.
Among other precious metals, silver rose 1.8 percent at $16.00 an ounce, while platinum was unchanged at $1,199.70 n ounce and palladium gained 1 percent to $794.60 an ounce.
(Additional reporting by A. Ananthalakshmi in Singapore; Editing by Susan Thomas)