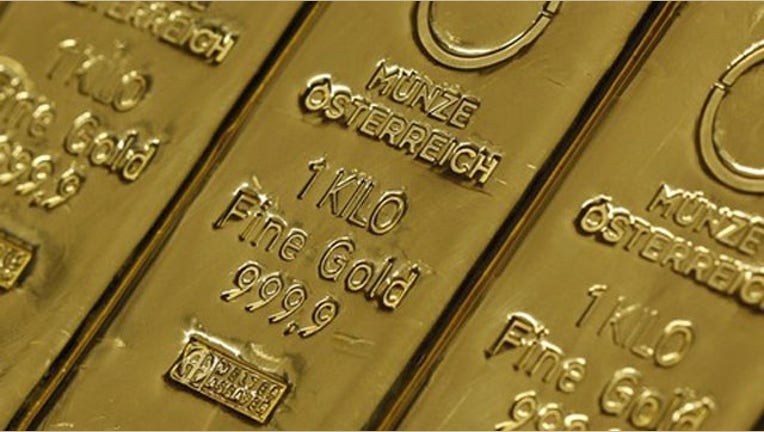 Gold hit its highest in a month on Monday as a retreat in the dollar pushed prices through tough resistance at $1,300 an ounce and as fears abated that the U.S. Federal Reserve will soon curb monetary easing.
Buying gathered momentum after prices beat chart resistance at $1,300 an ounce, a level they repeatedly tried and failed to break in the last month. That took gold as high as $1,322.50, a level last reached on June 20.
Spot gold was up 1.5 percent at $1,314.99 an ounce at 0913 GMT, while U.S. gold futures for August delivery were up $22.10 an ounce at $1,315.00.
Fed Chairman Ben Bernanke's assurances last week that any withdrawal of U.S. quantitative easing, a major driver of gold prices in recent years, would depend on economic conditions had already prompted a second week of gains in gold and continued to underpin the market on Monday.
Analysts said, however, that with an end to QE still in sight, its rally is likely to be muted.
"The dollar index is down, so that's giving gold a little bit of support," Peter Fertig, a consultant at Quantitative Commodity Research, said. "There is still some risk for shorts, and it is safer to cover some of those.
"But I don't currently see any reason for a major rally in gold. Exchange rate developments are still pointing to a stronger U.S. dollar over the medium term. It is quite clear that if the U.S. gets further good economic data, the Fed will not continue QE3 forever."
The dollar index eased 0.2 percent on Monday, falling against the yen following news of Japanese Prime Minister Shinzo Abe's decisive victory in elections for parliament's upper house.
World stocks tested a five-year high as a strengthening of Abe's grip was seen as a boost for his radical stimulus policies, though European shares were steady.
GOLD ETFs SEE OUTFLOWS
Investors continued to liquidate holdings of gold-backed exchange-traded funds, with the largest, New York's SPDR Gold Shares, reporting a 2.7 tonne drop in its holdings on Friday, bringing its outflow for the week to 6.6 tonnes.
"Because gold ETFs have seen further - albeit moderate - outflows, the latest price movement is likely to have been facilitated above all by speculative financial investors," Commerzbank said in a note.
Physical buyers were mostly absent on Monday, but dealers in Hong Kong said supply of gold bars and coins had tightened after a drop in prices to a near three-year low of around $1,180 in late June ignited buying.
"Gold prices in Shanghai are still at premiums, so it also suggests there's a little buying there," one dealer in Hong Kong said. Gold prices in Shanghai were around $22 higher than cash gold.
Among other precious metals, silver rose 2.1 percent to $19.87 an ounce, outperforming gold and helping pull the gold/silver ratio - the number of silver ounces needed to buy an ounce of gold - back from Friday's three-year high at 66.6.
Hedge funds and money managers raised their bullish bets in gold and silver futures and options in the week to July 16, while they trimmed net shorts in copper, a report by the Commodity Futures Trading Commission showed on Friday.
Platinum rose to its highest since June 19 at $1,439.75, and palladium jumped to its strongest in nearly six weeks at $749.74. Platinum was later up 0.4 percent at $1,429.75 and palladium up 0.4 percent at $747.50. (Additional reporting by Lewa Pardomuan in Singapore; editing by Jane Baird)