Gold Rallies as Traders Seek Safe-Haven Shelter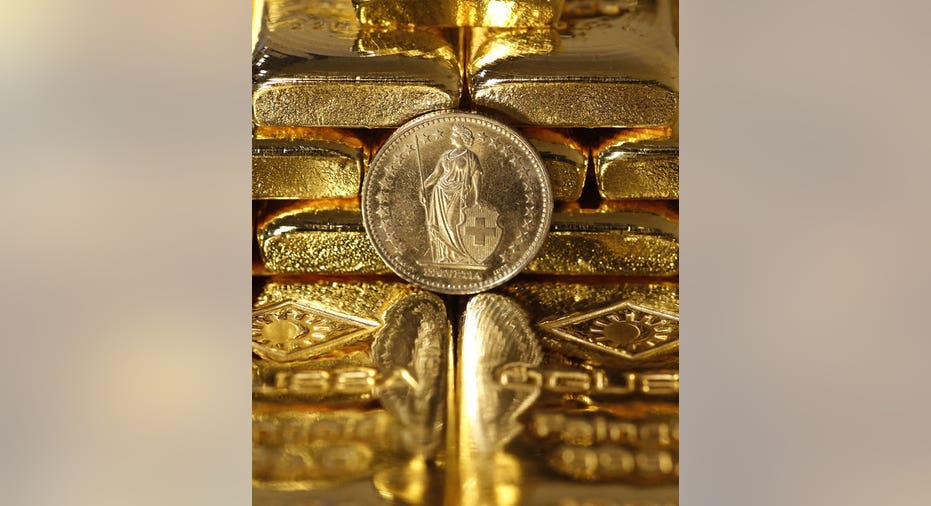 Gold prices surged higher on Thursday as some investors sought to gird themselves from disappointing economic data and declines in U.S. stocks by purchasing the haven asset.
The most actively traded contract, for December delivery, recently was up $22.90, or 2%, at $1,154.40 a troy ounce on the Comex division of the New York Mercantile Exchange.
Investors started tiptoeing into the gold market at the start of the U.S. trading day after Commerce Department data showed U.S. durable goods orders fell a seasonally adjusted 2.0% in August from a month earlier. The data suggest that the strong dollar and economic weakness overseas may be sapping demand for U.S. goods.
Gold's gains accelerated after the U.S. stock market fell at the open, spurring some investors to seek safety in the precious metal. The S&P 500 stocks index was recently down 1.1% at 1917.56. Gold often benefits from losses in riskier assets like stocks as some investors buy the precious metal on the hope that it will keep its value better during a period of economic turbulence.
"With the pullback in equities, there's definitely a flight to quality (assets) right now, it's going into Treasurys and to gold," said Bob Haberkorn, a senior commodities broker with RJO Futures in Chicago.
Gold prices marched higher after Federal Reserve officials last week chose to hold off on raising interest rates, citing that economic conditions didn't yet warrant a tighter monetary policy. The delay benefits gold, which doesn't pay interest and has an easier time competing with interest-bearing assets like Treasury bonds while rates are near zero.
"Traders are more concerned about the economy, they're thinking that the Fed rate increase looks to be very unlikely this year, and that should be supportive of gold," Mr. Haberkorn said.
Investors were also cautious ahead of a speech by Federal Reserve Chairwoman Janet Yellen later in the day at the University of Massachusetts-Amherst. In her first speech since the U.S. central bank stood pat on rates last week, Ms. Yellen is due to discuss inflation and monetary policy.
While the speech won't begin until after the markets close, it will be closely watched by investors, many of whom are hoping to get some insight into Ms. Yellen's thinking on monetary policy, said Ira Epstein, a broker with Linn & Associates in Chicago.
"Since this is her speech, it's really telling you what she thinks," he said.