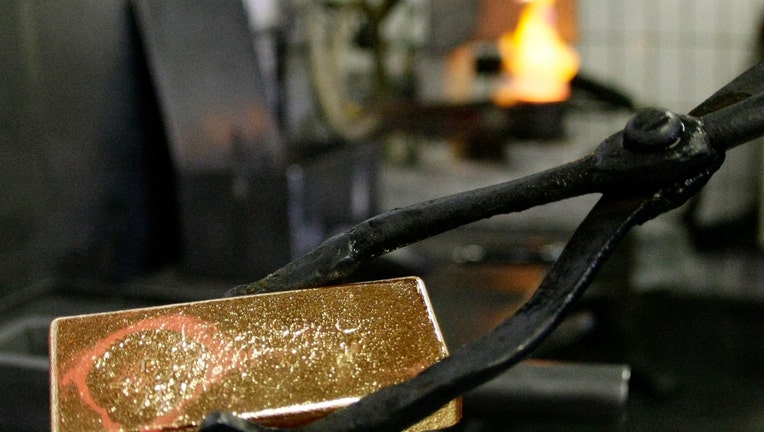 Gold fell on Friday as the rally that followed the Federal Reserve's surprise decision to maintain monetary stimulus ran out of steam, although the metal remains on track to post its biggest weekly gain since mid-August.
Prices are set to rise 2 percent this week. Bullion leapt on Wednesday after the Fed said it was maintaining its $85 billion monthly bond-buying programme, which has boosted gold by keeping interest rates low and fuelling fears of inflation.
The metal has struggled to build on those gains, however.
Spot gold was down 0.6 percent at $1,355.86 an ounce at 0944 GMT, retreating from Thursday's one-week high of $1,374.54. U.S. gold futures for December delivery were down $13.40 an ounce at $1,355.90.
"The Fed decision wrong-footed all those investors who had positioned for the consensus call, and they then had to cover," Societe Generale analyst Robin Bhar said. "After that, though, to push it back to $1,400, you would need new longs (bets on higher prices), and who'd want to go long gold here?
"Tapering may not have been announced on Wednesday, but it is coming," he said. "Bond yields will carry on going up, and the opportunity cost of holding gold will continue rising. Equity markets are soaring. Those speculators who are piling into gold ... are losing out on gains in other markets."
World stocks held near five-year highs on Friday and bond markets consolidated a week of major gains after the Fed's decision.
The dollar edged off seven-month lows against a basket of currencies as investors unwound some negative trades put on after the Fed announcement, adding pressure to gold, which tends to trade in an inverse relationship to the U.S. unit.
The dollar gained some support after upbeat U.S. data on Thursday suggested that rising market rates, which had so concerned the Fed, were weighing only modestly on the economy.
ASIAN DEMAND SOFT
Physical buying offered little support to gold, with premiums across major Asian markets falling this week as volatile prices, the Fed meeting and a holiday in China kept buyers at bay. Even a brief dip below $1,300 an ounce failed to attract buyers.
Buying from India, the world's chief gold consumer, was also soft as dealers awaited clarity on import rules. India has called a meeting of top officials from the finance and trade ministries in New Delhi on Friday to break a two-month impasse on gold imports.
"Jewellers are still looking into new import regulations (linking refined metals imports to end product exports), and also digesting three import duty hikes this year," VTB Capital said in a note.
"It remains to be seen how Indian demand will fare in the next few weeks, as buyers return for seasonal restocking."
Among other precious metals, silver was down 1.4 percent at $22.76 an ounce, tracking losses in gold.
The world's biggest silver exchange-traded fund reported inflows of nearly 105 tonnes on Thursday, the biggest one-day rise in its holdings since late July.
Spot platinum was down 0.7 percent at $1,450.24 an ounce, while spot palladium lost 1.4 percent at $722.22 an ounce. (Reporting by Jan Harvey; Editing by Dale Hudson)