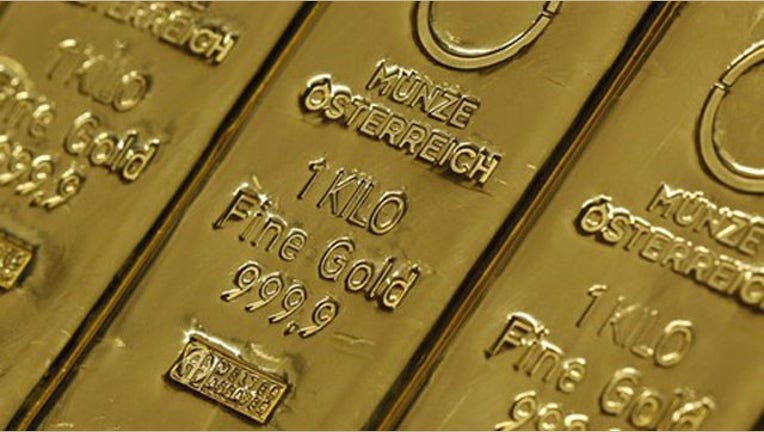 Gold hit a 5-month low on Wednesday as investors awaited U.S. economic data later in the week that could increase speculation the Federal Reserve will soon exit its asset purchase scheme.
The metal has been under pressure as markets believe a recovering economy could prompt the Fed to slow the pace of its $85 billion in monthly bond purchases as soon as December.
Investors realise the central bank will start reducing stimulus at some point, but the timing remains open to question.
Data on U.S. gross domestic product on Thursday and the nonfarm payrolls report on Friday will be closely monitored, ahead of the central bank's next policy meeting on Dec. 17-18.
Spot gold fell one percent to its lowest since July 5 at $1,211.44 an ounce earlier in the session and was down 0.9 percent to $1,217.06 by 1052 GMT.
The metal has hit a fresh five-month low in every session this week. Technically, having broken resistance at $1,220, the metal is now vulnerable to touch long-term support of $1,200, which could bring losses to a 3-1/2 year low of $1,180 hit in June.
U.S. gold futures fell 0.7 percent to $1,212.50 an ounce, while gold in euros dropped to its lowest since July 2010 at 892.75 euros an ounce in earlier trade.
Gold continued to lose ground despite a retreat in the dollar, which fell 0.3 percent against a basket of currencies.
"There is definitely an attitude of wait-and-see in other assets and more selling pressure in gold and the next leg down is being awaited and the stimulus for that could be the numbers on Friday," Mitsubishi analyst Jonathan Butler said.
The Fed's money-printing for bond purchases has played a key role in bolstering gold prices over the past few years, as a low interest rates environment and increased liquidity encouraged investors to put money into the non-interest-bearing assets like bullion.
However, a recovering U.S. economy has prompted talks of an end to the stimulus measures and a shifting of investor money to equities from gold, usually considered as a safe haven in times of financial or geopolitical troubles and an hedge against inflation.
Holdings in SPDR Gold Trust, the world's largest gold-backed exchange-traded fund, fell 1.80 tonnes on Tuesday to their lowest since early 2009 at 841.41 tonnes.
A record outflow of 460 tonnes from the fund this year has helped fuel a 27 percent decline in gold prices so far.
Physical buying, which tends to provide a floor to prices, has failed to pick up in a big way in recent weeks as most consumers had bought a lot more than necessary during earlier price drops this year.
They are now waiting on the sidelines expecting further declines in prices, according to dealers.
"Some opportunistic physical buying could emerge near early July lows ($1,207.50), but the overall sentiment will still be driven by US economic expectations," VTB Capital said.
Silver fell 0.6 percent to $19.01 an ounce earlier.
Spot platinum was down 0.6 percent to $1,346.75 an ounce, and spot palladium lost 0.3 percent to $711.75 an ounce.