Gold Plunges 6% on Fed Worries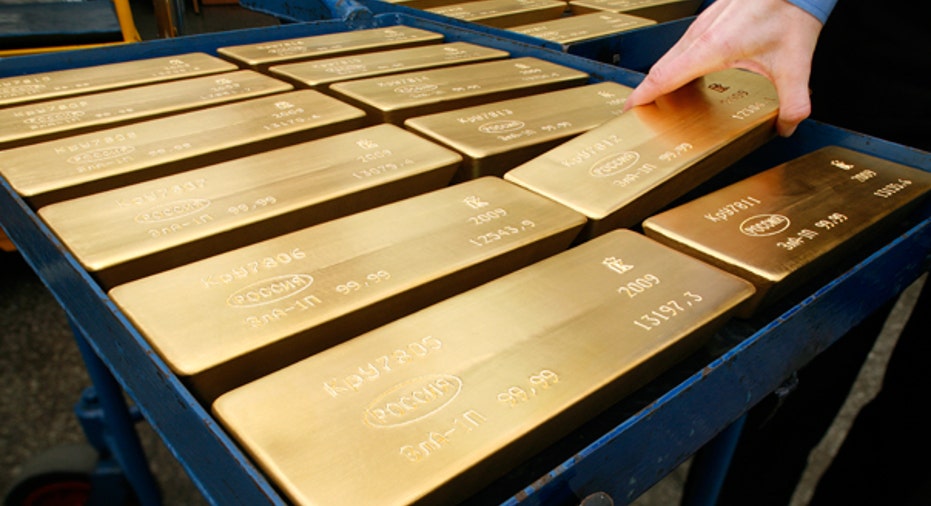 Gold plunged to its lowest in more than 2-1/2 years on Thursday, with investors exiting in droves after the U.S. Federal Reserve gave its most explicit signal yet that it plans to bring the era of easy money to an end.
Fed Chairman Ben Bernanke said on Wednesday the U.S. economy was expanding strongly enough for the central bank to begin slowing the pace of its bond-buying stimulus later this year.
Losses picked up momentum after bullion broke through its April low at $1,321 an ounce, a key support level, knocking it to a low of $1,285.90, down 4.5 percent and its weakest since September 2010.
Spot gold was down 4 percent at $1,296.60 an ounce at 1454 GMT, while U.S. gold futures for August delivery were down $77.20 an ounce at $1,297.00.
"Precious metals, in particular gold and silver, are losing their status as a viable asset class to hold," Viktor Nossek, head of research at Boost ETP, said. "The macroeconomic backdrop shows that the U.S. is recovering, Europe is restructuring and China is rebalancing."
He added, "Risk assets further out probably have more appeal because they have an underlying income stream that backs them up. Investors are pre-empting the view of global stabilization by selling precious metals."
The ultra-loose monetary policy brought in by the Fed to boost U.S. growth, which kept interest rates at rock bottom levels while stoking concerns about inflation, was a major factor fuelling a more than decade-long bull run in gold.
Indications that the policy was nearing an end have helped push prices down more than 20 percent this year after 12 straight years of gains. Gold is now firmly in bear market territory, more than 30 percent below its record high of $1,920.30 an ounce, set in September 2011.
"There's always been an expectation that there's inflation lurking around the corner with QE being instigated by the West, but it has never materialized," Nossek said. "The idea of pent-up inflation is not only dissipating, but is nowhere to be seen."
SILVER TUMBLES
Swiss bank UBS early on Thursday slashed its one-month target price for gold to $1,250 from $1,425 previously and its three-month forecast to $1,350 from $1,500, citing the Fed's move.
"This creates an increasingly difficult environment for gold," it said. "Slowing Fed asset purchases, with the end now potentially in sight, higher yields, a stronger dollar and continued improvements in the economy are significant obstacles that perpetuate an already very weak investor sentiment."
Physical gold demand in India, the world's biggest consumer of the metal, remained lacklustre on Thursday despite a 4 percent drop in Indian gold prices, in sharp contrast to the response seen in April when spot prices plunged. Gold in rupee terms remains well above its April lows.
Silver was the biggest faller among the precious metals, sliding more than 6 percent to a session low at $19.68 an ounce, its weakest since September 2010. The metal was later down 6.1 percent at $20.02 an ounce.
Spot platinum was down 2.5 percent at $1,375.24 an ounce, while spot palladium was down 4.1 percent at $665. 72 an ounce. (Additional reporting by Veronica Brown; editing by Jane Baird)