Gold May Hit $2,000 an Ounce, Consultancy Says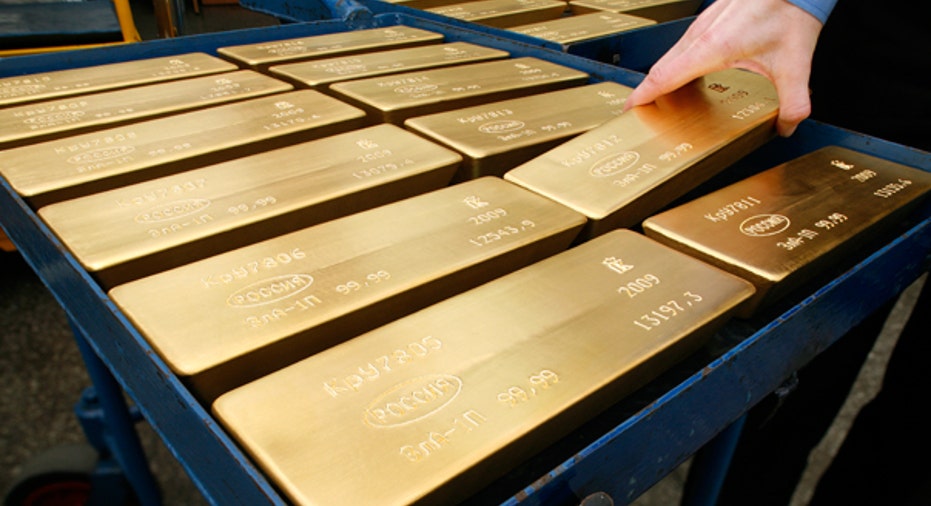 Gold may reach a record high above $2,000 an ounce in late 2012 or early 2013, but the precious metal is nearing the end of a decade-long run that has lifted prices by more than 600 percent, metals consultancy GFMS said on Tuesday.
Gold has been a top-performing asset since 2001 as portfolio diversification, concerns over sovereign risk and rock-bottom interest rates have helped lift prices from a low near $250 an ounce in 2001 to a peak above $1,920 in September 2011.
It is likely to surpass that level in the final quarter of 2012 or the first three months of next year, GFMS said, potentially breaking through the $2,000 an ounce level.
"A combination of factors will ensure that sufficient demand from investors and to a lesser extent official sector institutions comes into the market for it to clear at higher levels," the company said in the second update to its Gold Survey 2011.
"Concern over nearly all currencies' long-term value remains acute, and this includes the U.S. dollar, which to a large extent has found favour simply as the 'least bad' option, especially in light of growing fears over the break-up of the euro zone."
However, a normalisation of the broader financial landscape in the next few years is likely to take some of the wind out of gold's sails.
"The report does acknowledge that the gold market is nearing the closing stages of its decade-long bull run and that, once the macroeconomic backdrop changes and investment in gold fades - probably some time next year - a secular retreat in the price will unfurl," said GFMS, which is owned by Thomson Reuters.
For the first half, the company forecasts gold prices will average $1,640 an ounce, close to current levels. A rising dollar and increased risk aversion, which in recent months has pressured gold, could curb price gains in the short term.
JEWELLERS, CENTRAL BANKS
GFMS expects jewellery demand to soften by 3.1 percent in the first six months of 2012 to 1,027 tonnes, in line with a 2.2 percent decline in overall demand to 2,199 tonnes.
Most of this decline will likely be due to softer demand from India, still the world's biggest bullion buyer. The gold market is moving into a less auspicious year, GFMS said, and rupee weakness has tended to negate dollar gold's declines.
China and Turkey are set to be the main drivers of jewellery demand, and the former may overtake India as the world's biggest gold consumer in the first six months of the year.
"In terms of calendar year 2011, India was ahead, but ... it does seem as though China, in terms of our data for the first half, may just tip ahead," Philip Newman, research director for precious metals at Thomson Reuters GFMS, said.
Official sector purchases, which are estimated to have leapt to their highest levels since 1964 last year, are seen dipping by some 7 percent to 190 tonnes in the first half, still an historically elevated level.
Physical bar sales are expected to rise another 1.4 percent in the first half after surging by more than a third last year to 1,194 tonnes. Demand for gold bars was particularly strong in German-speaking Europe last year as the debt crisis bit.
"Not all areas of investment are expected to be buoyant," GFMS warned, however. "Official coin and bar investment might continue to grow a fraction, but the implied (investment) figure should swing to net disinvestment ... as a result of euro zone travails, dollar strength and constrained liquidity."
World investment is expected to decline by some 250 tonnes in the first half of 2012 from the final six months of last year, to 680 tonnes. Gold's largest handicap is likely to be the strengthening dollar, GFMS said.
On the supply side of the market, mine output is expected to rise 3.2 percent in the first half of the year, although most new supply will come from existing, rather than new, projects.
Gold scrap supply is seen dipping 3.1 percent, however, as most available material will already have hit the market after a prolonged period of gold price strength. New sellers may also be put off by expectations of higher prices, it added.
"Although the fundamentals call for far lower gold prices in the long term to achieve balance, the market's shorter term foundations are not as shaky as might be supposed," GFMS said.