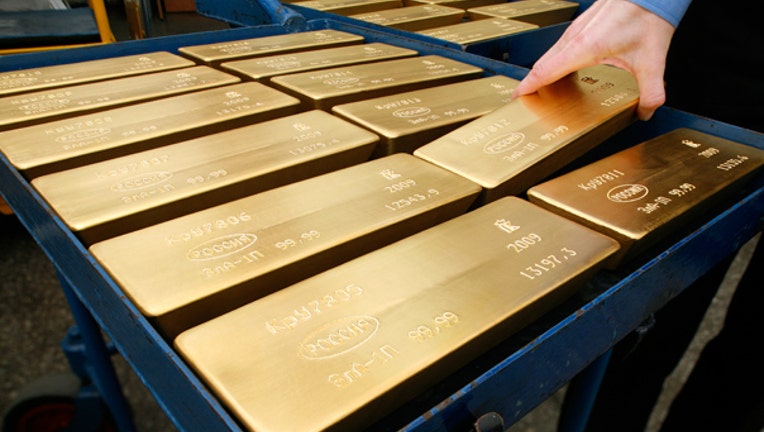 Gold rose on Tuesday for a third straight session as investors interpreted the previous week's plunge to three-year lows as overdone, while looking for further indications of an end to U.S. monetary easing soon.
Traders were forced to cover their short positions and buy back metal that they had agreed to sell at a future date after gold logged its biggest three-month loss since at least 1968, according to Reuters data.
"It is a short-covering bounce after the losses seen last week, and people are now data-watching and want to see how this impacts on the FOMC policy," Societe Generale metals analyst Robin Bhar said.
Spot gold rose to $1,267.20 an ounce earlier in the day and was up 0.6 percent at $1,260.66 by 0944 GMT, for a gain of about 5 percent over the past three sessions.
U.S. gold futures for August delivery rose 0.4 percent to $1,259.90.
Gold had lost 23 percent in the April-June period on speculation that the U.S. Federal Reserve's ultra-loose monetary policy could end soon. This would support a rise in interest rates, making gold less attractive.
Bhar warned that the current recovery was not likely to last for long and that prices still could ultimately fall to $1,000 an ounce.
"The dollar is likely to strengthen further in the second half of the year as the economy improves ... the tide may turn but not much more than temporarily."
Mixed U.S. economic data on Monday added to uncertainty over the exact timing of the Fed's tapering, helping gold's rebound.
Investors are now focusing on Friday's U.S. payrolls report, and a strong reading would lift both Treasury yields and the dollar, in turn weighing gold down.
A European Central Bank policy meeting on Thursday is likely to emphasise that the euro zone economy is in a much different stage of recovery than the United States, analysts said.
ETF HOLDINGS HIT 4-1/2 YEAR LOWS
SPDR Gold Trust, the world's largest gold exchange-traded fund, reported an outflow of 1.2 tonnes to 968.30 tonnes on Monday, its lowest level since February 2009. Its holdings have dropped 382.5 tonnes since the start of the year.
Physical demand has not come to the rescue of gold as it did in April, when prices fell the most in 30 years, but Shanghai futures were trading at over $30 premiums to spot prices, indicating some renewed interest.
"There has been some good physical demand with premiums in Asia remaining elevated ... (showing) that buyers believe that gold has probably done enough on the downside for now," Marex Spectron said.
In Hong Kong, however, gold bar premiums over London prices remained at the same levels as last week, indicating that demand has not picked up strongly, dealers said.
Silver was up 0.4 percent to $19.65 an ounce. It reached a near three-year low at $18.19 on Friday.
Platinum was up 0.1 percent to $1,375.99 an ounce and palladium fell 0.2 percent to $683.22 an ounce. (Additional reporting by A. Ananthalakshmi in Singapore; editing by Jane Baird)