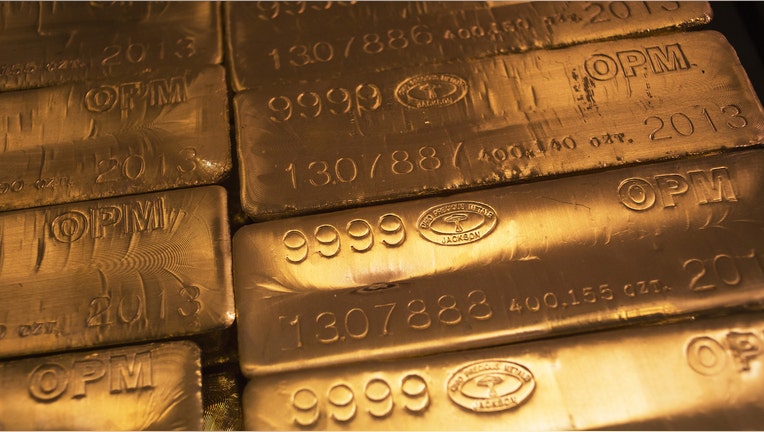 Gold prices were higher on the London spot market Friday, on the back of a weaker dollar and renewed speculation that a Fed rate rise may be delayed into next year.
Spot gold was trading up 1.2% at $1,152.44 a troy ounce in morning European trade, having hit a two-week high earlier in the session at $1,154.69 an ounce.
Late Thursday, the Federal Open Market Committee released the minutes from the meeting last month in which it had decided to hold rates near zero. Investors interpreted the minutes as further proof that U.S. interest rates may remain on hold for the rest of the year.
The dollar was sold off and, after an early dip, gold gained.
"The dollar has been sold off a bit this morning in the wake of the FOMC minutes yesterday," said David Govett, head of precious metals trading at brokerage Marex Spectron. "There are people looking ... and thinking as long as uncertainty is in the global economy and China, the Fed are going to have to hold off," he said.
Gold doesn't yield interest and competes more easily against assets that do, like Treasurys, when rates are pinned near zero. Like most commodities, the metal is priced in dollars and becomes cheaper to buy for those using stronger currencies when the greenback softens on views that interest rates will stay low.
Looking ahead, gold's next move could be lower as caution takes hold of the market.
"As prices were already testing the upper-bound of [the $1,110 an ounce to $1,150 an ounce] range, there appears to be reluctance by traders to further buy gold, even with the dollar falling," Howie Lee, an investment analyst at Phillip Futures, said in a client note.
All the other precious metals were higher on Friday. Spot silver was up 1.7% at $15.936 an ounce, spot platinum was up 3.3% at $974.66 an ounce and spot palladium was up 1.5% at $708.10 an ounce.
Write to Ese Erheriene at ese.erheriene@wsj.com