Gold Jumps 1% After ECB Rate Cut, Easing Measures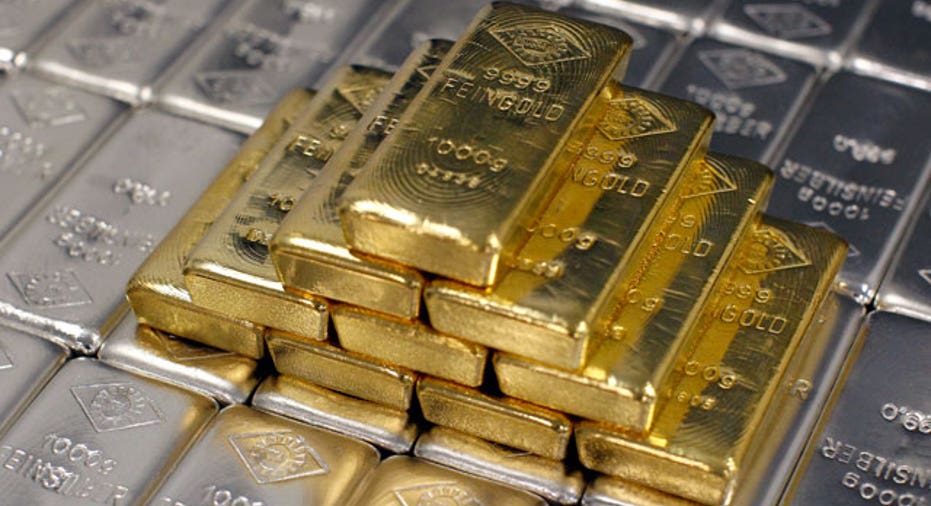 Gold rose nearly 1 percent on Thursday, posting its biggest gain in three weeks, after the European Central Bank cut interest rates to record lows and unveiled a package of new stimulus measures.
Dealers said the market could gain further on Friday if U.S. job numbers for May turn out to be surprisingly low.
Bullion's spot price was up 0.7 percent at $1,253.30 an ounce late afternoon in New York, its biggest advance since May 14. The session high was $1,256.50, while the low of $1,240.90 was above the four-month bottom of $1,240.61 set earlier in the week.
U.S. gold futures' most-active contract, August, also rose 0.7 percent, or $9, at the close, settling at $1,253.30.
Saxo Bank's head of commodities research, Ole Hansen, said gold could probably rise another percent or so toward $1,268 "before resistance is met."
The ECB lowered the deposit rate to -0.1 percent, meaning it will effectively charge banks for holding their money overnight. It cut its main refinancing rate to 0.15 percent, and the marginal lending rate - or emergency borrowing rate - to 0.40 percent.
ECB chief Mario Draghi later unveiled a package of measures to stimulate the euro zone economy.
Those who had bet against bullion before the ECB rate cuts rushed to cover short positions as the shiny metal held firmly above support at $1,240 an ounce.
"I find it really quite logical that gold has risen today," said Dennis Gartman, an investor in the precious metal and the author of the market commentary "The Gartman Letter".
"The ECB's policy changes were very expansionary and that on balance is supportive of gold, all things being equal. And I think more is coming."
The dollar, which often determines direction for gold, did little after racing to a four-month high of $1.3504 to the euro. The dollar index, tied to a basket of currencies, was down 0.2 percent at 80.4962.
The dollar is, however, expected to see more action after Friday's release of the U.S. nonfarm payrolls report for May. A Reuters survey of economists forecast that U.S. employers probably added 218,000 new payrolls last month, a step down from April's robust 288,000-job gain, but still above the average for the preceding six months.
Among other precious metals, silver gained 1.3 percent to $19.02 an ounce. Platinum climbed 0.5 percent to $1,438.95 an ounce. Palladium also rose 0.5 percent, to $836.35 an ounce, after a South African mine workers union reportedly rejected government wage increase plans aimed at ending a five-month strike.
(By Barani Krishnan and Clara Denina; Additional reporting by A. Ananthalakshmi in Singapore; Editing by William Hardy, Jason Neely, Peter Galloway and Jonathan Oatis)