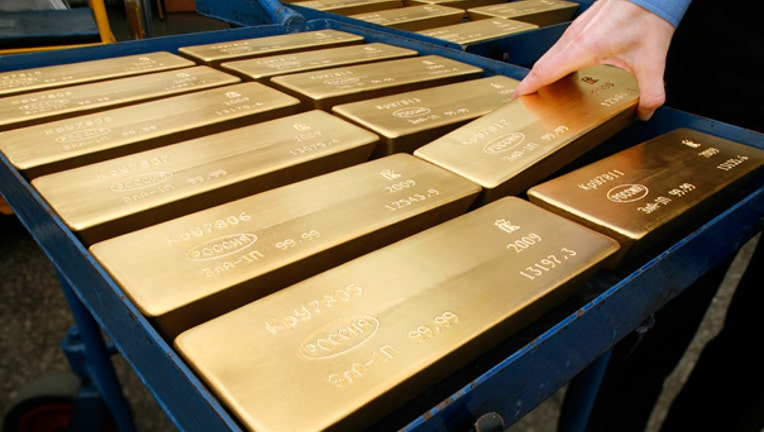 Gold inched higher on Tuesday as faint glimmers of hope in the U.S. fiscal standoff were not enough to dissipate fears the country could still be pushed towards an unprecedented default.
The United States faces an Oct. 17 deadline to raise its $16.7 trillion debt limit.
On Monday, President Barack Obama said he would accept a short-term increase in the nation's borrowing authority to avoid default. An influential senator was also said to be floating a plan to cut federal spending and reform the U.S. tax code as part of a broader deal.
While the budget impasse that has shut down parts of the U.S. government entered its second week and still looked set to continue, hopes for a deal remain strong, analysts said.
"There is a realisation that as difficult and serious this budgetary situation in the United States is, eventually a solution will be found and the country won't default," Mitsubishi analyst Jonathan Butler said.
"There is always the outside chance that this may happen and that may be what is providing a little bit of support to gold but it's not really that convincing for many investors."
Spot gold rose 0.1 percent to $1,322.79 an ounce by 1009 GMT. It hit a near one-week high at $1,327.94 in the previous session.
U.S. gold futures for December fell $2.10 an ounce at $1,323.00.
During the last debate over the U.S. debt ceiling in 2011, gold hit an all-time high of $1,920 an ounce. Congress reached an agreement only at the last minute.
The partial U.S. government shutdown has distracted investors from their previous main preoccupation, the timing of the U.S. Federal Reserve's reduction of its stimulus.
"The Fed will probably postpone its retreat from quantitative easing, which could also help to push prices up," Commerzbank said.
Bullion has lost a fifth of its value this year after the Fed announced its intention to stem the flow of easy money.
Accommodative monetary policies favour gold as low interest rates encourage investors to put money into non-interest-bearing assets.
PHYSICAL SUPPORT
Gold prices also found mild support from the Chinese market, which reopened after a week-long National Day holiday, with Hong Kong dealers saying they were seeing some buying interest.
China's net gold purchases from Hong Kong fell 5 percent in August from the previous month, but were still healthy at 110.5 tonnes.
Gold importers in India started processing orders to re-stock ahead of the peak wedding and festival season and after the customs department cleared remaining consignments at a major airport.
Gold imports had virtually come to a halt in India for about two months after a new rule that required a fifth of all imports to be re-exported. Banks are just beginning to place orders after uncertainty over the rules were cleared up.
In other precious metals, silver was unchanged at $22.30 an ounce. It reached its highest since Sept. 20 at $22.44 in the previous session.
Spot platinum gained 0.8 percent to $1,404.49 an ounce, on fears mine strikes in South Africa could hurt supply.
Spot palladium rose 0.6 percent to $705.47 an ounce.