Gold Hits Highest Level Since March, Nears $1,700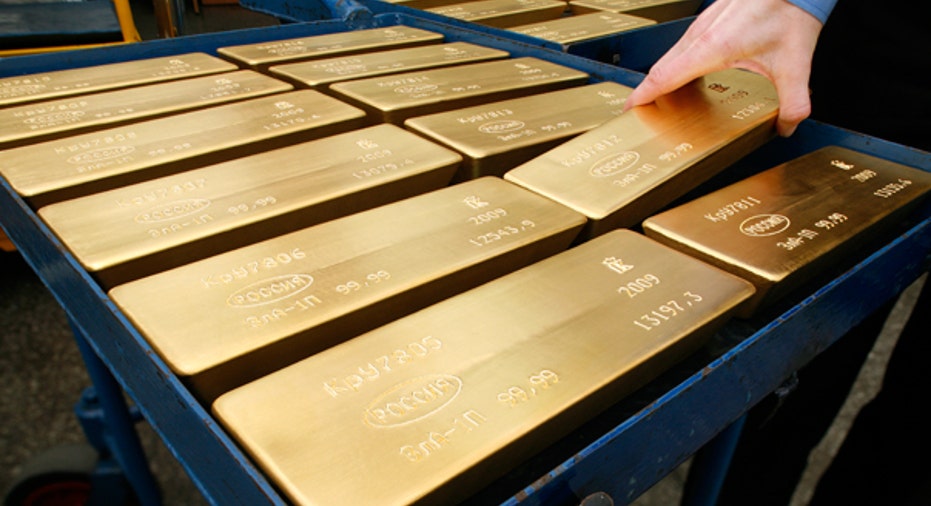 Gold steadied around its highest level in nearly six months on Tuesday, boosted by the prospect of further liquidity injections from the U.S. Federal Reserve, which kept the dollar near two-month lows versus the euro.
Fed Chairman Ben Bernanke in a speech last week suggested the central bank may resort to using more unusual policy measures to keep interest rates low, which has lifted growth-dependent assets such as commodities and stocks.
Investors hold more gold through exchange-traded funds than at any time in the past, after hefty inflows of metal into these products in August.
The likelihood of the European Central Bank unveiling a plan on Thursday to definitively reverse the debt crisis that has plunged the euro zone into recession gave the single European currency a boost, driving gold priced in euros to its highest level this year.
The dollar further trimmed gains against the dollar after a survey showed U.S. manufacturing shrank at its sharpest rate in more than three years in August, the third month of contraction in a row, and firms hired the fewest workers since late 2009.
Spot gold was up 0.3 percent at $1,696 an ounce by 1414 GMT.
Analysts said the scope for disappointment from either the ECB or the Fed would likely limit gains in gold for now.
"For a sustained rally past $1,700, you do need to see definite action from the ECB and a substantially lower dollar," Andrey Kryuchenkov, an analyst at VTB Capital said.
"The fact that the other precious metals are rallying as well and it's not just gold, shows it is macro sentiment that is driving the market at the moment ... All that promise needs to turn into concrete action. And for gold in the long run, it needs any sort of liquidity boost, of balance sheet expansion and for (bond) yields to stay low."
In theory, gold benefits from low borrowing rates as these cut the so-called opportunity cost, the premium investors forfeit by owning gold rather than a yield- or dividend-bearing asset, of investing in this market.
So far in 2012, gold has gained more than 8 percent, putting it on track for its twelfth successively yearly rise, but has yet to challenge the high for this year at $1,790.30 an ounce.
FED DEPENDENCE
Much of gold's performance until the end of the year will depend on what steps the Fed takes. Its multi-trillion dollar rounds of bond buying since late 2008 have caused gold to double in value and attracted record investment in the metal.
The U.S. government will report employment data for August later this week, and the median forecast of economists polled by Reuters is for a gain of 120,000 jobs, down from 163,000 in July
"Employment seems to be as important as growth so the numbers on Friday will mostly likely sway the Fed ahead of their own meeting," Saxo Bank senior manager Ole Hansen said.
Some analysts suspect a number below 100,000 could provoke the Federal Reserve to try to boost overall growth with another round of monetary stimulus when it meets in mid-September.
The Fed meets next week to discuss monetary policy, leaving the ECB's meeting on Thursday in focus. Markets are positioned for bank president Mario Draghi to add more detail to his pledge in late July to do whatever it takes to preserve the euro.
The ECB said at its last meeting it would consider buying the government bonds of the more indebted big economies, such as Spain and Italy to stem the spread of the debt crisis and avoid another full-scale sovereign bailout, following those of Greece, Ireland, Portugal and Cyprus.
The prospect of support for the euro from the ECB has helped keep a pillar of support under the gold price, which tends to weaken when other currencies fall against the U.S. dollar.
Gold priced in euros has touched fresh highs for 2012 this week at 1,346.91 euros an ounce, putting it less than 2 percent below last year's record high at 1,373.92 euros.
September is generally a month of strong performance for the gold price. On average, over the last 44 years, gold has gained 2.1 percent in September, compared with March, historically the weakest month based on percentage gains, where it has averaged a loss of 0.5 percent.
The gold/silver ratio, which shows the number of ounces of silver needed to buy one ounce of gold and acts as a gauge of the relative performance of both metals, fell to its lowest since late April on Tuesday.
The silver price has gained nearly 10 percent in the last two weeks, compared with a 3.5 percent rally in gold and was last up 0.3 percent on the day at $32.21 an ounce.
Highlighting how investor appetite for silver has taken off in the last month, speculative holdings of U.S. silver futures staged their largest monthly increase in August since September 2009, according to data from the Commodity Futures Trading Commission last week.
"Even though the much-regarded gold/silver ratio has currently fallen below 53 ... as a result of the sharp increase in the price of silver, we still see price potential for silver," Commerzbank said in a note.
"The silver price should receive additional buoyancy from investment demand above all - both from ETF investors and money managers. We see silver at $35 per troy ounce by year's end."
The platinum group metals rose in line with a trend upwards in other industrial commodities such as crude oil and copper.
Platinum, which rose 8.6 percent last month after a strike at the South African operations of world number three producer Lonmin turned deadly three weeks ago, was up 0.7 percent at $1,554.99.
Palladium was up 1.3 percent on the day at $635.72. (Editing by Alison Birrane)