Gold Glimmers in a Sea of Red on a Down Day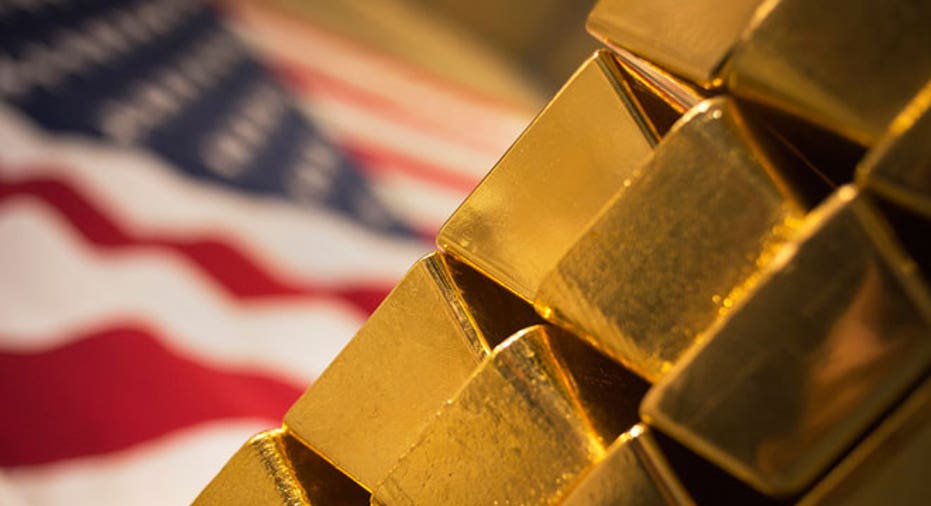 Gold rose one percent on Tuesday as the dollar and global equities dropped on fresh signs of economic weakness in China and uncertainty over the timing of the Federal Reserve's first interest rate increase in nearly a decade.
Activity in China's factory sector shrank at its fastest rate in at least three years in August as domestic and export orders tumbled, increasing investor concern that the world's second-largest economy could be lurching towards a hard landing.
Spot gold rose to a session high of $1,147.16 an ounce and was up 0.9 percent at $1,144.42 an ounce by 1339 GMT, while U.S. gold for December delivery also gained 1 percent to $1,144.00.
The metal posted its biggest weekly drop in five last week, weighed by a steady dollar and strong U.S. economic data, supporting the case for a rate rise as early as this month.
Gold, which is on track for a 4 percent fall this year, would suffer from higher interest rates because they would increase the opportunity cost of holding the metal. Conversely, a delayed rate increase would relieve some selling pressure, if only temporarily.
"As long as the Chinese growth anxieties are there, the Fed will have to find some other remedy for their itching to raise the interest rate," said Naeem Aslam, chief market analyst at AvaTrade. "All in all, in the short term we could see another leg up for gold, but nothing mammoth."
The dollar fell 0.2 percent against a basket of leading currencies, largely because investors prefer low-yielding currencies such as the euro and the Japanese yen for better returns.
"Gold ...may be vulnerable in the short term should the 'run' for cash create selling for margin and liquidity purposes," Kitco Metals Inc said in a note.
Doubts over whether the Federal Reserve will raise rates at its Sept. 16-17 policy meeting have resurfaced in light of persisting market turbulence in recent weeks.
But comments from the U.S. central bank's Vice Chairman, Stanley Fischer, last week suggested that a September rate hike remains an option.
Later on Tuesday investors will turn their attention to a survey of U.S. manufacturing activity, but the biggest focus of the week is the August non-farm payrolls report on Friday.
"The importance of this week's employment report is somewhat elevated given the lack of clearer signals from the recent Jackson Hole symposium - comments from Vice Chairman Fischer seemed to focus on trying to keep the Fed's options open," UBS said in a note.
Spot palladium was down 2.1 percent at $587.50 an ounce and platinum was unchanged at $1,006.50. Silver was also flat at $14.57. (Additional reporting by Jan Harvey in London and Manolo Serapio Jr in Manila; editing by Jason Neely and William Hardy)