Gold ETFs Retreat on Strengthening USD, Rate Hike Outlook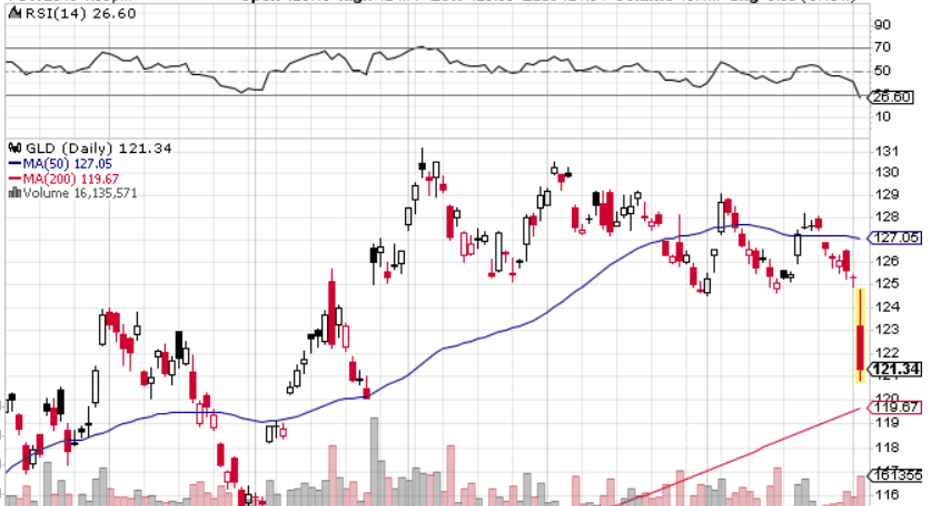 Precious metals exchange traded funds plunged Tuesday, with gold breaking below a key support at $1,300 per ounce, as the U.S. dollar strengthened on improving economic data and speculators looked to higher interest rates.
On Tuesday, the SPDR Gold Shares (NYSEArca: GLD), iShares Gold Trust (NYSEArca: IAU) and ETFS Physical Swiss Gold Shares (NYSEArca: SGOL) all declined over 3.0% as Comex gold futures decreased 3.2% to $1,270.4 per ounce.
Meanwhile, the iShares Silver Trust (NYSEArca: SLV) plunged 5.0% and ETFS Physical Silver Shares (NYSEArca: SIVR) dropped 4.9% as Comex silver futures plummeted 5.7% to $17.78 per ounce.
SEE MORE: Platinum Power Slows as Demand Seen Questioned
Precious metals prices retreated on a strengthen U.S. dollar, with the U.S. dollar Index up 0.4% to 96.12, in response to upbeat U.S. data, which helped support risk appetite and fueled speculation that the Federal Reserve will hike interest rates.
Just the better risk appetite in the market this week as Deutsche Bank seems to have stabilized for the moment," Jim Wyckoff, senior analyst at Kitco Metals, told Reuters. "We've done some technical damage today near-term to suggest we're going to trade sideways to lower."
Moreover, a break of support at the $1,300 level led to an uptick in selling that pulled prices to a three-month low.
The move was caused by "continued dollar strength, and traders looking for stops below such a big level," Saxo Bank's head of commodity research Ole Hansen told Reuters. "You can argue that considering the importance of the level, the weakness seen so far has been relatively modest."
SEE MORE: Can Gold and Silver ETFs go Their Separate Ways?
On the other hand, bearish ETF options surged on the turn in gold prices. For instance, the ProShares UltraShort Gold (NYSEArca: GLL) provides a two times inverse or -200% daily performance of gold bullion. Alternatively, ETN options include the DB Gold Double Short ETN (NYSEArca: DZZ), which tries to generate the twice inverse or -200% return of the daily performance of gold; DB Gold Short ETN (NYSEArca: DGZ), which tries to reflect the inverse of gold price movements; and VelocityShares 3x Inverse Gold ETN (NYSEArca: DGLD), which tries to reflect the performance of three times the inverse or -300% daily performance. On Tuesday, DZZ rose 6.2%, DGZ gained 3.1% and DGLD increased 9.5%.
Additionally, investors bet against gold miners with bearish options like the Direxion Daily Gold Miners Bear 3X Shares (NYSEArca: DUST), the Direxion Daily Junior Gold Miners Index Bear 3X Shares (NYSEArca: JDST) and ProShares UltraShort Gold Miners (NYSEArca: GDXS). The Direxion options take the -300% exposure to large miners and junior miners, respectively, while the ProShares option take the -200% exposure to large miners and junior miners, respectively. On Tuesday, DUST surged 24.9%, JDST jumped 28.8% and GDXS advanced 17.7%.
For more information on the bullion market, visit our precious metals category.
SPDR Gold Shares
This article was provided by our partners at ETFTrends.