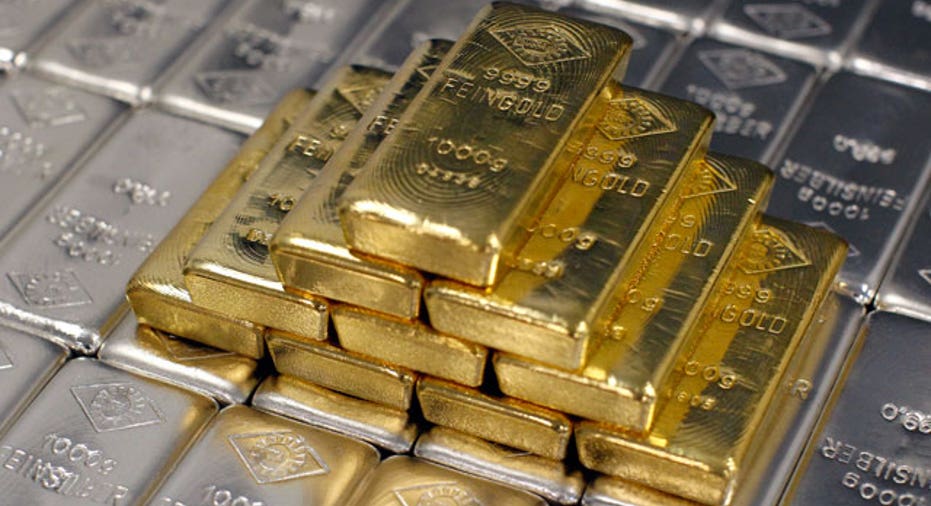 Gold ETFs fell even further into the red this week following testimony from Federal Reserve Chairman Ben Bernanke that showed hesitation to pump more money into the system. Failure to hint at additional quantitative easing disappointed Wall Street as investors continue to wait for any signals of stimulus to help ignite recovery.
Bernanke's congressional testimony sent gold and other hedges against U.S. dollar debasement into negative territory.   On the Comex in New York, gold futures for July delivery are down more than 1% this week, and six of the past seven sessions.
Exchange-traded funds backed by physical gold, such as SPDR Gold Trust ETF (GLD) and iShares COMEX Gold Trust (IAU), reported negative returns.
The economic and global instability seem to having investors losing confidence in the precious metal.  Investors have pulled $185.08 million out of SPDR Gold Shares and $95.73 million out of iShares COMEX Gold Trust so far this week, according to IndexUniverse.
Historically, gold is a popular safety play during times of financial doubt, but its prolonged slump is prompting investors to seek other options.
"A breakup in Europe will cause gold prices to spike," said James Cordier, founder of Optionsellers.com.  "But the chances of an EU breakup have diminished.  I think we're looking at a deflationary period over the next six to 12 months.  Now's not the time to buy gold.  There are better investment opportunity elsewhere."
And it's not just bullion-backed ETFs that are suffering from gold's sluggish start to the year.  Funds investing in shares of firms that mine the precious metal are posting disappointing returns.  The Market Vectors Gold Miners ETF (GDX) is down approximately 20% since Jan. 1, and more than 30% compared to one year ago.   The fund's top holdings are Barrick Gold Corporation, Goldcorp and Newmont Mining Corporation.
"Avoid gold miners," advises Ananthan Thangvel, Lakshmi Capital managing director.  "You're taking on two significant risks when investing in gold miners.  You're taking on risks in equities as well as risks with precious metals.  It's not worth it."
But the Fed's chances of announcing more stimulus are not completely diminished. Experts say that if weak economic reports continue to hit the U.S. markets over the next few weeks, Bernanke could be forced to pump more money into the system.
The Fed's next scheduled meeting is less than two weeks away, although it may be too early for any major announcements as Bernanke seems to be waiting for a slew of bad numbers to justify more money printing.  A decision following November's election is looking more likely, and if additional stimulus is that far out, money managers are warning the short-term outlook for the fear trade favorite could be very dismal.
"The Federal Reserve will probably announce QE3, but we don't know when it will be," said Thangvel.  "The market thinks that if we see one more bad economic report, we could get QE3. I disagree.  I think it will be December at the earliest, and if that's the case, gold could fall to $1,200 per ounce in the meantime."