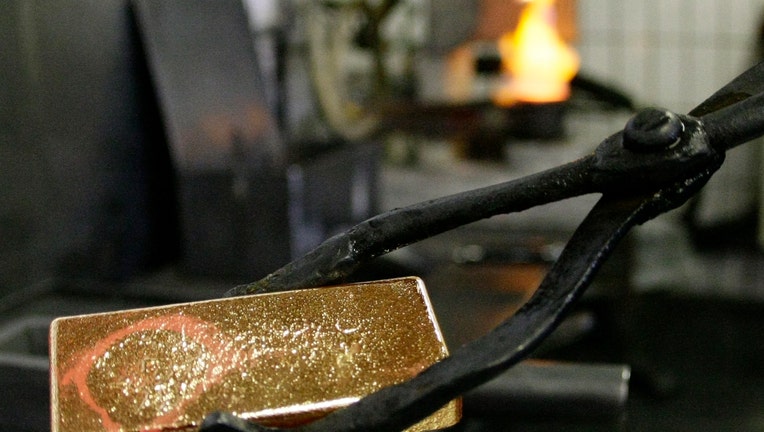 Gold rose for a second consecutive session on Tuesday, as the dollar held below three-year highs and China inflation data boosted the metal's appeal as a hedge against rising prices in the world's second-biggest buyer of the metal.
Data on Tuesday showed China's annual consumer inflation accelerated more than expected in June.
"The numbers out of China were very helpful for the metal's demand, as these indicate an increase in inflation rates, against which gold is seen as an hedge," MKS Capital head of trading Afshin Nabavi said.
Spot gold rose 1.5 percent to $1,253.76 an ounce by 0910 GMT, and was on track for the biggest gains in seven sessions. Comex gold climbed $17.20 to $1,252.30 an ounce.
The dollar eased from a three-year high hit on Monday, although its broad uptrend was seen intact as the market positions for when the U.S. Federal Reserve will start to slow its stimulus.
The tapering would support a rise in interest rates and bolster the dollar, making gold less attractive.
Bullion has fallen nearly 10 percent since Fed Chairman Ben Bernanke said last month the economy was recovering strongly enough for the U.S. central bank's $85 billion monthly bond-buying stimulus to be reduced as soon as later this year.
It came under additional pressure late last week as a strong U.S. jobs report showed the employment market remains on track, before recovering.
Traders also attributed some of Tuesday's gains to technical buying once prices crossed $1,245, the level at which gold stood before nonfarm payroll data came out last Friday. The technical buying also forced investors to cover short positions, which they had increased in the expectation of further losses.
"We breached key technical levels overnight, which ignited some short covering, pushing the metal higher," Nabavi said. "Conditions are now quieter but we can see more short-covering throughout the day."
Investors were now focusing on the Federal Open Market Committee (FOMC) minutes - records from the Fed's June meeting - due for release on Wednesday.
INVESTOR SENTIMENT
Hedge funds and money managers raised their bullish bets in gold and silver futures and options in the week to July 2.
Liquidation in metal-backed exchange traded funds however continued on Monday. Holdings in the SPDR Gold Trust, the world's largest gold ETF, fell to the lowest since February 2009, down 1.56 percent to 946.96 tonnes.
"The unwound gold positions increase gold supply and put gold under downward pressure, which in turn triggers more liquidations. We expect the spiral of liquidation to extend to 2014," said Helen Lau, senior metals and mining analyst at UOB Kay Hian Research.
Lau expects gold prices to decline by 20 percent year-on-year to $1,332 in 2013, and another 10 percent in 2014.
Silver rose 1.5 percent to $19.32 an ounce. Platinum was up 0.3 percent to $1,361.99 an ounce and palladium gained 0.2 percent to $696.25 an ounce. (Additional reporting by A. Ananthalakshmi in Singapore; editing by James Jukwey)