Gold Benefits from Global Equities' Retreat, Lower Dollar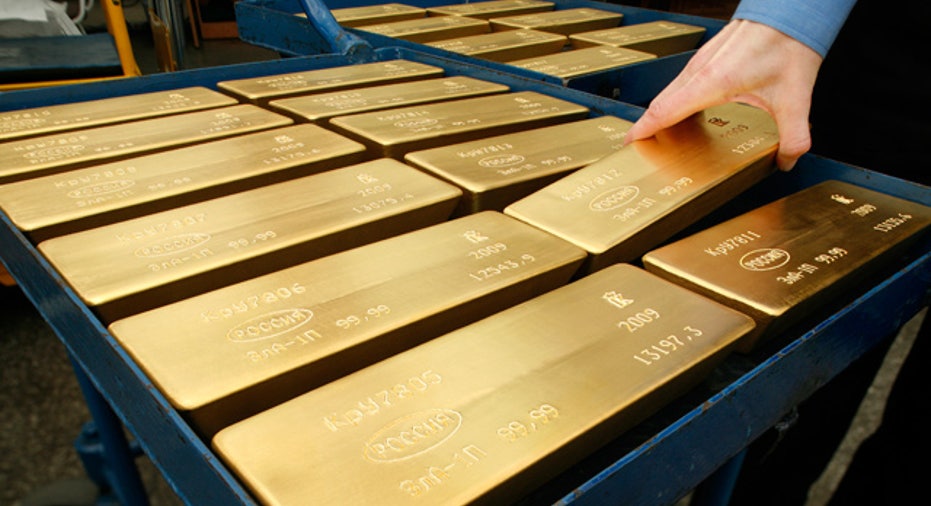 Gold rose 2 percent on Wednesday, benefiting as global equity markets fell to 2-1/2-year lows and oil prices continued their relentless slump to a 13-year low, leading other commodity markets broadly lower.
However, slow physical demand from Asia kept the metal from returning to this month's peak of $1,112 an ounce, traders said.
Spot gold climbed to a session high of $1,109.20 an ounce and was up 1.5 percent at $1,103.36 an ounce at 2:42 p.m. EST (1942 GMT). U.S. gold for February delivery settled up 1.6 percent at $1,106.20 an ounce.
Global equity markets were on pace for one of the most dismal monthly performances on record, while the dollar fell to a more than one-year low against the Japanese yen, but flattened against six major currencies.
Gold's move higher was modest in comparison with the sharp move lower in other markets, said Rob Haworth, senior investment strategist for U.S. Bank Wealth management in Seattle.
"The struggle is this fundamental headwind which is (lower) inflation expectations. Gold is often thought of as an inflation hedge," Haworth said.
"There's not a lot of appetite to bid up gold when you don't have an inflation issue."
Gold, often seen as an alternative investment during times of financial uncertainty, benefited from the risk-averse sentiment in markets along with other safe-haven assets such as the yen.
"The ongoing weakness in Chinese growth could (help send) the metal above the $1,100 mark," said Naeem Aslam, chief market analyst at AvaTrade, earlier in the session. Spot gold traded as low as $1,086.33 on Wednesday.
The International Monetary Fund on Tuesday cut its global growth forecasts for the third time in less than a year after China's economy grew at its slowest rate in a quarter of a century in 2015.
China is the world's biggest consumer of the metal at more than 1,000 tonnes annually and although an economic slowdown would generate speculative demand for gold as a low-risk asset, analysts say it could also weigh on Asian physical consumption.
There is a modest premium to world gold prices in China, while prices in India, the second-largest gold consumer, are at a discount to the global benchmark, HSBC analyst James Steel said.
Spot platinum inched down to a seven-year low of $809.85 an ounce.
Silver was up 1.1 percent at $14.18 an ounce while the more industrial palladium slipped 0.3 percent to $490.42.
(By Marcy Nicholson and Clara Denina; Additional reporting by Manolo Serapio Jr. in Manila; editing by Susan Fenton and David Evans)