Going it alone: US alienates allies before taking on Beijing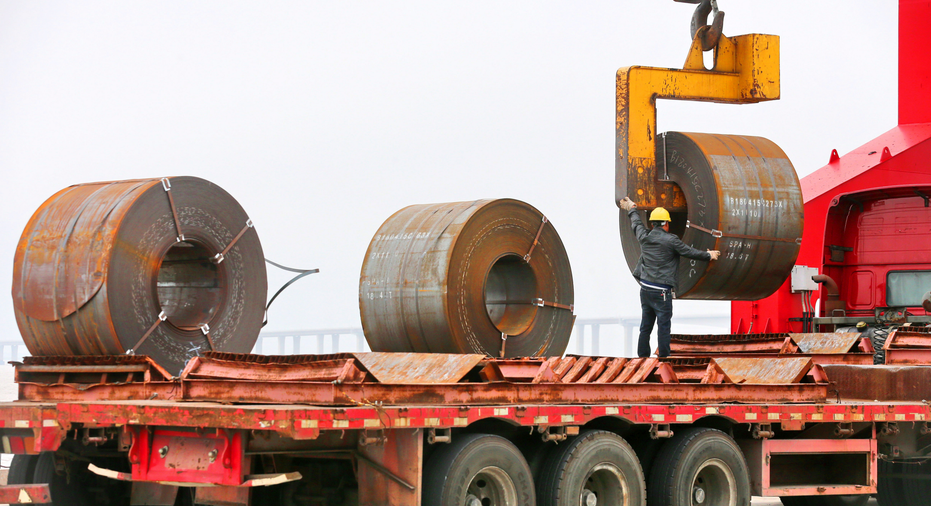 The Trump administration's decision to slap tariffs on its top allies could weaken Commerce Secretary Wilbur Ross' hand as he travels to Beijing to try to fend off a trade war with China.
That, at least, is the view of many longtime trade analysts and China watchers.
"This is really the U.S. going it alone," said Philip Levy, senior fellow at the Chicago Council on Global Affairs who was a trade adviser in the George W. Bush administration. "By assaulting all our allies, we leave ourselves standing unprotected and by ourselves in a way we really never have been."
"We are alienating all of our friends and partners at a time when we could really use their support," added Wendy Cutler, a former U.S. trade negotiator who is now vice president at the Asia Society Policy Institute.
After briefing reporters on the administration's decision to slap tariffs on imported steel from Canada, Mexico and the European Union, Ross is leaving Friday for Beijing for negotiations aimed at resolving a dispute over China's aggressive attempts to challenge U.S. technological supremacy.
Trade analysts say the Trump team should be enlisting its allies to present a united front to China. After all, U.S. friends like Japan and the European Union share many of the same gripes about China. They decry rampant theft of intellectual property and Chinese overproduction, which has flooded world markets with cheap steel and aluminum.
And in fact, U.S. Trade Rep. Robert Lighthizer, Japan's economics minister, Hiroshige Seko, and EU Trade Commissioner Cecilia Malmstrom did issue a vague statement from Paris on Thursday urging unidentified countries to do more to protect intellectual property and to reduce overcapacity.
But the U.S. undermined the alliance on Thursday by slapping key allies and trading partners — Canada, Mexico and the EU — with tariffs of 25 percent on steel and 10 percent on aluminum. All vowed to retaliate by penalizing American products.
Canadian Prime Minister Justin Trudeau, noting that Canadians and Americans have been allies for 150 years and fought and died together in World War II and in Afghanistan, took a shot at the Trump team:
"Americans remain our partners, friends, and allies," Trudeau said. "This is not about the American people. We have to believe that at some point their common sense will prevail. But we see no sign of that in this action today by the U.S. administration."
Now, the U.S. is turning to Beijing and to a standoff that has taken some confusing turns.
Last month, the administration proposed tariffs on $50 billion of Chinese imports to punish China for forcing U.S. companies to hand over technology in exchange for access to its market. President Donald Trump later ordered his top trade negotiator to seek up to an additional $100 billion in Chinese products to tax.
China responded by targeting $50 billion in U.S. products, including soybeans — a shot at Trump supporters in America's heartland. Rising tensions between the world's two biggest economies alarmed investors and business leaders.
But they breathed a sigh of relief earlier this month when the U.S. and China declared a cease-fire after talks in Washington. Treasury Secretary Steven Mnuchin said then that the trade war was "on hold." And the tariffs were suspended after China agreed to "substantially reduce" its trade surplus with America by buying more U.S. products.
The truce didn't last long. Trump, facing criticism from some in Congress for cozying up to Beijing, on Tuesday renewed his threat to impose the tariffs on China. His hardline trade adviser, Peter Navarro, charged Wednesday that Mnuchin's conciliatory comments about China were "an unfortunate sound bite."
Critics say the administration should be picking its trade fights far more judiciously.
"This is dumb," said Republican Sen. Ben Sasse of Nebraska. "Europe, Canada and Mexico are not China, and you don't treat allies the same way you treat opponents."
"There's still a risk that this escalates into a trade war," Levy said. "Our allies and partners are going to be pressured by China to take their side. In this environment, it's hard for them for to be very pro-U.S."
____
AP writer Rob Gillies in Toronto contributed to this report.