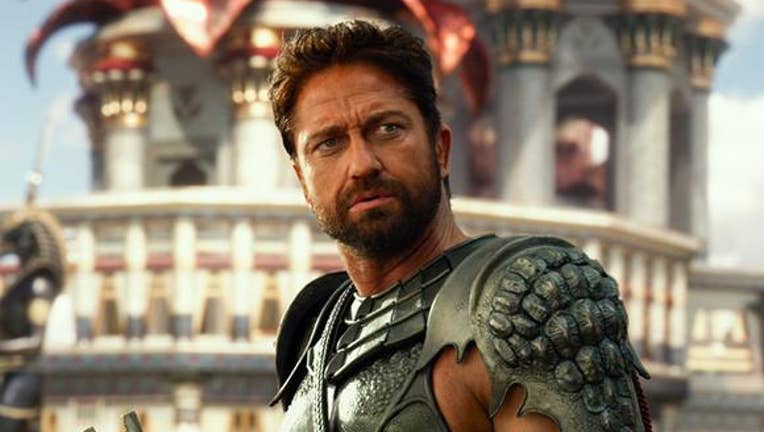 Source: Lions Gate Entertainment
Gods of Egypt is the year's first major box office flop, and its disastrous performance sets the backdrop for some much needed soul-searching at Lions Gate Entertainment. The troubled filmwas made on a $140 million production budget, only to be overshadowed by Twenty-First Century Fox'sDeadpoolas the mythic film generated just $14 million in domestic ticket sales during its domestic opening weekend.Gods of Egypt adds to a string of disappointing performances for the company that was, until recently, one of the hottest players in Hollywood.
Lions Gate -- the company behind hit properties includingTwilight,The Hunger Games, andDivergent -- has seen its share price dip nearly 30% over the past year.Weak results for recent releases and the pressure to come up with new, blockbuster franchises are weighing on the shares. Does Lions Gate have plans in place to bounce back from this mega flopand its recent box office malaise?
How bad isGods of Egyptfor Lions Gate?Surprisingly, the film's poor performance will not be a huge financial blow to the company, which shouldered just $10 million of the movie's $140 million production budget thanks to tax incentives and split financing deals. Lions Gate's main expenses for the film were likely promotional, but the company hardly broke the bank marketing the film. Gods of Egypt did have a smattering of trailers and television spots, but the movie's overall presence, particularly online, was anemic leading up to the release.
The film'sofficial webpage was shockingly barren for a big budget, wide release film, and it appears as if the web domain for the title has already been abandoned and is now up for sale. The picture still has a page on Lions Gate's main site, but the shuttered website suggests that the company has little expectation of recouping losses through home video formats.
More than a crippling financial misstep,Gods of Egyptis an embarrassing blemish for Lions Gate at a pivotal moment.The ill-fated film, whichwas dogged about the racial makeup of its casting andmanaged the approval of just 12% of Rotten Tomatoes critics, comes on the heels of a less-than-spectacular end toThe Hunger Gamesseries and middle-of-the-road performances for fellow young-adult film seriesDivergent.
Next stepsLions Gate's next big release isAllegiant, the third installment in its four-partDivergent series, and the remaining franchise releases seem primed to post solid-but-not-spectacular results. Before striking it big with young adult film franchises, Lions Gate relied heavily on the horror genre, and it looks like low to medium budget horror and R-rated action films will continue to be a big part of the company's slate, including a reboot of the Sawseries and a number of untitled genre projects in the works. Low production costs and solid box office performances make these projects relatively low-risk, but they also typically fail to deliver the massive franchise potential of a TwilightorHunger Games.
Young adult film adaptations have been Lions Gate's best-grossing films, propelling the company to over 250% stock growth over the past five years.But their lightning-in-a-bottle-factor is difficult to replicate. Box office success often runs hot and cold in cycles, and to some extent, it's reasonable to expect that the effects of gravity are hitting Lions Gate and that the company will continue to struggle in finding its next major franchise.
From a stock valuation perspective, trading at roughly 18 times forward earnings, Lions Gate doesn't look too unreasonable when compared to Fox and Disney's 16 and 17 times earnings, respectively.However, future results will take a big hit if new blockbuster properties don't materialize.
The next big hit?Looking at the Lions Gate pipeline for the next few years, Now You See Me 2 will follow up a successful and well-liked first entry. The sequel possesses the ensemble action-comedy formula that has been box office magic recently, whileJohn Wick 2should post much higher ticket sales than its now-cult-classic predecessor. Lions Gate remains committed to developing new young adult properties and could also try to start new Twilightfilms, butits next major franchise opportunity will probably come from a different series -- Power Rangers.
Nostalgia is powerful at the box office as films likeJurassic WorldandStar Warsdeliver incredible sales -- the Power Rangers world packs marketable familiarity and a premise that fits the superhero-style action comedy formula.
WithGods of Egyptnearly dead and buried, the need for aHunger Gamesreplacement is clearer than ever, and Lions Gate will have to rely on opportunities likePower Rangersand other upcoming young adult adaptations.
The article "Gods of Egypt" Flops -- What's Next for Lions Gate Entertainment Corp? originally appeared on Fool.com.
Keith Noonan has no position in any stocks mentioned. The Motley Fool owns shares of and recommends Lions Gate Entertainment and Walt Disney. Try any of our Foolish newsletter services free for 30 days. We Fools may not all hold the same opinions, but we all believe that considering a diverse range of insights makes us better investors. The Motley Fool has a disclosure policy.
Copyright 1995 - 2016 The Motley Fool, LLC. All rights reserved. The Motley Fool has a disclosure policy.