Gloomy Data Send Stocks Sliding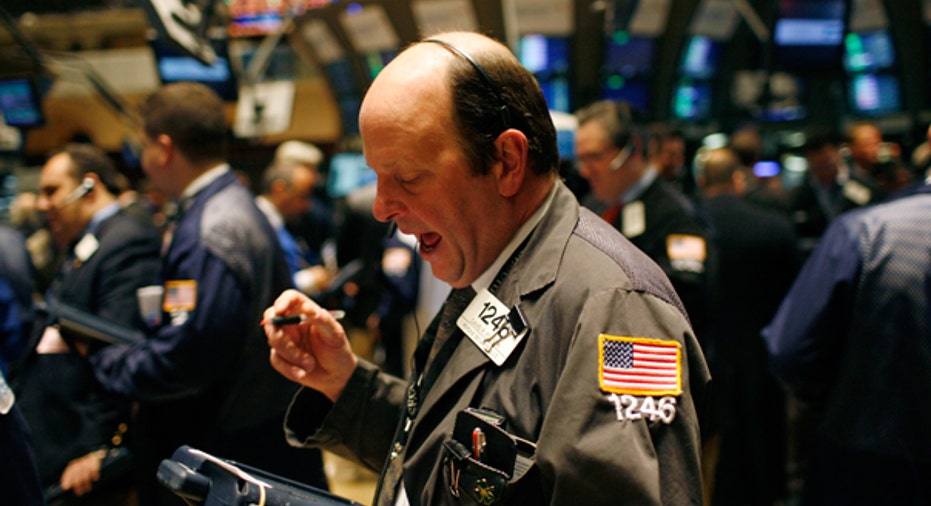 FOX Business: Capitalism Lives Here
The Dow and S&P 500 retreated from record highs on Thursday after a round of disappointing economic data shook traders' confidence.
Today's Markets
According to preliminary calculations, the Dow Jones Industrial Average fell 44.2 points, or 0.29%, to 15232, the S&P 500 dipped 8.4 points, or 0.5%, to 1650 and the Nasdaq Composite declined 6.4 points, or 0.18%, to 3465.
Numerous disappointing economic reports sparked concerns about a potential spring slowdown for the U.S. economy -- that has recently been a point of optimism for traders.
The Labor Department said new claims for unemployment benefits increased to 360,000 last week from an upwardly-revised 328,000 the week prior. Claims were expected to rise to 330,000 from an initially-reported 323,000.
Another report from the Labor Department showed prices at the consumer level slid 0.4% in April from March, a steeper drop than the 0.2% economists expected, as energy prices plummeted. Excluding the food and energy components, prices rose 0.1%, slightly less than the 0.2% gain expected.
The Commerce Department's gauge of new housing starts dropped 16.5% in April from March to an annualized 853,000-unit rate. Permits for the month increased 14.3% to an annualized rate of 1,017,000 units, the highest since June 2008. The market for new homes has been bouncing back as the real-estate market recovers, but progress has been choppy.
The Philadelphia Federal Reserve's regional manufacturing gauge fell to -5.2 in May from 1.3 in April, far lower than expectations of 2.4. Readings below 0 suggest the manufacturing sector in the U.S. mid-Atlantic region is contracting. This follows a similarly disappointing report Wednesday from the New York Federal Reserve.
Trading desks had earnings reports from two corporate giants to digest early in the day. Cisco (NASDAQ:CSCO) revealed adjusted fiscal third-quarter profits of 51 cents a share, beating estimates by two cents. The networking giant's revenues of $12.2 billion narrowly topped forecasts of $12.18 billion. Shares zoomed higher on the report.
Meanwhile, Wal-Mart (NYSE:WMT) posted first-quarter earnings of $1.14 a share on sales of $113.4 billion, shy of estimates of $1.15 a share on $116.3 billion in revenues. The world's biggest retailer said it expects to earn between $1.22 and $1.27 a share in the second quarter, also missing forecasts of $1.29.
Elsewhere in corporate news, J.P. Morgan Chase (NYSE:JPM) said it has formally requested information from Bloomberg on how much access Bloomberg News journalists had to its Bloomberg financial terminals and to confirm that measures were being taken to prevent future breaches.
AMD (NYSE:AMD) was cut to "sell" from "neutral" by analysts at Goldman Sachs (NYSE:GS). The chipmaker's shares came under heavy pressure on the news.
In commodities, gold prices fell sharply for the second day in a row. The benchmark contract dropped $23.50, or 1.7%, to $1,373 a troy ounce. Oil prices dipped 51 cents, or 0.56%, to $93.77 a barrel. Wholesale New York Harbor gasoline fell 0.11% to $2.864 a gallon.
Foreign Markets
The Euro Stoxx 50 climbed 0.08% to 2812, the English FTSE 100 rose 0.23% to 2709 and the German DAX gained 0.31% to 8388.
In Asia, the Japanese Nikkei 225 declined 0.39% to 15037 and the Chinese Hang Seng advanced 0.17% to 23083.