Global Stocks Slide, Safe-Haven Assets Rise After Brussels Attacks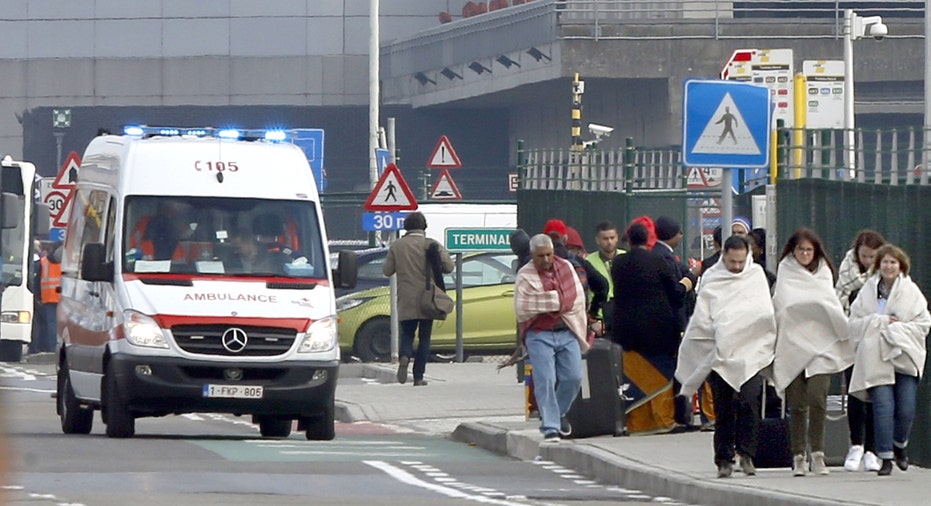 World stocks fell and safe-haven gold and government bonds rose on Tuesday after attacks on the airport and a rush-hour metro train in Brussels that triggered security alerts across western Europe.
Travel sector stocks including airlines and hotels fell the most, pulling the broader indices down from multi-week highs, although stocks had clawed back some of their losses by midday and bonds and gold eased back from their earlier highs.
"It is all to do with the events in Brussels ... but the reaction is muted, which also shows that after all the terrorist attacks we have seen, markets have learned to live with these kind of things," said Rabobank euro zone economist Emile Cardon.
At least 26 people were killed and many injured in the twin attacks on the Belgian capital, which took place four days after the arrest there of a suspected participant in November's militant attacks in Paris.
At 1220 GMT the FTSEuroFirst 300 index of leading shares was down 1 percent at 1,326 points. Germany's DAX was down 0.5 percent and Belgian stocks were down 0.4 percent. These indices had earlier been down as much as 2 percent.
The STOXX Europe 600 Travel & Leisure index was the top sectoral faller, down 2 percent. Shares in major European airlines like Ryanair and Air France-KLM were down as much as 4.5 percent, and hotel company Accor was down 3.5 percent.
The federal prosecutor said at least one of two explosions at Brussels airport was likely to have been caused by a suicide bomber and the attacks brought some cross-border transport to a halt, including trains from London to Brussels.
Gold rose 0.6 percent to $1,255 an ounce, having been up around twice that earlier. The yield on benchmark German government bonds fell to a two-week low of 0.18 percent before edging back to 0.21 percent. U.S. Treasury yields fell 2 basis points across the curve.
In currency markets the Japanese yen, regarded by investors as a shelter from turbulence, rose across the board, notably against the euro. The euro was last down 0.5 percent at 125.25 yen and the dollar was down 0.3 percent at 111.60 yen.
The single currency fell a fifth of a percent against the dollar to $1.1220.
ATTACKS OVERSHADOW DATA
Liquidity had already been starting to dry up ahead of the Easter holiday and investors were beginning to think about cashing in on a steep rally in stocks over the last few weeks.
"Coming up to the Easter holiday, people are going to be very reluctant to put more money into these (stock) markets. If anything, they will be more likely to take money out," said Michael Hewson, chief market strategist at CMC Markets in London.
"Anything like the events we're seeing in Brussels this morning is going to weigh on risk sentiment and risk appetite."
Investors paid little attention to data showing a slight pick up in German business morale and euro zone business activity in March.
Earlier, Asian stocks seesawed as hawkish comments from U.S. Federal Reserve officials clouded the monetary policy outlook less than a week after Fed Chair Janet Yellen had set out a more cautious path to interest rate increases this year.
The dollar got a mild boost from the suggestion that interest rate hikes could come sooner rather than later.
Japan's Nikkei stock index added 1.9 percent, closing at a one-week high, after markets in Tokyo reopened after a public holiday on Monday. A weaker yen overnight had given a tailwind to local shares.
Elsewhere, sterling was one of the biggest losers among the major currencies after ratings agency Moody's said Britain's credit rating will be put under pressure by a marked slowdown in fiscal consolidation unveiled in last week's budget.
The warning came amid concerns about Prime Minister David Cameron's ability to keep Britain in the European Union after leading 'Out' campaigner Iain Duncan Smith resigned from the cabinet late on Friday.
Sterling was last down 0.6 percent at $1.4281, more than two cents off Friday's one-month high of $1.4514.
In oil markets, U.S. crude futures fell 1 percent to $41.11 a barrel and Brent crude shed 0.75 percent to $41.23.
(Reporting by Jamie McGeever and Marc Jones; Editing by Catherine Evans)