Global stocks rise on strong US jobs figures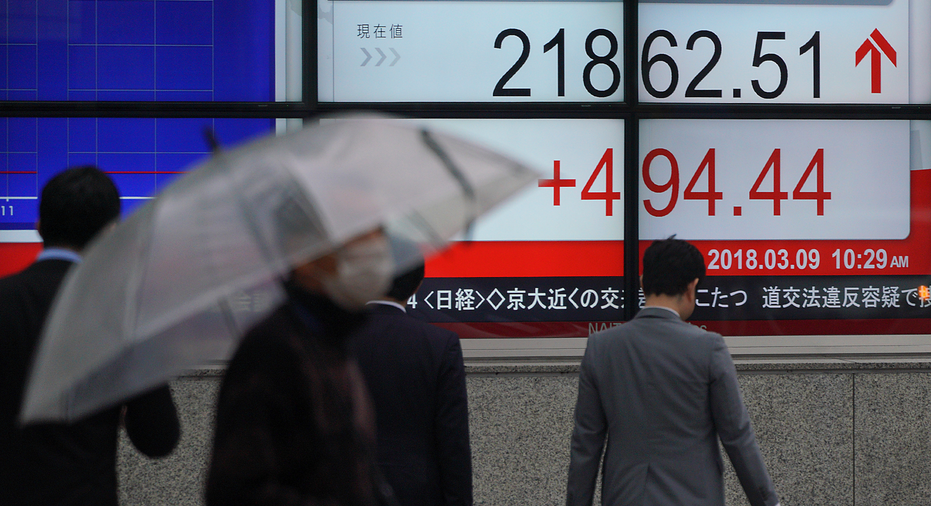 Global stock markets rose Friday on the back of strong U.S. jobs figures and investors digested President Donald Trump's announcement of new tariffs on steel and aluminum imports. South Korea's Kospi was a notable riser, jumping 1.1 percent on news that Trump plans to meet with North Korea's leader.
KEEPING SCORE: In Europe, France's CAC 40 was up 0.1 percent at 5,260 while Germany's DAX fell 0.3 percent to 12,320. The FTSE 100 index of leading British shares was steady at 7,206. U.S. markets were headed for gains on the open, with Dow futures up 0.8 percent and S&P futures 0.7 percent higher.
US JOBS: Market sentiment was boosted by the news that the U.S. economy added 313,000 jobs in February, the most in any month since July 2016. Wage gains, meanwhile, fell from 2.8 percent in January to 2.6 percent year-over-year. Strong hourly wage growth had spooked markets last month because it raised the specter of inflation.
TARIFFS IMPACT: After a week of trying to determine the impact of potential U.S. tariffs on imported steel and aluminum, markets largely brushed aside confirmation that Trump was going ahead with his plan. Now, investors are wondering what countries will ultimately be hit. Trump has already said that Canada and Mexico will be exempted indefinitely provided they agree to renegotiate a North American trade deal to his satisfaction. The EU is looking to be exempted, too, but has said it will retaliate if the U.S. slaps tariffs of 25 percent on imported steel and 10 percent on aluminum.
NORTH KOREA: Trump agreed to meet with North Korean leader Kim Jung Un by May to negotiate an end to Pyongyang's nuclear weapons program, South Korean and U.S. officials said Thursday. No American president has ever met with a North Korean leader while still in office. The news gave a boost to South Korea's Kospi, which ended 1.1 percent higher at 2,459.45
ANALYST TAKE: "While the U.S. president may have signed tariffs into law, his apparent success regarding North Korea has also helped to keep risk sentiment on the front foot," said Chris Beauchamp, Chief Market Analyst at IG.
ASIA'S DAY: Japan's benchmark Nikkei 225 gained 0.5 percent to finish at 21,469.20. Australia's S&P/ASX 200 added 0.3 percent to 5,963.20. Hong Kong's Hang Seng also rose 1.1 percent, to 30,996.21. The Shanghai Composite index added 0.6 percent to 3,307.17.
ASIAN CENTRAL BANKS: The Bank of Japan kept its ultra-lax monetary policy intact, as expected, at a policy meeting that ended Friday. Meanwhile, People's Bank of China Gov. Zhou Xiaochuan told reporters China can be bolder about opening its financial markets following progress in developing financial regulation, improving management of financial institutions and Beijing's efforts to promote use abroad of its tightly controlled currency, the yuan.
ENERGY: Benchmark U.S. crude added 64 cents to $60.76 barrel in electronic trading on the New York Mercantile Exchange, while Brent crude, used to price international oils, rose 77 cents to $64.38 a barrel in London.
CURRENCIES: The euro fell 0.2 percent to $1.2285 while the dollar rose 0.7 percent to 106.93 yen.