Global stocks rise on strong European, Chinese data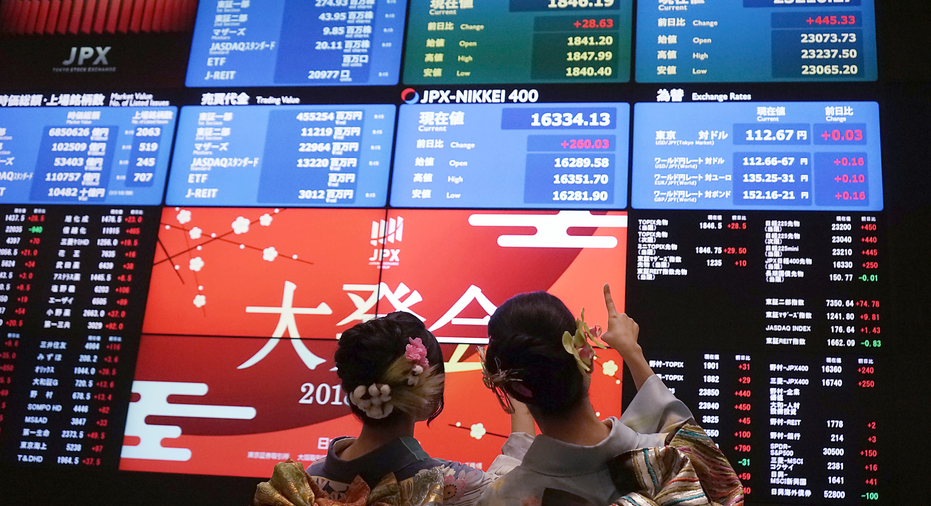 Global stocks rose on Thursday after strong economic data from Europe and China, while shares in chipmaker Intel were expected to fall again over a data security scare.
KEEPING SCORE: France's CAC 40 added 1.3 percent to 5,400, while Germany's DAX gained 1.1 percent to 13,122. Britain's FTSE 100 edged nearly 0.2 percent higher to 7,682. U.S. shares were also set for gains, with Dow futures up 0.4 percent and S&P 500 futures adding 0.2 percent.
ECONOMIC DATA: A survey of the manufacturing and services sectors in the 19-country eurozone saw business activity rise in December to its highest in nearly seven years. The survey suggests the bloc's economic upswing is still gathering pace and is shared across the region. A similar survey in China of the services sector also rose, unexpectedly. That suggests the country will be more resilient to a slowdown in industrial production.
ASIA'S DAY: Japan's benchmark Nikkei 225 advanced 3.3 percent to finish at 23,506.33 in the celebratory first trading session of the year. Australia's S&P/ASX 200 edged 0.1 percent higher to 6,077.10. South Korea's Kospi lost 0.8 percent to 2,466.46, while Hong Kong's Hang Seng added 0.5 percent to 30,736.48, while the Shanghai Composite gained 0.5 percent to 3,385.71.
CHIPMAKERS: Shares in Intel fell 3.4 percent on Wednesday and were down another 1.9 percent in premarket trading Thursday after security researchers at Google discovered serious security flaws in its computer processors. Though a fix was expected, it's unclear what other chipmakers might be affected. Rival AMD said it believes its chips are safe and saw its shares rise 3.1 percent in premarket trading after a 5.2 percent gain the previous day.
ENERGY: Benchmark U.S. crude rose 15 cents to $61.78 a barrel in electronic trading on the New York Mercantile Exchange. It added $1.26 on Wednesday. Brent crude, used to price international oils, shed 2 cents to $67.82 a barrel in London.
CURRENCIES: The dollar rose to 112.62 yen from 112.36 yen. The euro rose to $1.2070 from $1.2014.
____
Follow Yuri Kageyama on Twitter at https://twitter.com/yurikageyama
Her work can be found at https://www.apnews.com/search/yuri%20kageyama