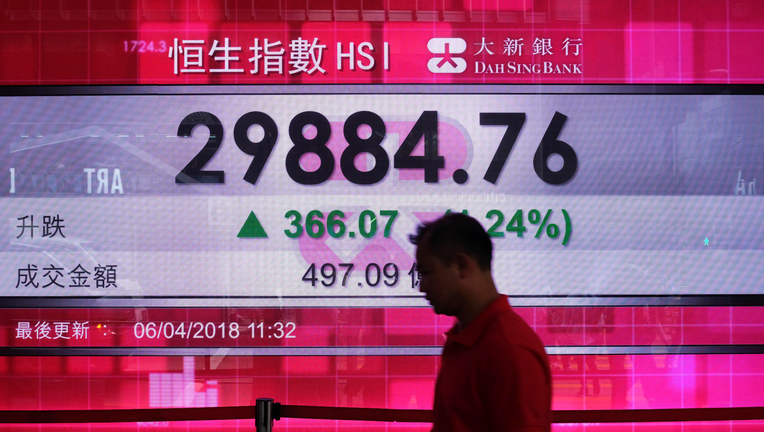 Global stock markets remained lower Friday but largely unaffected by fairly soft U.S. jobs data as most investor attention centered on the ongoing trade spat between the U.S. and China, the world's two largest economies.
KEEPING SCORE: In Europe, Germany's DAX was down 0.5 percent at 12,255 while the FTSE 100 index of leading British shares was steady at 7,197. France's CAC-40 was 0.2 percent lower at 5,267. Wall Street was poised for a lower opening with Dow futures and the broader S&P 500 futures down 0.8 percent.
US JOBS: Employers added a lower than anticipated 103,000 jobs in March after several months of bigger gains, though the government's overall jobs report suggests that the labor market remains healthy. The Labor Department said Friday that the unemployment rate remained 4.1 percent, a 17-year low, for a sixth straight month. Average hourly pay ticked up, climbing 2.7 percent compared with a year earlier.
ANALYST TAKE: "It's not often that the see a miss of around 88,000 in the U.S. job creation figures and markets shrug it off but that's exactly what we've seen today," said Craig Erlam, senior market analyst at OANDA. "The U.S. jobs report was somewhat overshadowed this week by the ongoing back and forth between the world's two largest economies which has threatened to disrupt the period of strong growth the global economy is seeing."
TRADE TIFF: U.S.-China trade tensions stepped up another notch after President Donald Trump instructed the U.S. trade representative to consider slapping an extra $100 billion in tariffs on Chinese goods. China responded by indicating it wouldn't back down, saying it would fight back "at any cost," according to a statement from the Commerce Ministry. The surprise move was a further escalation of the deepening dispute between the world's two biggest economies, which just days earlier announced plans for $50 billion in import duties on each other's goods. The earlier tariff threats roiled financial markets but they had rebounded Thursday on investor hopes the U.S. and China indicated would find a diplomatic solution.
ASIAN SCORECARD: Japan's benchmark Nikkei 225 index dipped 0.4 percent to close at 21,567.52, while South Korea's Kospi slipped 0.3 percent to 2,429.58. Australia's S&P/ASX 200 was flat at 5,788.70, but Hong Kong's Hang Seng rose 1.1 percent to 29,844.94 after trading resumed following a holiday as investors caught up with the previous day's global gains.
ENERGY: Benchmark U.S. crude fell 29 cents to $63.25 a barrel in electronic trading on the New York Mercantile Exchange while Brent crude, used to price international oils, lost 13 cents to $68.20 per barrel in London.
CURRENCIES: The euro was up 0.1 percent at $1.2252 while the dollar fell 0.2 percent to 107.20 yen.