Global stocks reboot after another tech sell-off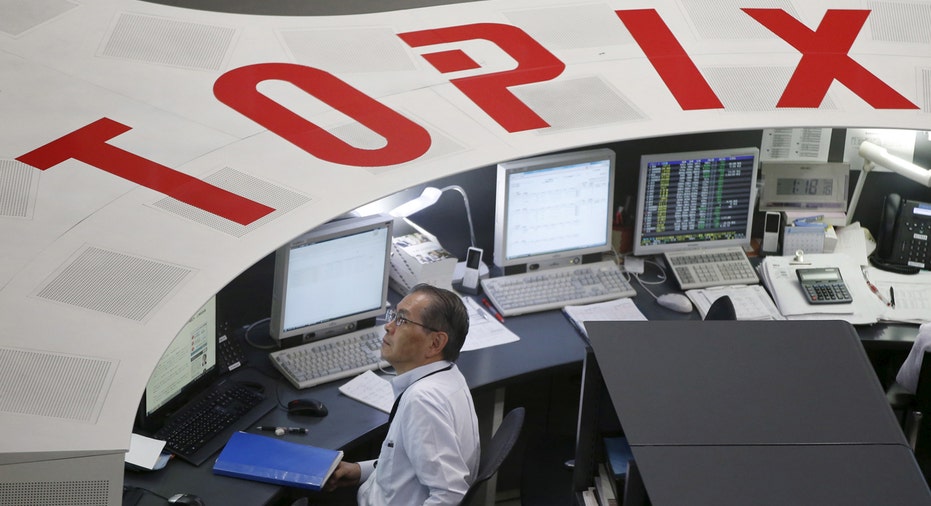 World shares steadied on Friday after selling in the tech sector triggered their biggest fall in over a month, while the yen slid to a two-week low as the Bank of Japan signaled its stimulus was staying in place.
It was set to be the second week of falls for MSCI's widely tracked world index, although Europe, which has been the star performer in the first half of the year, was trying to end it on an upnote.
London, Frankfurt and Paris climbed between 0.3 and 0.5 percent and the euro, the pound and the Swiss franc rose against the dollar in the currency markets.
Greece's 10-year government borrowing costs fell to their lowest in almost a month in bond markets as well, as euro zone finance ministers and the International Monetary Fund approved a long-delayed 8.5 billion euro lifeline for Athens, albeit keeping them hanging on for debt relief.
"The things that we were worried about at the start of the year which were French elections and potentially a Greek deal not getting done, we have had all the good news on that now," said State Street Global Markets' strategist Michael Metcalfe.
He said the dollar's rise for the week suggested markets had now priced in that positive news - France's new President Emmanuel Macron is expected to get a parliamentary majority at the weekend too - and were thinking where to go next.
The Japanese yen hit a two-week low against the dollar after the Bank of Japan left its mass money printing program unchanged, maintaining the contrast with the U.S. Federal Reserve, which signaled further tightening this week.
It was trading 0.3 percent lower at 111.23 yen per dollar, while the euro was buying $1.1173 compared with almost $1.13 earlier in the week.
The yen's drop helped Japan's Nikkei advance 0.7 percent, narrowing its loss for the week to 0.3 percent.
"The market was relieved that there was no mention of an exit strategy, at least for now," said Yoshinori Shigemi, global market strategist at JPMorgan Asset Management.
SUBMERGING MARKETS
MSCI's broadest index of Asia-Pacific shares outside Japan ended down roughly 0.85 percent for the week though for emerging markets more broadly it was looking like being the worst week of the year so far.
Russian stocks steadied on Friday but have been hammered more than 4 percent this week and the rouble is down for a third straight week, on talk of increased Western sanctions and as oil prices have stumbled back again.
Overnight, the Nasdaq led losses on Wall Street, dragged lower again by shares including Apple and Alphabet that tumbled on bearish analysts' reports.
The broader S&P 500 index fell 0.2 percent and the Dow Jones Industrial Average slipped 0.1 percent though future's prices pointed to a modest recovery later.
"It was a brutal day for the tech sector once again as investors are increasingly more worried about the (Federal Reserve) tightening cycle and how that would put a number of firms in trouble," Naeem Aslam, chief market analyst at ThinkMarkets in London, wrote in a note.
The number of Americans filing for unemployment benefits fell more than expected last week, and better-than-expected business conditions numbers also bolstered the case for the Fed to continue raising rates after its second hike of the year on Wednesday.
Sterling added almost 0.2 percent to $1.2775. On Thursday, it jumped to as high as $1.2795 on signs of a shift in the Bank of England's stance on keeping interest rates at record lows.
In commodities, oil remained subdued however on continued worries over rising U.S. gasoline inventories adding to already elevated global supply.
Global benchmarks Brent and U.S. crude hovered at $47.34 and $44.74 a barrel, on track for 2.4 and 2.8 percent drops for the week respectively. It will also be their fourth consecutive week of falls.
The dollar's strength kept gold flat at $1,255 an ounce, failing to make up Thursday's 0.6 percent drop. It is poised to close the week with a 1 percent loss, its second weekly decline.
(Additional reporting by Nichola Saminather in Singapore Editing by Jeremy Gaunt)